Swing sets are a staple in outdoor fun. While playgrounds and parks can provide some of the best in swinging and sliding equipment, not everyone has access to a park or playground on a regular basis. That is why it is a great advantage to have a playset in your own backyard. The kids in your family will get endless hours of entertainment along with getting the physical exercise they require.
There are lots of options when it comes to choosing the perfect backyard swing set. Picking the right one generally requires a lot of research and thought on the buyer's part. You could spend hours browsing multiple website, reading endless reviews and still unsure about which playset to consider. That is why we here at Backyardville have put together this detailed guide outlining 7 of the most popular Flexible Flyer Metal Swing Sets on the market.
All the information you need is one place including a comparison chart, a guide for buying a swing set, details about each what is included and where to buy each set, along with some common frequently asked questions. Start and end your research for the perfect Flexible Flyer playset here!
Flexible Flyer Metal Swing Set Comparison Chart
Swing Set Buying Guide
A swing set is a great addition to any backyard, especially if you have small children who love being outside. Swing sets not only provide hours of fun and enjoyment but they are also a great way for your kids to build strength and get the exercise their little bodies need.
The quest to find the perfect swing set can be an overwhelming task. There are so many brands, models, types, and sizes to choose from it can be difficult to know where to start. Do you want a wooden swing set or a metal one? How much space do you have? What are the ages of your children and what type of activities interest them most? All of these are questions you might be asking yourself. The guide below may help you when making some of these decisions.
Materials
Most swing sets are made of one of two materials – wood or metal. A few brands offer a combination of the two while others offer a plastic-coated or vinyl-covered wood that is designed to be more resistant to fading and weathering. The material you choose for your backyard playground will be based on personal preference along with the amount of maintenance you want to give the swing set as well as your budget.
Wooden swing sets will require more maintenance as wood is more susceptible to cracking and fading while it sits outside exposed to the elements. This can be reduced with periodic staining and water-proof sealing. Swing sets made of wood tend to be costlier as the lumber required to make the set sturdy is more expensive than the tubular metal used in sets like the Flexible Flyer metal swing sets. The metal sets are painted and designed to be resistant to UV rays as well.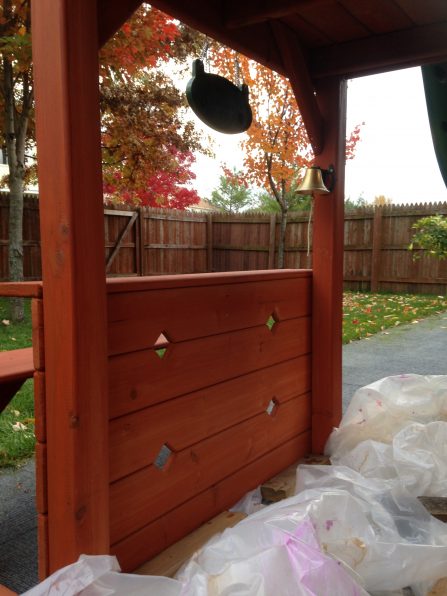 Accessories
When you are choosing a swing set you are typically doing so with your children's happiness in mind. This means that when deciding what to buy you will want to find something that includes activities your children will love playing on. From swings to gliders, slides, trapeze bars, tire swings, even steering wheels and see saws, there are a plethora of accessories to choose from.
The number of accessories is also something to consider. Large families will want a set with enough features to keep each child busy on their own activity when they aren't ready to play together. And smaller families may want fewer accessories so as to save on space or money. Flexible Flyer playsets include many of the same popular accessories but in various combinations and colors so there is a set for everyone.
Size
Swing sets come in different sizes because backyards come in different sizes. Not only will the desired accessories determine the size of the swing set you purchase, but you will also need to consider the area of your backyard where the playset will be installed. Some of the smallest swing sets are only 8 feet long by 8 feet wide. Larger sets can be as big as 46 feet by 20 feet.
When determining the size of swing set you want it is important to also take into account a recommended safety area. Most swing set brands suggest a 6-foot perimeter around all sides. For example, if you want to purchase the Flexible Flyer Play Park metal swing set which is 16'8" x 8' you will actually need a space that is approximately 28' by 20'.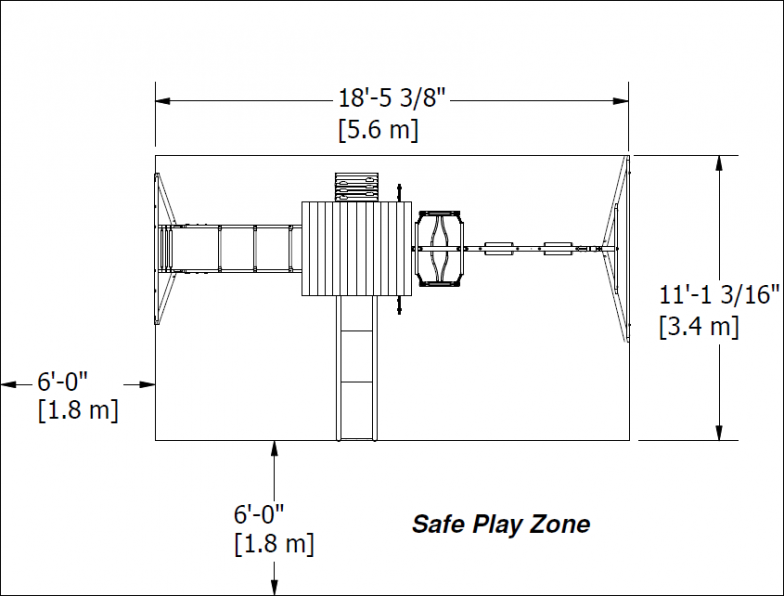 Installation
Nearly any swing set you purchase will come with a detailed instruction manual from the manufacturer that gives illustrations and step-by-step instructions to construct the playset yourself. Wooden playsets will come with all of the required lumber that is typically pre-sanded, pre-stained, and pre-drilled for the buyer's convenience. Metal swing sets will come with all of the required parts and hardware and may even be labeled so you know which piece should be attached to which part.
Depending on the size of the swing set it can take anywhere from 2 to 14 hours for construction. You will want to have two people available to build, especially to hold larger parts. Some people opt to hire a builder who has knowledge of playsets to ensure everything is constructed safely and accurately.
Purchasing
There are as many options for purchasing a swing set as there are swing sets to choose from. Like most products you can find swing sets in many local retail stores as well as online. Online store types vary from swing set specialty stores to big box stores like Walmart or Amazon or you can even purchase directly from the manufacturer. You will want to do some shopping around online as some sites offer free shipping while other sites offer lower prices but charge for shipping.
Some are hesitant when it comes to purchasing as swing set online as it can be difficult to make such a large purchase without seeing the quality and craftsmanship in person. It is a good idea to read some swing set reviews from other customers before making a decision.
The Flexible Flyer brand is available from the following well-known retailers:
Menards
Walmart
Toy 'R' Us
Target
Blain's Farm & Fleet
Wayfair
Bluestem
Hayneedle.com
Amazon.com
Why Choose a Flexible Flyer Swing Set
There are lots of swing set brands to choose from, some are well-known and have an established reputation in the industry. Flexible Flyer Swing Sets is one of those brands and below are a few reasons why choosing a Flexible Flyer playset is a smart option.
Mission
When you visit Flexible Flyer's main website, the first thing you will likely notice is their logo and catch phrase, "A tradition in Quality since 1889." As one of the largest manufacturers of swing sets in America they have also been one of the longest in the business. They have made it their mission to "offer a high-quality, traditional toy alternative for today's children."
Not only do they pride themselves in quality they also find joy in giving kids a way to exercise, use their imagination, and have hours of fun on their products. "Exercise and FUN all in One!
History
You may remember Flexible Flyer as the manufacturer of a popular wooden sled that was steerable and had steel runners. While this was the start of the Flexible Flyer brand they soon expanded into other realms of childhood play including their high-quality metal swing sets.
Flexible Flyer's headquarters is currently located in Moscow, Tennessee operating under The Troxel Company. They have been in business since 1889 and have built themselves as a recognized brand name that operates solely out of the United States. Their history and heritage are a large part of who they are and they value their customers for allowing them to be in business for more than 100 years.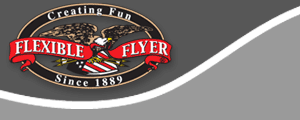 Quality
The Flexible Flyer company takes great pride in the quality of their products and the fact that all of their metal swing sets are "Made in the USA". When you purchase one of their swing sets you can have peace of mind knowing that each metal and plastic component is made of the highest quality materials that are meant to last and also be safe for the children who will be using it.
All of the metal parts including the frame and swing pieces are covered with a powder coat paint that protects the metal from rust and fading. There is also UV protection added to all of the metal and plastic parts to keep the colors bright and vibrant even after sitting in the sun all day.
Each metal swing set is constructed with your child's safety in mind as well as the ability to grow with your child. Flexible Flyer provides precise age and weight recommendations for each feature and safety guidelines set forth by the Consumer Product Safety Commission (CPSC) and the American Society for Testing and Materials (ASTM).
Customer Service
Along with quality and safety, Flexible Flyer customer service is also highly ranked. Whether you need installation assistance, are seeking replacement parts, or just have general questions about their products, customer service agents are readily available to meet your needs.
Each metal swing set comes with a detailed instruction manual along with online videos to assist with construction. Missing parts or parts that are damaged are always replaced free of charge without the hassle of returning the entire swing set or the need to order something new. Flexible Flyer's customer service hotline is available from 8:00 AM to 4:30 PM CST during the week Monday-Friday. They can be reached by phone at 1-888-350-3015 or by email at cservice@flexible-flyer.com.
Flexible Flyer Metal Swing Set Reviews
Below you will find more information and details about these seven popular swing sets from Flexible Flyer. While several of them are quite similar, you will find that they each offer differing accessories so that you can find a swing set that is the perfect fit for your family.
Backyard Flyer II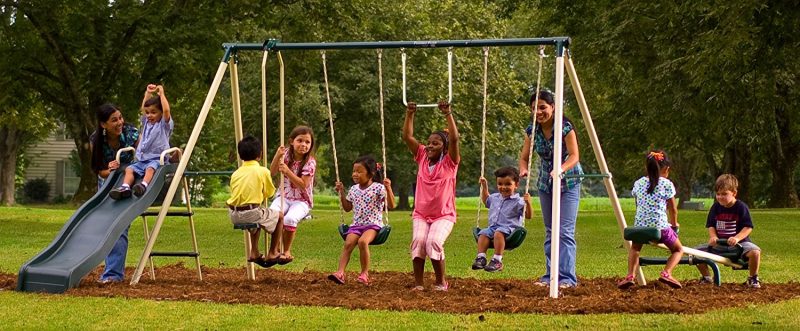 The Backyard Flyer II is a mid-sized metal swing set with five of the most popular accessories that Flexible Flyer has to offer. It comes in an attractive green and ivory color that will look great in any backyard. The durable A-frame is powder coat painted and all of the metal and plastic parts have UV protection against fading. With detailed instructions and just a few basic tools, this swing set can be assembled in a matter of hours.
Accessories
Wave Slide
See Saw
Air Glider
Metal Trapeze Swing
2 Swing Seats
Specifications
155″ x 130″ x 72″ Tall
Forest Green and Ivory
Weight limit: 840 pounds
Number of children: 8
Age range: 2-10 years
Backyard Swingin' Fun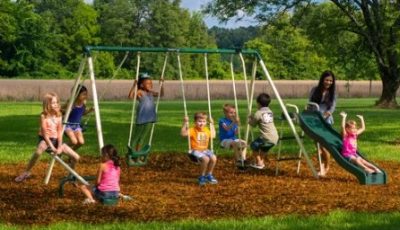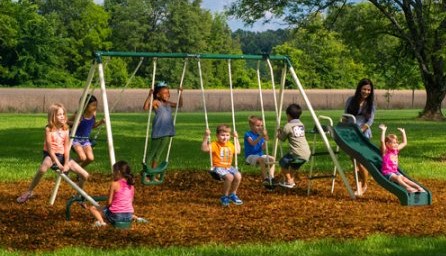 The only difference between the Backyard Swingin' Fun and the previous swing set is that instead of a trapeze swing this one is equipped with Flexible Flyer's unique Shoe Loop swing. The swing doubles as a seat that kids can sit on or two loops that they can stand on while flying through the air. With all of the durability of a Flexible Flyer metal swing set, the Backyard Swingin' Fun will provide hours of fun at an affordable price.
Accessories
Wave Slide
See Saw
Air Glider
Shoe Loop Swing
2 Swing Seats
Specifications
155″ x 130″ x 72″ Tall
Forest Green and Ivory
Weight limit: 648 pounds
Number of children: 8
Age range: 3-8 years
Big Adventure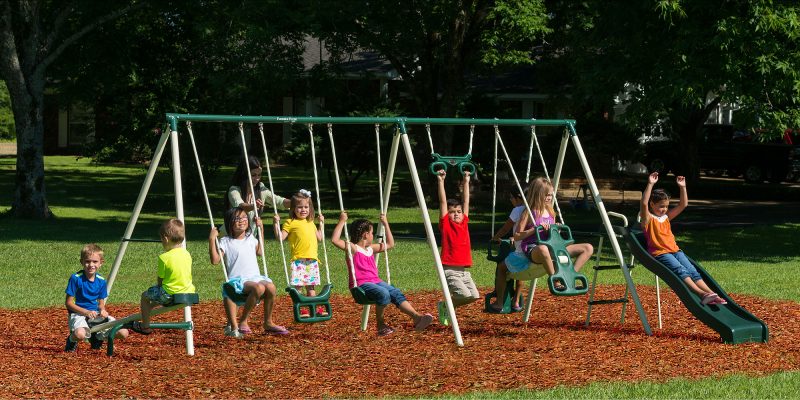 Big on fun, the Flexible Flyer Big Adventure is loaded with accessories that will keep kids busy for hours and give them a reason to be outside getting some exercise. It can hold up to 9 children so your kids and all their friends will have plenty to do. From a two-person Rocket Rider to a Deluxe trapeze bar, kids of all ages will find an activity suitable to their needs.
Accessories
Wave Slide
See Saw
Rocket Rider
Deluxe Trapeze Swing
2 Swing Seats
Specifications
213″ x 130″ x 72″
Forest Green and Tan
Weight limit: 729 pounds
Number of children: 9
Age range: 3-8 years
Play Park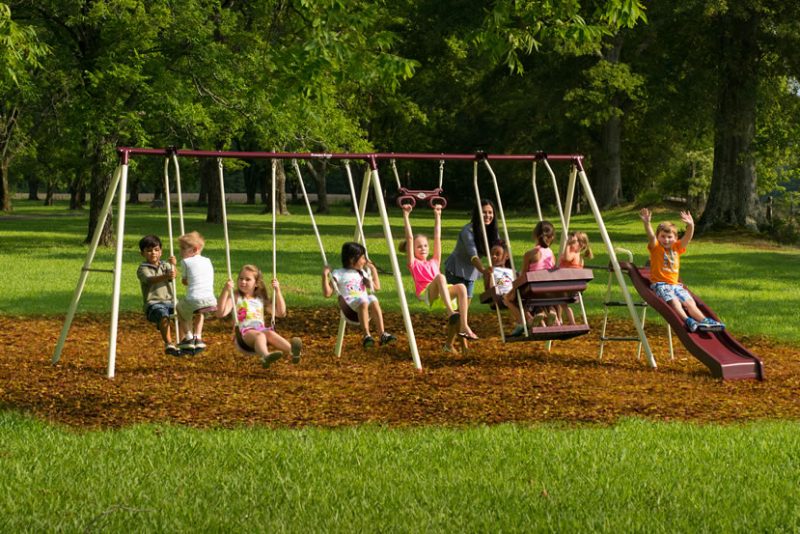 The Flexible Flyer Play Park is accurately named as its size and number of accessories will be like having your own park in the backyard. The 2-person air glider and 4-person lawn swing, along with all of the additional accessories allow 10 kids to play at once. While it will require a larger backyard to accommodate its size, your kids and all their friend will appreciate the hours of fun it will provide.
Accessories
Wave Slide
Air Glider
4-Person Lawn Swing
Deluxe Trapeze Swing
2 Swing Seats
Specifications
200″ x 96″ x 72″ Tall
Maroon and Ivory
Weight limit: 1,050 pounds
Number of children: 10
Age range: 3-8 years
Swing N Glide III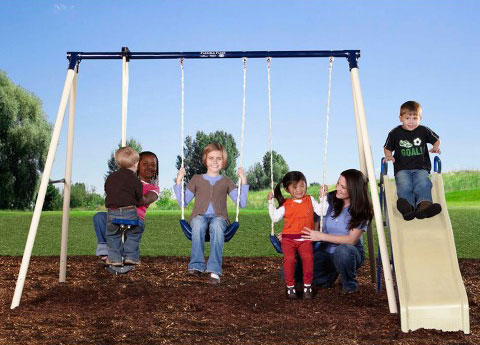 The Flexible Flyer Swing N Glide III is a metal swing set designed for smaller yards, smaller kids, and smaller budgets. It is built with the same quality as the other Flexible Flyer models with a 4-legged, A-frame that supports 2 swings, a glider, and a wave slide. Its footprint is only 10' wide by 8' long but it is still big on fun.
Accessories
Wave Slide
Air Glider
2 Swing Seats
Specifications
119″ wide x 96″ deep x 72″ tall
Midnight Blue and Cream
Weight limit: 525 pounds
Number of children: 5
Age range: 2-10 years
Triple Fun II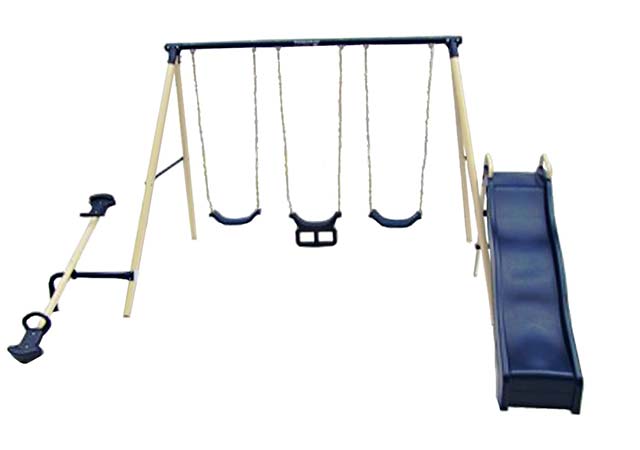 The Flexible Flyer Triple Fun II offers three ways for kids to enjoy the backyard – swinging, sliding, and teetering. While it may look small, this attractive set can accommodate up to 6 kids at one time. It is easy to assemble with the manufacturer's detailed instruction manual and a few basic tools. The smaller kids will love the slide and swings and the bigger kids will love being able to stand and swing on the Shoe Loop swing.
Accessories
Wave Slide
See Saw
Shoe Loop Swing
2 Swing Seats
Specifications
96″ wide x 120″ deep x 70″ tall
Midnight Blue and Cream
Weight limit: 486 pounds
Number of children: 6
Age range: 3-8 years
World of Fun

The Flexible Flyer World of Fun metal swing set has so many options that kids won't know what to do first. The air glider allows them to watch each other laugh while flying through the air while the Rocket rider gives two kids a more secure back-to-back ride. The Deluxe trapeze bar provides comfort for swinging while hanging by the hands or upside down with the legs.
Accessories
Wave Slide
See Saw
Air Glider
Rocket Rider
Deluxe Trapeze Bar
2 Swing Seats
Specifications
213″ x 130″ x 72″ Tall
Neon Green and Gray
Weight limit: 810 pounds
Number of children: 10
Age range: 3-8 years
Frequently Asked Questions
Where do I get a Flexible Flyer swing set ground anchor kit?
Your Flexible Flyer swing set will come with the necessary ground anchors that are needed to securely anchor the swing set to the ground. This can be done by securing them through the swing set legs into hard soil or permanently anchoring them into concrete.
If you do not receive a ground anchor kit you can simply contact Flexible Flyer's customer service department at 1-888-350-3015 or by email at cservice@flexible-flyer.com. For additional ground anchors you can order directly from FF customer service or purchase a set at any Flexible Flyer retailer.
Where are the Flexible Flyer swing set instructions?
Your swing set should come with the instructions needed to put the set together yourself. If your instructions are missing you can obtain a copy by contacting Flexible Flyer customer service at 1-888-350-3015 or by email at cservice@flexible-flyer.com.
Instruction manuals for each playset are also available online at http://www.flexible-flyer.com/manuals.html
What if I need replacements for my Flexible Flyer swing set parts?
While great care is taken to provide quality merchandise, occasionally missing or damaged parts are delivered. If you need replacement parts they can be obtained by contacting Flexible Flyer's customer service by phone at 1-888-350-3015 or by email at cservice@flexible-flyer.com. You can also visit their website and under the "service" tab fill out the information for your parts request.
If you need replacements you will be asked to provide the date of purchase, model number, part number, the quantity needed and your personal mailing information.
How do I assemble my Flexible Flyer swing set?
Flexible Flyer swing sets are designed to be simple to put together by following the provided instruction manual. Only a few basic tools are required including:
Phillips-head screwdriver
Flat-head screwdriver
7/16" Nut driver with 7/16" socket
Wrench – 7/16" and ½"
Rubber mallet
Tape measure
Nikki is a full-time homemaker with a love for plants, nature, and the outdoors. She holds a Bachelor of Arts degree in education, combining her talents and favorite hobby to write educational material for other plant and backyard enthusiasts. Co-founder of Backyardville, Nikki seeks insight for her blogs through reading along with hands-on research in her own yard and garden. Her experiences as a child growing up in a farming community and spending time with her gardening grandmother sparked an interest in growing plants and seeking ways to beautify the spaces around her. Nikki lives in a quiet suburb in Iowa with her husband and their two outdoor-loving children.