Childhood comes with a lot of fond memories to cherish and relish. It's an age when kids are free from the monotonous routine. Their parents aren't surprised to find toys strewn on the floor and things out of place around the house. Television might not suffice to keep little ones occupied long enough.
You might recall spending endless moments on the swing set, and it's pretty impossible to erase those nostalgic memories of yesteryear. You would like your children and grandchildren to have a similar childhood, wouldn't you? Flexible Flyer Backyard Swingin' Fun Swing Set would be the ideal gift for your kids on any occasion.
You can turn the playground into a second home for your kids where they probably spend a lot of time. The five different features of this swing set will ensure that your kids have unlimited fun while developing healthy muscles and strong bones.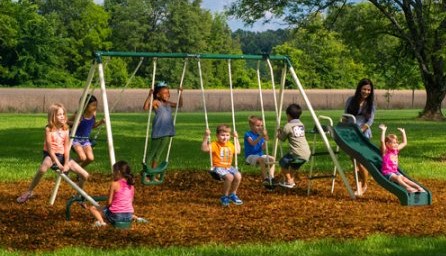 What sets the Backyard Swingin' Fun apart from the rest?
Swing sets are available in different variations ranging from wood to metal. It's recommended that you purchase a swing set made from metal if you plan on seeing your kids having hard core fun in the backyard.
The best part about the Flexible Flyer Backyard Swingin' Fun Metal Swing Set is the UV colorant protectant designed to keep the steel frame shiny while protecting it from fading.
You might encounter a tough time keeping a single kid occupied at a time. But hey, this amazing swing set is designed to keep almost 8 kids happy all day long. Kids grow rapidly in their height and weight; don't worry, the swing set can hold up to 840 lbs.
The Flexible Flyer Backyard Swingin' Fun comes with these 5 different activities which can never go out of style because of their height-adjustable chains.
Kid Comfort Swing
A swing set enables your kids to focus better and develop their gross and fine motor skills. If two of your kids play on the swing they can compete with each other to see who can swing higher. The Flexible Flyer Backyard Swingin' Fun Swing Set has two independent swings to put your kids' swinging abilities to the test.
You're in for a surprise to see your kids brimming with happiness as they move back and forth. The vinyl-covered swing chains provide the best safety to your kids while they swing away to their hearts' content.  The green molded seats can hold a weight of up to 105 lbs. per seat, which is ideal for just about any kid.
Air Glider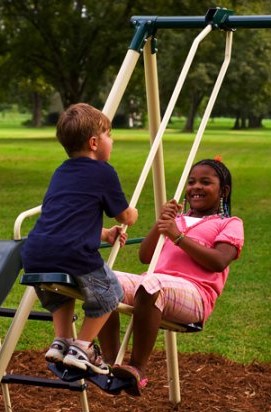 This swing set plays a vital role in fostering physical and social skills. The little ones can have a great time on the air glider while getting the best safety. The air glider enables the kids to sit facing each other and participate in each other's excitement as they swing toward the sky and back to the ground.
The air glider has two green seats, metal bars to hold on to and kids can keep their feet firmly grounded to the footrest. This 2-person swing can hold up to 210 lbs. with both kids combined. The anchors that are attached firmly to the ground ensure stability for the swing set with the movement of the air glider.
Seesaw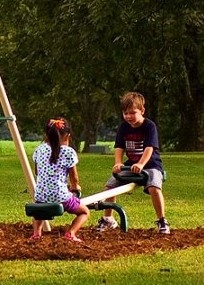 The joy of seeing your kids balance each other on the seesaw is immeasurable to most parents and grandparents alike. You might be amazed to see the smile on your kids' faces as they go up and down. The steel frame with HDPE plastic enables the Backyard Swingin' Fun Metal Seesaw to have greater durability.
The seesaw can hold a maximum weight of about 105 lbs. on each side. The green seats allow your little one relish a comfortable and fun-filled experience. The powder-coated, ivory steel frame gives the seesaw a shiny and bright color for years to come.
Wave Slide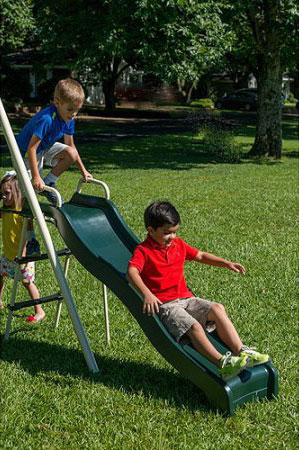 It's equally important that your kids have smooth and steady physical development together with quality education for a holistic growth. It's a great strategy to teach your kids patience and cooperation as they wait their turn on the wave slide.
The Flexible Flyer Metal Swing Set has a 6-foot wave slide that enables them to have fun all the way until their tiny feet touch the ground. The wave slide can hold up to 2-3 kids ranging from 2 to 10-year-olds.
Shoe Loop Swing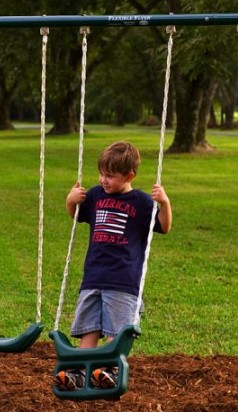 Some like swinging while they are comfortably seated; others prefer standing and feeling the air on their face. The shoe loop swing provides you the double benefit to either sit and swing or stand and swing. You'll enjoy this double whammy while riding on the shoe loop swing.
Will the Backyard Swingin' Fun Swing Set actually fit in my backyard?
The Backyard Swingin' Fun Swing Set Fits just about any backyard with a dimension of 155 inches in length, 130 inches in width, and 72 inches in height. It's recommended that you have enough area for the free swing moment. You don't want your kids hurting themselves while they go back and forth on the swing, or bump their heads while they go higher and higher on the swing.
Children love playing with their friends and siblings. The swing set comes with a whole package of fun to enjoy all summer long with swings, seesaw, and wave slide to be equally loved by both boys and girls alike. The swing set would be ideal for kids aged anywhere from 2-10 years. However, you don't have to replace it with a new one while your kids are growing. All you need to do is adjust the chains to match your kids' height.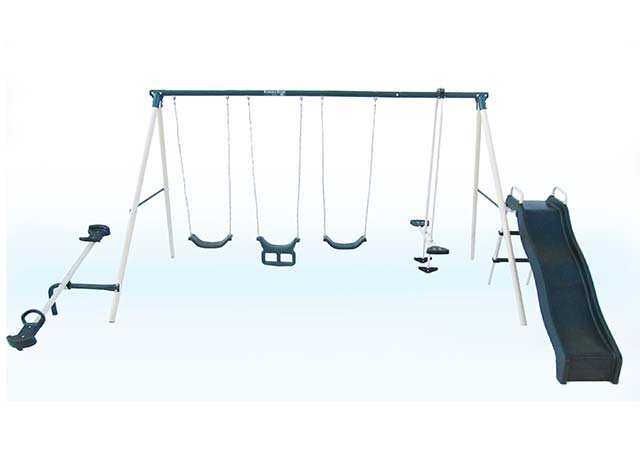 Assembling your swing set is a breeze
This outdoor playground will be ready for your kids within a matter of few hours. The assembly time takes approximately 2 to 4 hours.
The Backyard Swingin' Fun comes with anchors to maintain the stability of the swing set when it's seated to its full capacity with your kids and their playmates. It is suggested that you don't overlook on anchoring the bonus anchors to ensure maximum safety for your kids.
Assembling the Flexible Flyer Metal Swing Set is an easy-breezy task with the step-by-step instruction manual. However, it's recommended that you have a friend by your side to assist you while the swing set takes shape in your backyard.
You might not need sophisticated tools to assemble the swing set, but you will need a few basics that aren't included. The swing set comes with a manual enabling just about anybody to assemble it. Initially, you might find it hard to assemble the swing set; you'll be able to fix it with ease once you get a hang of the tools and equipment.
Help is just a click away!
There are videos and tips online to help you assemble your swing set. Flexible flyer's official website provides you videos that show the step-by-step process of assembling your Flexible Flyer Backyard Swingin' Fun Metal Swing Set with ease.
You can contact Flexible Flyer using the toll-free number – 1-888-350-3015 from Monday to Friday. Flexible flyer's representative will be more than happy to help you and answer any questions you have about assembly, missing parts, or warranty information from 8:00 AM to 4:30 PM CST. You can even fax your queries to 1-901-877-3439 or e-mail to  CService@Flexible-Flyer.com.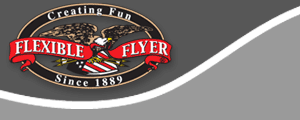 The ideal place to purchase the swing set
Almost all the products are available online. You might be confused whether to purchase the Flexible Flyer Backyard Swingin' Fun Metal Swing Set online or offline. The swing set is available in most online shopping websites, such as Wal-Mart, Amazon, Wayfair, Bluestem, Menards, Target, Hayneedle.com, and much more.
Oftentimes, you'll find online stores offering swing sets at a lesser price when compared to offline options. However, it is recommended that you visit an outlet and check the price and quality of the swing set. Comparing the online site with the price in the shop will be ideal to get this fun-filled package at an affordable price.
The priceless fun and joy of your children and grandchildren is incomparable to the price of the swings. However, some stores offer this great piece for as little as $145.99. You would be saved from the hassle of driving all the way to the shop to get the swings; it can be shipped to your doorstep at a nominal cost.
Finally
It's important for you to safeguard your kids and grandchildren from a generation where people are engrossed with their mobile phones. Kids like exploring new things. They are highly active, and you might have a tough time to look after them all day long when they are at their best. Get your kids attuned to the Flexible Flyer Backyard Swingin' Fun Metal Swing Set to keep them occupied with its various activities.
There are a variety of swing sets available online and at shopping outlets. Make sure you choose the right one for your kid's safety, while they busy themselves on the swings. The vinyl coated chains, bonus anchors, and other features are designed to keep your kids from harm's way.
Nikki is a full-time homemaker with a love for plants, nature, and the outdoors. She holds a Bachelor of Arts degree in education, combining her talents and favorite hobby to write educational material for other plant and backyard enthusiasts. Co-founder of Backyardville, Nikki seeks insight for her blogs through reading along with hands-on research in her own yard and garden. Her experiences as a child growing up in a farming community and spending time with her gardening grandmother sparked an interest in growing plants and seeking ways to beautify the spaces around her. Nikki lives in a quiet suburb in Iowa with her husband and their two outdoor-loving children.