Are your kids on a vacation? Finding it hard to keep track of the notorious bunch that they are? Your kids are most definitely going to invite their friends over during the vacations. Like it or not, it becomes your responsibility to take care of them all. It's not going to be easy on you. Kids are naughty, and they can give you a tough time. You just got to work to your wits end trying to keep them occupied the best way you can.
Your kids and their friends will need a safe, secure, yet exciting play zone. The Flexible Flyer Big Adventure Metal Swing Set can be the answer to your quest. It has 6 different fun activities to keep your kids engaged; up to 9 kids can play on this swing set all at once. Keeping the kids occupied and entertained wouldn't be as difficult anymore. You can invite their friends over and give them the perfect vacation treat.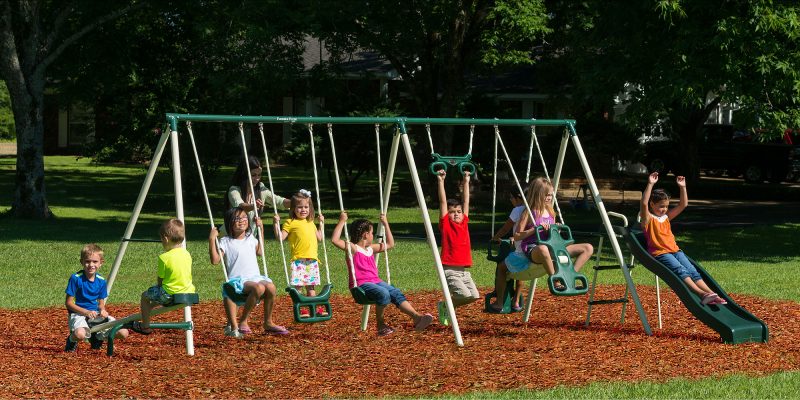 Overview of the Flexible Flyer Big Adventure Swing Set
Flexible Flyer Metal Swing Sets have served the American childhood since its launch in 1889. They're one of the largest manufacturers of swing sets, consumer swings, sleds, and hobby horses in America. Flexible Flyer is a renowned brand in the United States that makes high-quality and traditional playground equipment for children of various age groups. The Big Adventure swing set is one of their top-selling, high-quality classics that has found its way into many American homes.
Turn your backyard into a playground with this Big Adventure swing set from Flexible Flyer. This durable swing set comes with a steel frame that's highly reliable; you can set-up the entire play materials on it.
The module has two swings for your kids to swing to their hearts' content. In addition, the swing set also has a massive wave slide with an attached ladder, a super fun shoe-loop swing, a rocket rider for 2, a deluxe trapeze swing, and a sturdy seesaw.
Seesaw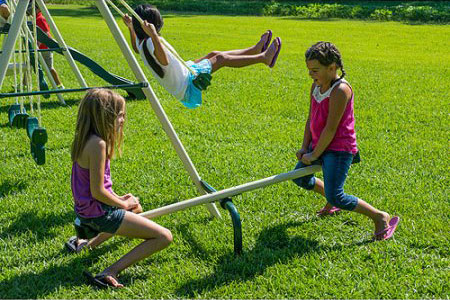 Let your kids enjoy the fun of balancing on a seesaw with the Flexible Flyer's Big Adventure Swing Set. Going up and down on a seesaw will give them immense fun, and they will have an amusing time on it with their best friend.
The Flexible Flyer Big Adventure Swing Set comes with a durable seesaw made of metal. The seats come in various colors, and are made of strong plastic. It can hold two children of up to 105 lbs., and can easily hold your kids on it. The seesaw goes up and down very smoothly and will give your kids an awesome playtime experience!
Rocket Rider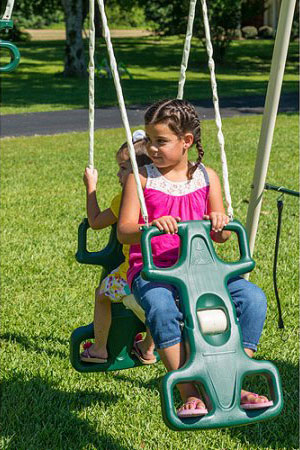 You can give your kids the utmost amusement with this sleek, 2-person rocket glider from Flexible Flyer. This particular glider has an adjustable ledge that allows your kids to firmly place their feet on it. The adjustable ledge also allows kids with shorter legs to safely fasten to the rocket rider. It's made of durable plastic material and comes in various colors. It can easily hold two kids of 105 lbs. each.
It also has vinyl-covered durable metal chains that are soft to hold on. This gives a good grip to your kids and safeguards their fragile fingers from getting scratched. It can hold a total weight of 210 lbs. and this is more than enough for your tiny tots. Two kids can easily sit back-to-back on this rider and swing their way up to the skies!
Shoe Loop Swing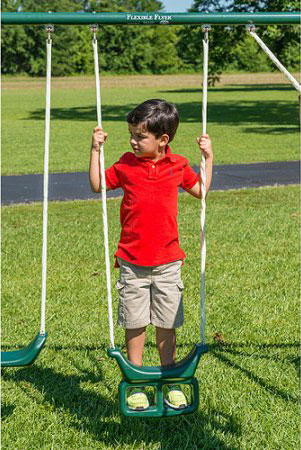 The Flexible Flyer Big Adventure Swing set comes with a shoe loop swing that can hold a person of up to 105 lbs. on it. It has a PVC ledge that gives a good supportive base and your kids can easily place their foot on the clamps. The chains are coated with vinyl and are easier to clasp. Install this shoe loop swing with the swing set in your backyard and give your kids a good reason to play outdoors.
Deluxe Trapeze Bar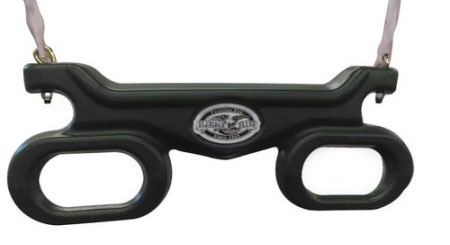 The joy of hanging from a trapeze is always incredible. You children can swing in the air while hanging on this Flexible Flyer Big Adventure trapeze. The trapeze is made of vinyl-coated PVC material that's highly durable. It's connected to the steel frame with HDPE plastic covered chains for additional safety.
Each kid weighing up to 105 lbs. can swing on this trapeze. It can easily entertain short, as well as taller kids, and can be safely stretched up to 180 degrees. Your kids get to stretch their muscles in this trapeze, giving them good physical activity. You'll have a great time teaching your kids to use the trapeze, creating memories worth remembering for a lifetime.
Kid Comfort Swings
For centuries, kids from various places have always had a common play item – the swing. Swinging is a favorite pastime for most of the kids. The back and forth motion of the swing will give them immense joy and a good physical activity. The Flexible Flyers Big Adventure Swing set is sure to give your kids a high-quality, traditional swinging experience.
The entire set-up has two swing modules. They are highly safe and molded for comfortable holding. The metals chains are covered with vinyl coats for a soft and easy grip. The swing chains are also height adjustable, thereby making it an idle play tool for kids of any height. Your kids will enjoy their time on this swing set.
Wave slide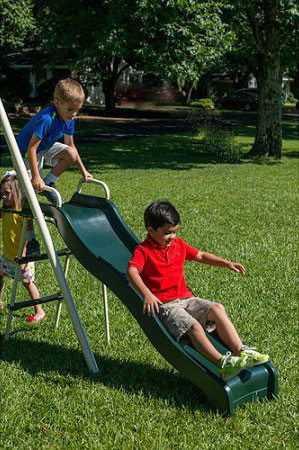 A wave slide is more than enough to give your kids a fun experience. The swiftness and delight you feel while going down the slide can't be expressed with words. Install the Flexible Flyer's Big Adventure swing set that has a 6-foot slide to give your children the best sliding experience.
The wave slide is made of durable PVC and can be easily fixed to your swing set. It also has a vinyl-coated steel ladder and a plastic handle at the top. It can be used by children of any age group and can hold up to 2-3 children of 105 lbs. each at a time.
Age and size requirements for the "Big Adventure"
The Big Adventure swing set can engage children from 2 to 10 years of age. Both boys and girls can easily play on this swing set. The swing set has 6 activities in total, and can hold 9 children at a time. The maximum weight capacity per seat is 105 lbs., and the swing set can hold a maximum capacity of 945 lbs.
This swing set has a lot of key benefits – the kids get good physical activity, you can be at peace knowing that they are in your backyard, and much more. This swing set imparts a great value in playing outdoors for the whole of your kids' summer or weekend.
How large is the Big Adventure Swing Set?
This swing set can be easily set-up in your backyard. An open and clear area is more than enough to assemble this swing set. You can fill your backyard with dry sand or choose a grassy patch of the land to put the swing set together.
The entire setup of the Big Adventure Swing set measures about 213" wide x 130" deep x 72" high. A small area measuring 20–25 feet will be enough to assemble this setup. You can easily clear a patch of land in your backyard and create your own outdoor playground.
A simple assembly guide
Assembling this swing set is quite easy. The setup has an easy assembling manual that has step-by-step instructions for setting up the product. The product also has additional ground anchors for the utmost safety.
At first, you need to fix the steel frame to the ground using the anchors provided. This will provide a strong base and body to the swing set. Then start attaching the swing bolts in place, and continue bolting all the parts as directed by the assembly manual. To set-up the swing set, you'll require the help of a person to hold the pieces in place while bolting. The entire assembling procedures will cost you less than 2 hours' time.
Where do I buy the Big Adventure swing set?
Flexible Flyer Big Adventure swing set is available in almost all online shopping platforms.  Amazon, Wal-Mart, and such other online shopping portals give this piece of wonder at a discount. You can also choose to visit any Flexible Flyer outlet near you and buy the swing set directly from the manufacturer.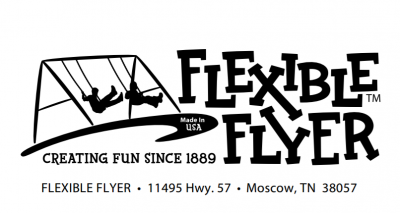 The Flexible Flyer Big Adventure swing set is cheaper than many, and should cost you around $210 to $240. Shipping and transportation costs may incur depending on the state you reside in. Choosing to buy one online will be a wise choice because they often provide seasonal offers and give discounts on shipping charges.
Finally
Running behind kids will definitely tire you. Vacations and summer break are especially painful for parents with highly active kids. You can simply make them stick to a place by building them an at-home playground. The Flexible Flyer Big Adventure Swing Set is here to save your back. Set this up in your backyard and give your kids an excellent vacation!
Nikki is a full-time homemaker with a love for plants, nature, and the outdoors. She holds a Bachelor of Arts degree in education, combining her talents and favorite hobby to write educational material for other plant and backyard enthusiasts. Co-founder of Backyardville, Nikki seeks insight for her blogs through reading along with hands-on research in her own yard and garden. Her experiences as a child growing up in a farming community and spending time with her gardening grandmother sparked an interest in growing plants and seeking ways to beautify the spaces around her. Nikki lives in a quiet suburb in Iowa with her husband and their two outdoor-loving children.