Fall is here and it is time to head out to the pumpkin patch or garden store to select that perfect type of pumpkin, but the perfect pumpkin is dependent upon where that pumpkin ultimately ends up-on the porch or in a pie. Check out these types of pumpkins for Fall.
Different pumpkins are grown for different reasons and the first step is determining which pumpkin will best suit the intended project.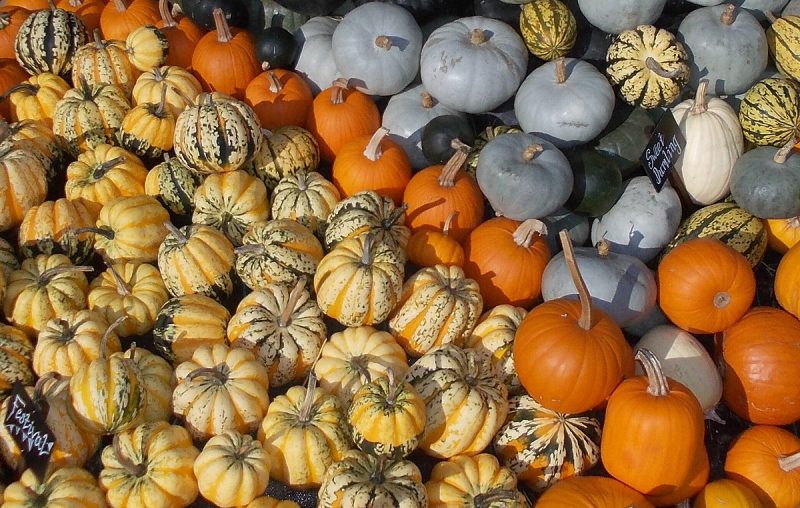 Pumpkins have been a fall season staple for many, many years. They begin popping up like clockwork as soon as the first chill hits the air and turned leaf hits the ground, and this stands to reason because autumn is when pumpkins are in full bloom and ready to harvest.
Most often when picking a type of pumpkin, the type of pumpkin usually isn't really taken into much consideration. The size will depend on where it will be displayed and the color-bright orange of course being the standard, (although they are available in red, blue and even white), is based more upon personal taste.
The varieties and uses are just as numerous as the sizes and colors. Pie sugar, classic and miniatures are just a sampling of the choices out there and navigating through the bounty is easy once you learn how to identify the different types available.
Start thinking first about how that perfect pumpkin will be used, and that will give a definite advantage to selecting the best pumpkin for the job. The 6 most common types of pumpkins most likely encountered are:
Classic Orange
Colors: Bright orange, yellow gold hues
Average size: Small, medium and large sizes
Common Uses: Best for carving
Popular varieties: Autumn Gold, Harvest Moon, Captain Jack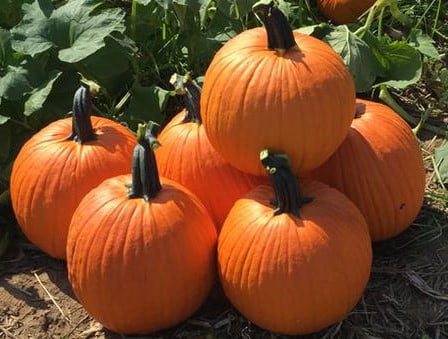 Classic orange pumpkins cover a huge variety of the popular squash but are by far the most recognizable and the ones first chosen for carving because of their glossy smooth flesh with minimal ribbing and flat bottoms.
These pumpkins have the best skin and flesh for carving, due to having rind that is on the thinner side, but not for baking because the flesh tends to be watery and stringy without much flavor. The seeds however are great for roasting and eating for a quick boost of energy and an easy way to get in daily fiber requirements.
Pie Pumpkins
Colors: Dark Orange Flesh
Average size: 4-8 lbs.
Common Uses: Best for Baking
Popular varieties: Sugar Pie, Cinderella, Baby Bear and Dickinson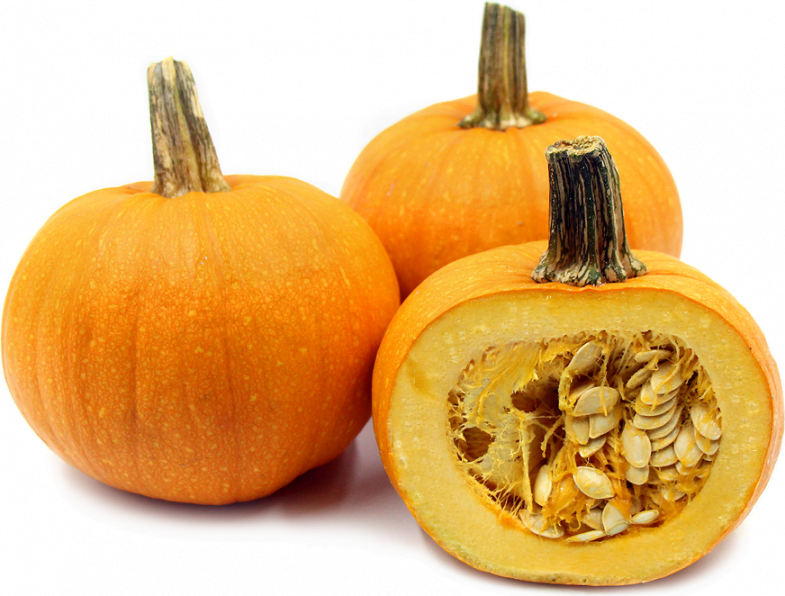 Libby is best known for canning popular pie filling, but nothing beats making it from scratch from one of the popular varieties of what is known as "pie pumpkins." Roasting and pureeing the flesh of this sweet variety of pumpkin will yield the best pies for those holiday gatherings. Pie pumpkins tend to be on the smaller side with a smooth texture and high sugar content that makes them an excellent choice for desserts.
Miniature Pumpkins
Colors: Orange, white and sometimes green
Average size: 2 lbs.
Common Uses: Best for decorating or roasting
Popular varieties: Baby- Boo, We-Be-Little and Munchkin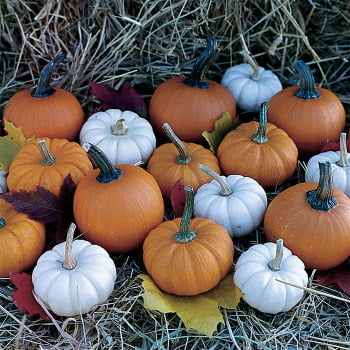 Mini pumpkins are an absolute favorite among children because they are naturally small and easy to handle for little hands. They come in a nice variety of colors to choose from for any arts and crafts project and make great "fillers" for larger displays.
Warty Pumpkins
Colors: Dark green to bright orange colors
Average size: 8-12 lbs.
Appearance: Thick rinds and bumpy exteriors
Popular varieties: Knuckleheads, Bumpy Blue and Warty Goblin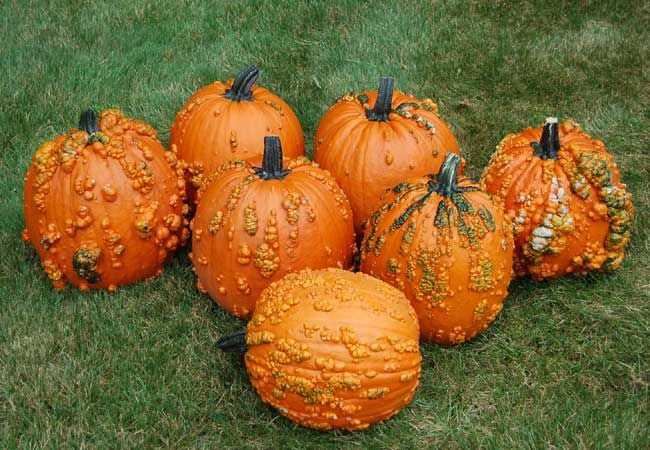 By far the most natural "Halloween" looking of all the pumpkin varieties. Bumpy, lumpy exteriors of varying colors make them scary looking alone and their moderate sizes mix in well with other pumpkins in an arrangement. They can be used in soups and roasted for side dishes, but their tough flesh makes them less optimal for carving and better for painting or just using as is.
Blue Pumpkins
Colors: Dark blue, blue -green colors
Average size: 6 to 12 lbs.
Common Uses: Great for decorating, roasting the seeds
Popular varieties: Blue Max, Blue Lakota and Blue Moon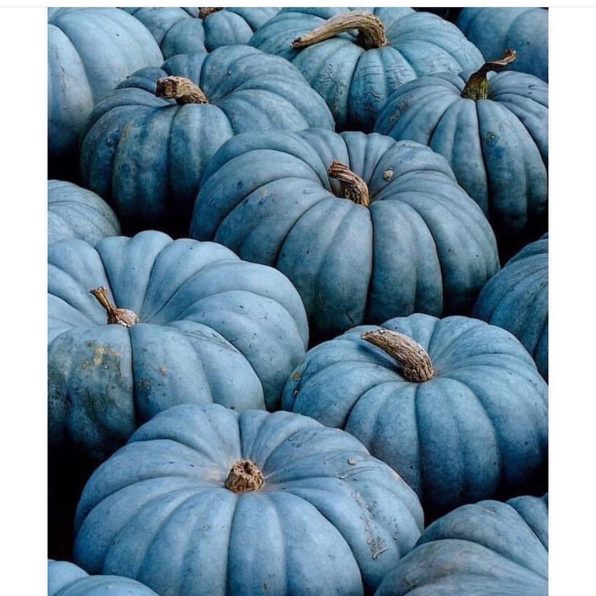 Blue pumpkins are unique and originated in Australia before becoming widely available across the world. Weighing in anywhere between 6-12 pounds they are a beautiful addition to a holiday centerpiece and are a tasty addition to sweet and savory dishes alike. They have a thick, dense flesh which makes them not the best pick for carving, but their blue hues make them standout in any display.
White Pumpkins
Colors: White outside, orange inside
Average Size: Wide range of sizes from mini to 90lbs
Common Uses: Can be used for decorating or baking
Popular varieties: Baby Boo, Lumina and Full Moon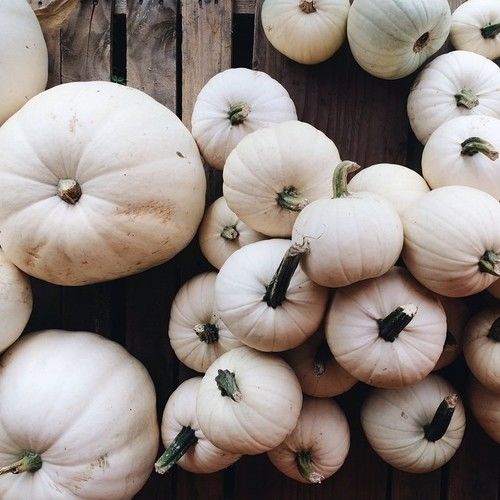 White pumpkin varieties look spooky and ghostly all on their own, so they are a perfect variety for Halloween decorating without any additional embellishments. They also are great for baking because they tend to are sweeter than most of their orange counterparts.
In Conclusion
Pumpkins are a long- loved tradition embraced by most of the world and their versatility make them popular for so many uses in homes and kitchens.
Cooking, baking, decorating and carving are just a few ways pumpkins enhance our autumn season and because they are so forgiving selecting the perfect pumpkin for whatever your need is easy and fun.
Head out to the local farmers market or pumpkin patch and choose a few different varieties types of pumpkins to experiment with in your home this fall and enjoy the season of the pumpkin before those first snowflakes start falling.
Nikki is a full-time homemaker with a love for plants, nature, and the outdoors. She holds a Bachelor of Arts degree in education, combining her talents and favorite hobby to write educational material for other plant and backyard enthusiasts. Co-founder of Backyardville, Nikki seeks insight for her blogs through reading along with hands-on research in her own yard and garden. Her experiences as a child growing up in a farming community and spending time with her gardening grandmother sparked an interest in growing plants and seeking ways to beautify the spaces around her. Nikki lives in a quiet suburb in Iowa with her husband and their two outdoor-loving children.