Today we are more concerned than ever with our environment-and rightly so. Air pollution, pesticides and toxic chemicals are continually invading our space, and doing everything we can to minimize the harmful impacts on ourselves and our families should be at the top of everybody's lists. Welcome the Fiskars StaySharp Reel Mower.
Think about what happens when mowing your lawn with a conventional gas powered, mower-the emissions, the noise, all a part of the experience, right? But does it have to be? Is there a suitable alternative that can get the job done with great results and have less impact on our surroundings? If you have been looking for a healthier, more environmentally friendly approach to lawn care then there is something out there to help you get started.
Introducing the Fiskars StaySharp Reel Mower-the eco- friendly mower powered by you! Most likely when you think about "push mowers, or "manual lawn mowers" your mind harkens back to the old hard-to-maneuver steel traps used by your grandparents who refused to spend the money on the modern mower powered by gas. Even though their hearts were probably more with their purse strings than the environment, their refusal to get on board with the harmful exhaust producing machines was a movement ahead of their time.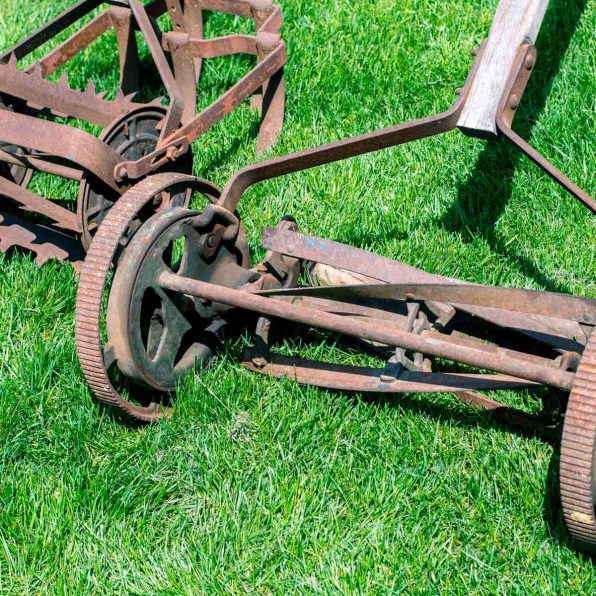 You are probably familiar with the Fiskars brand through their superior scissors that are always sharp and cut with precision. That ingenious technology has been applied to another gadget, the Fiskars Reel Mowers that deliver a crisp, smart looking lawn with every use.
Why Should You Choose This Reel Lawn Mower?
Fiskars StaySharp Reel Mowers are desirable for expert lawn care for many reasons:
Environmentally Friendly
Fiskars StaySharp Reel Mowers use human power not gas or oil which pollute the air all around us and contribute to the destruction of the ozone layer. Think electric or battery powered is better?
Not so according to LeafScore-those batteries house toxic chemicals and eventually end up in landfills- and unless you know that the electricity you are using to run that electric mower is "clean" you really aren't helping anything by choosing one over a gas-powered machine.
Healthier Lawn
A regular gas mower crushes and rips at the grass below it whereas the Fiskars StaySharp Reel Mowers use a much gentler, much more precise method of cutting which in turn produces a beautiful healthy lawn naturally.
Healthier You
Push lawn mowers burn, on average, more calories than walking behind a self- propelled mower and even more than a riding mower! When you are trying to live a healthier lifestyle, using a Fiskars StaySharp Reel Mower is an easy way to incorporate those 10,000 recommended steps.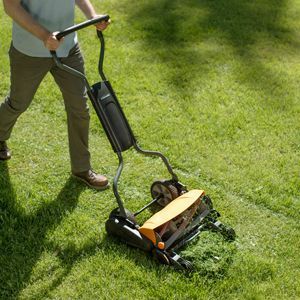 Noise Reduction
Have you ever awoken to the ear -splitting sound of a lawn mower grinding away under your bedroom window at 6am on a Sunday morning? Not a great way to wake up! Conversely, are you an early riser that prefers to cut the grass before the sun gets too hot? When you opt to use the Fiskars StaySharp Reel Mower there is never a need to wake or disturb the neighbors no matter what time you chose to tackle your outside chores.
What makes a Fiskars StaySharp Reel Mower better than the other reel mowers out there on the market?
Using the most advanced technology, Fiskars applies their innovative patent pending "Inertiadrive," that smoothly glides over those tricky spots on the lawn that would normally bind up a substandard push mower.
The exclusive "staysharp" mechanics give the user a sharp cutting blade with every use without the need for constant and costly visits to have your blades sharpened. Fiskars also offers a blade sharpening kit so they you can handle this task on your own at the recommended intervals of every 20-33 mowing sessions.

This is so important when you are ready to grab the mower and get started-you have the confidence of knowing you will have a gorgeous precision cut lawn every time without having to pause for maintenance.
If you are concerned about comfort and ease of use-no need to worry because the Fiskars StaySharp Mowers are designed with your well-being in mind. Ergonomically engineered, the mower is easy on your back and joints when tackling your toughest lawn care tasks.
So where can you buy a Fiskars StaySharp Mower?
The good news is the Fiskars StaySharp Mower is readily available to purchase at your local home improvement store such as Lowe's or Home Depot or through Fiskars direct.
There are several models that you can select from too, from a basic reel mower model to a more sophisticated version with a few additional added features. There is a solution for every lawn size and budget.
StaySharp Reel Mower
The most basic model provides all the great features of the Fiskars StaySharp Reel Mower that you want-StaySharp blades, easy to use and ergonomically designed with your comfort in mind and it is 30% easier to propel.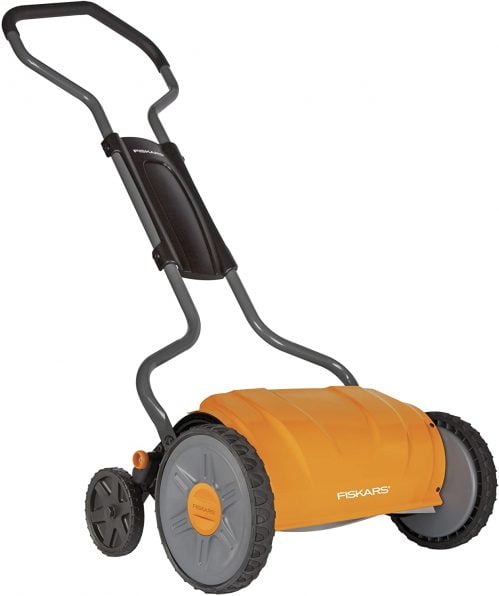 StaySharp Plus Reel Mower
Everything that is included in the most basic model but designed to give you more cutting power and comfort. The Plus model also propels grass clippings forward as you mow keeping your feet out of the path of thrown grass clippings-this upgraded model touts the ability to make it 40% easier to propel.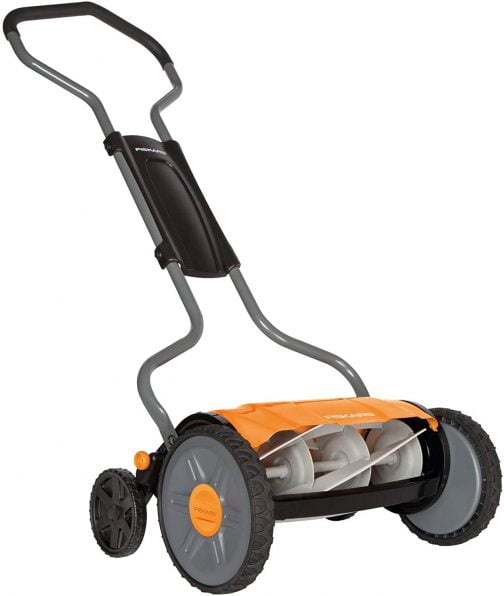 StaySharp Max Reel Mower
This is the high end model that gives you everything you could ever desire in a manual push mower-a feature that allows you to adjust for your desired grass height, a directional component that gives you the control to say where the grass clippings go (forward, backward or downward) and the ability to get super close to those edges. All the upgraded amenities make this model the preferred choice and the best news is that it is 60% easier to propel.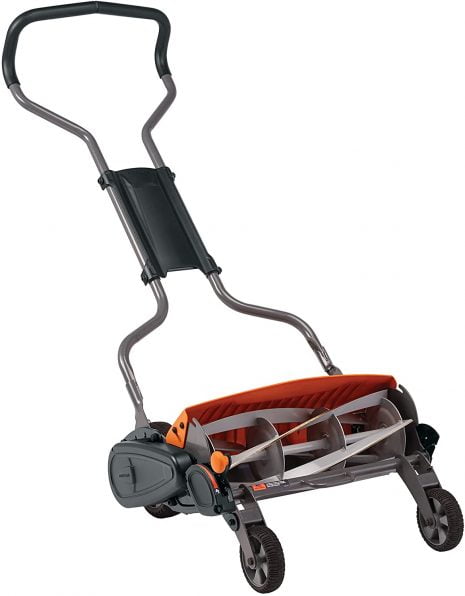 If you are considering changing from your gas or electric mower now is a great time to make that move with more and more attention being placed on how we can contribute to preserving the earth's healthy climate.
There are so many compelling reasons to make the switch and by doing so you will be creating not only a healthier lawn, but you will also be creating a healthier you.
Nikki is a full-time homemaker with a love for plants, nature, and the outdoors. She holds a Bachelor of Arts degree in education, combining her talents and favorite hobby to write educational material for other plant and backyard enthusiasts. Co-founder of Backyardville, Nikki seeks insight for her blogs through reading along with hands-on research in her own yard and garden. Her experiences as a child growing up in a farming community and spending time with her gardening grandmother sparked an interest in growing plants and seeking ways to beautify the spaces around her. Nikki lives in a quiet suburb in Iowa with her husband and their two outdoor-loving children.