The Solo Stove Bonfire 2.0 is the middle child of the Solo Stove fire pit lineup, but it's definitely not one to be ignored. Taking the middle ground might just be the way to go when you want to light up a fire for a party, or you can break out the chocolate, marshmallows, and graham crackers for the ultimate smores get-together.
The Bonfire 2.0 is portable enough to carry in its own carrying case but big enough to warm up by or to light up the night. The Bonfire is the just right fit to set up on the back porch and create a beautiful centerpiece to gather around.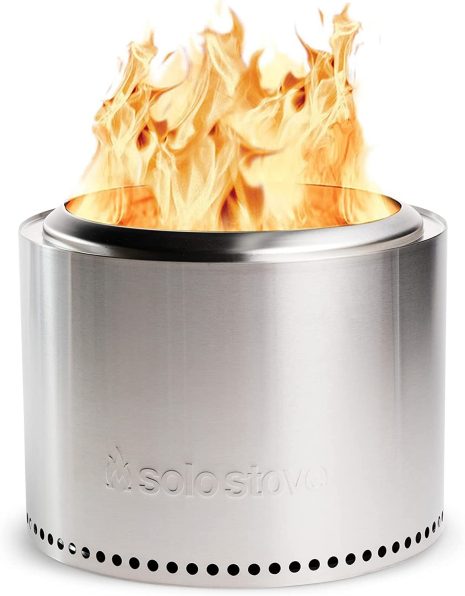 Call up your friends and let them know there's going to be a bonfire tonight.
Let's take a look at the ultimate guide to Solo Stove's Bonfire 2.0.
Solo Stove Bonfire Fire Pit At a Glance
| | |
| --- | --- |
| Material: | Stainless Steel |
| Diameter: | 19.5 in / 49.5 cm |
| Height: | 17in / 43 cm |
| Weight: | 41.6 lbs / 18.9 kg |
| Log capacity: | 3-4 logs to start |
| Price: | $259.99 |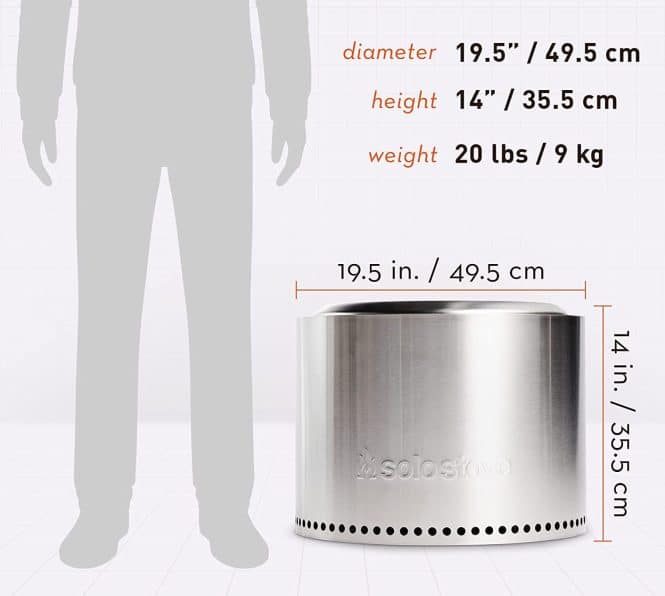 What is included when I buy the Solo Stove Bonfire?
When you purchase the Bonfire 2.0 you will receive the fire pit, a removable ash pan, and a "take it anywhere" carry case. But don't worry, Solo Stove has got you covered with accessory bundles, wood, and even fire starters. Literally everything you need to enjoy a bonfire except your friends and family.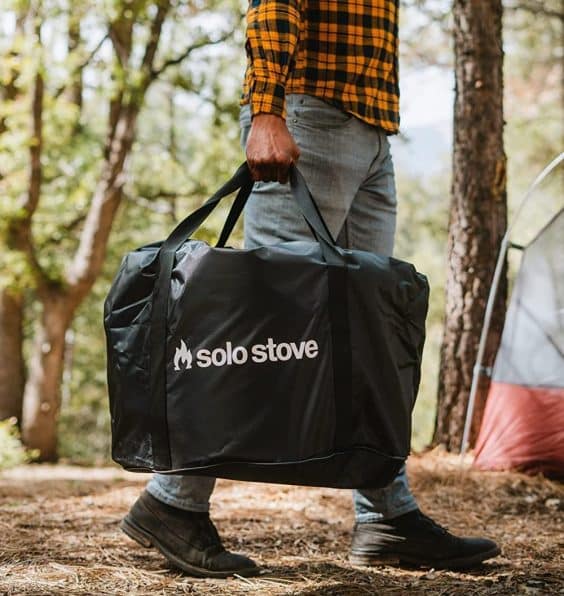 Your biggest decision after choosing the Bonfire 2.0 is which accessories you're going to get first. You can choose between the Bonfire Backyard Bundle 2.0, the Bonfire essential bundle 2.0, or a Bonfire 2.0 cooking system.
Heat deflectors, shields, lids, handles, an awesome fire pit surround. You can also add tools and sticks with the Ultimate Bonfire 2.0 Bundle.
Why choose the Solo Stove Bonfire 2.0?
Solo Stove fire pits are rapidly becoming the go-to when people are looking for a stylish, functional quality fire pit. Clean design, and accessory friendly, with a more environmentally friendly smokeless design.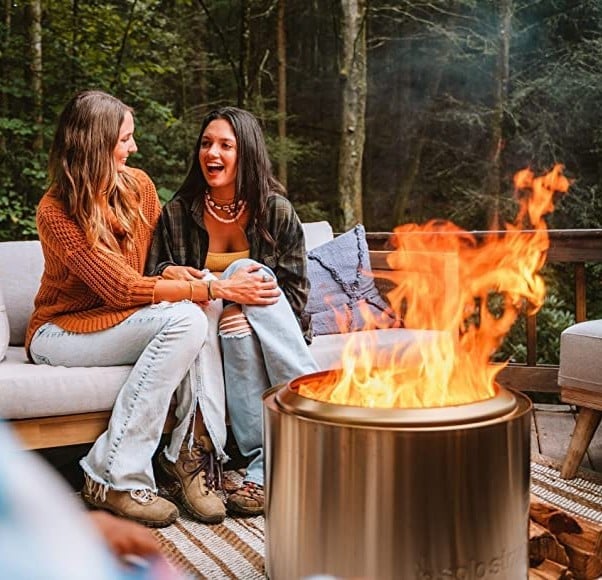 The features themselves sell the firepit and when you add in portability Solo Stove has created what could be the best overall package when it comes to firepits. Imagine being able to throw your fire pit over your shoulder and take it with you. You don't have to look for fire rings or worry about where to set it up, it's ready to go.
Uses for the Solo Stove Bonfire 2.0 Fire Pit
Solo Stove knows that you want to get the most out of your firepit and have it be a multi-tasker and not just a receptacle for wood that you can burn in. So they put together a line-up of bundles, and available accessories that make it obvious there's more than just a fire receptacle thing happening here.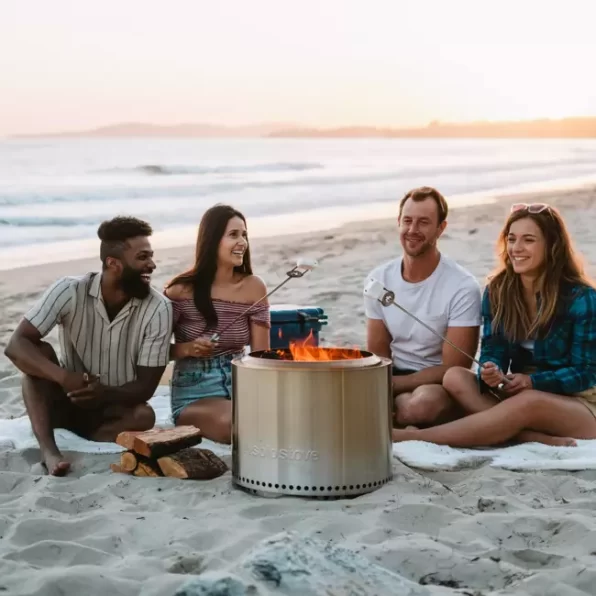 Uses for Solo Stove Bonfire 2.0 include;
Firepit
Grill
Griddle
Wok
Heater
Backyard centerpiece
Gathering point for friends and family
Which one do you think you get the most enjoyment from?
How does the Bonfire compare to other Solo Stove Fire Pit models?
| | | | | | |
| --- | --- | --- | --- | --- | --- |
| Image: | Model: | Diameter: | Height: | Weight: | Price: |
| | Bonfire | 19.5 in / 49.5 cm | 14 in / 35.5 cm | 23.3 lbs / 10.6 kg | $259.99 |
| | Ranger | 15 in / 38 cm | 12.5 in / 32 cm | 15 lbs / 6.8kg | $199.99 |
| | Yukon | 27 in / 68.5 cm | 17 in / 43 cm | 41.6 lbs / 18.9 kg | $459.99 |
The Bonfire 2.0 sits in the middle position between the Ranger 2.0 and the Yukon 2.0 with possibly just the right dimensions you are looking for. Comparing the stoves is easy because they are identical in function, technology, design, style and quality.
The main difference is in size and price. All of the accessories are compatible and designed to fit and function with each of the models and it will all come down to which size you need or want.
Is the Solo Stove Bonfire Fire Pit really smokeless?
The big question is it really smokeless, and if so how does this work?
In order for the Solo Stove Bonfire 2.0 to be smokeless there has to be some design elements that create the perfect combination of ventilation and airflow.
This is accomplished through vent holes in the bottom of the double-walled burn chamber that allow air to flow up and out of vent holes in the top of the chamber. Once the fire is going and the heat inside the chamber has reached a certain temp, a "secondary burn" occurs. This extra blast of heated oxygen is the reason there's no smoke. It is Solo Stoves' very own Signature 360° Airflow Design™.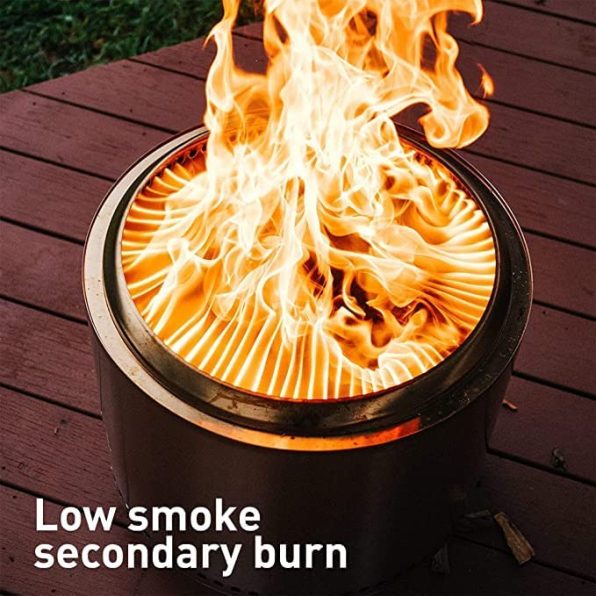 So no more moving around the fire to escape the smoke, or smelling like a campfire. You can just sit and enjoy the beauty of the fire.
How do I cook with my Solo Stove Bonfire?
Break out the marshmallows and let's make some smores! And that is only the beginning of the ways to use Bonfire 2.0.
Solo Stove has made it easy to use its fire pits for cooking. Adding the Bonfire Hub to your fire pit turns it into an entire cooking system.
You can start with the Bonfire Cast iron Grill Top and get some steaks going, or if your guests call for something different, how about a cast iron griddle, or a cast iron wok, the options available make it possible to treat your guest to a wide variety of gourmet treats, or simple burgers and hotdogs.
Our Review
Overall design and stylish looks make the Bonfire 2.0 a solid choice for a firepit. The price may seem a bit steep once you have bundled everything together you might want, but the quality speaks for itself and makes its worth equal to its value and the price is a bit easier to handle.
Having all the accessories broken down into piece-by-piece purchases might be an option if the big bundles are too much in one bite. But the price and the return are equally matched.
Smokeless is an awesome part of these stoves and to be able to sit and enjoy a fire without all the smell, smoke, and constant moving around makes the brand itself a great choice.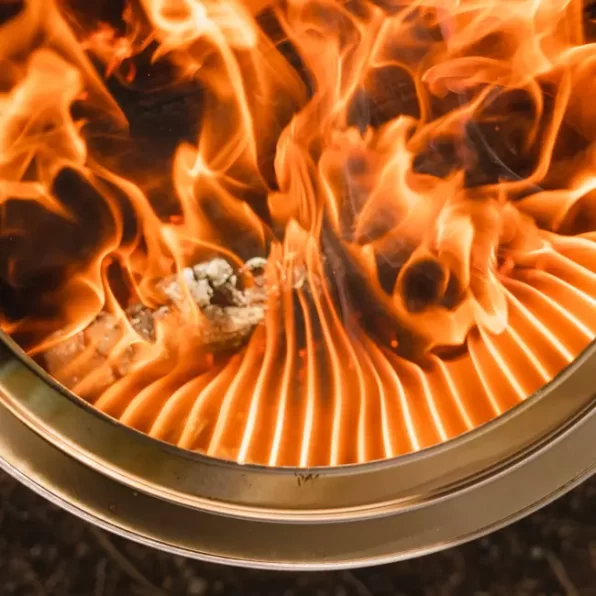 The size of the Bonfire makes it a perfect go-anywhere companion on your camping trips and it's big enough to gather around in the backyard. Overall the middle kid, the Solo Stove Bonfire 2.0 might be the perfect fire pit for the job.