Marking holidays by adorning the home's exterior with beautiful themed décor is a long- standing tradition and one that many look forward to with each passing season. Spruce up your home and yard with these Outdoor Thanksgiving Décor ideas!
Thanksgiving is upon us and with so many fun, simple options for decorating the porch and garden it is easy to get into the spirit of this celebration of giving thanks.
Some simple ways to incorporate the Thanksgiving theme all around your home's exterior can be found as close as your yard and the local craft store.
The Front Porch
The front porch is the first thing people see when driving or walking by your home, so it makes sense to start here with decorating for the holiday.
Adorn Your Door
A festive fall themed wreath and garland made with the intense oranges and yellows of autumn is a great start to announcing the Thanksgiving season. Purchase one ready made from a local merchant or make one from materials on hand such as ribbon, leaves and acorns. Decorative signs featuring Thanksgiving art or quotes displayed to the left or the right of the door are another way to spruce up the entrance.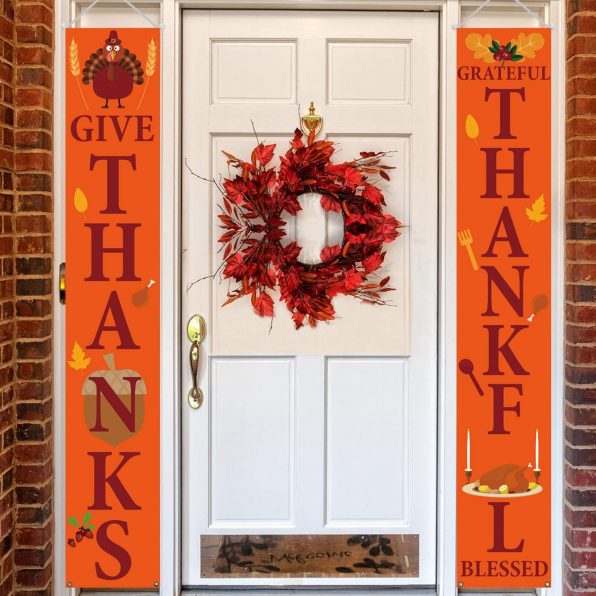 Fall Planters
Turn over the seasonal blooms of summer in the front porch planters to more festive, fall hardy plants-mums, Marigolds, Black-eyed Susans, are all great choices to add a touch of harvest color.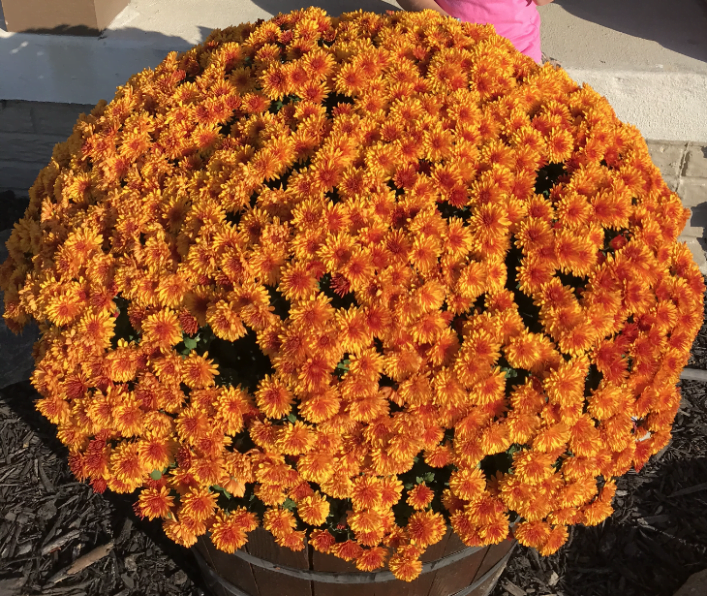 Welcome
Exchange the usual welcome mat for a Thanksgiving themed one to announce the festive mood of the home.
Pumpkins and Gourds
Purchase pumpkins and gourds in different sizes and colors and create a fun topiary using seasonal greens and pinecones or hollow out and embellish with ribbon for cute planters.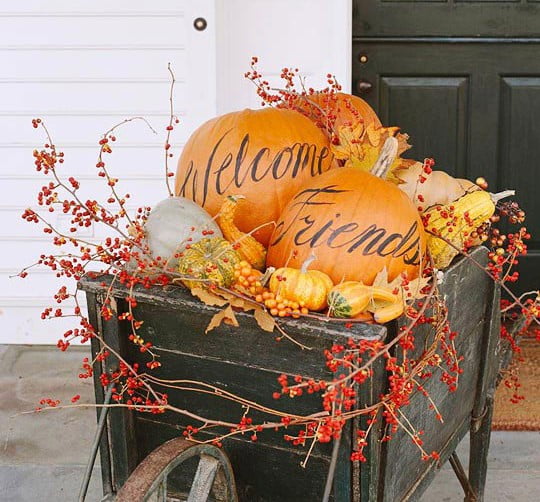 Use the Furniture
Use that bench as a backdrop and arrange pillows, pumpkins and dried corn to create a pretty Thanksgiving motif.
In the Corner
Fill the corners of the porch with large hay bales, tall corn stalks, leaning wooden signs with Thanksgiving designs and big wrought iron lanterns filled with mini pumpkins, leaves and pinecones.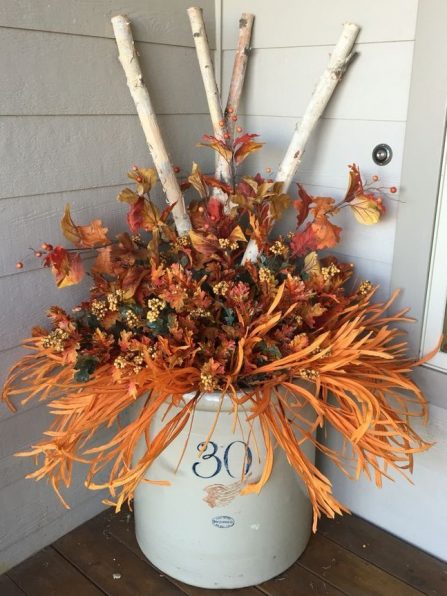 Mailbox
Not part of the porch but still fair game for decorating, the mailbox is a blank canvas and can simply be a continuation of the porch's décor by integrating the same colors and materials. Wrap the garland around the post, stack up hay bales at the base and place a mum filled planter on top.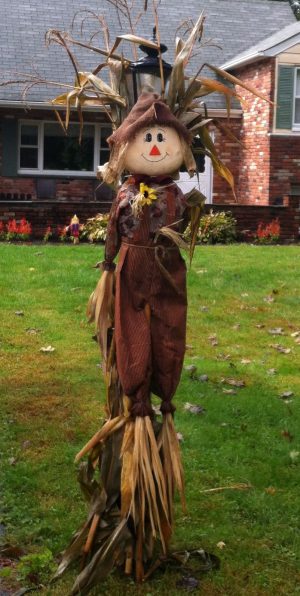 The Back Yard
Scarecrow
Take this opportunity to make a life- sized scarecrow for the garden. Using old clothes, straw, and a large pumpkin head, use your imagination to create an ambassador of Thanksgiving for the retired summer garden.
Bird Bath
Fill the bird bath with artfully arranged pinecones, pumpkins and leaves for a whimsical display of the Thanksgiving mood.
Porch/Deck
Twinkle lights intertwined with a leaf garland can be wrapped around railings or hung from the ceilings in a crisscross pattern. Planters filled with fall flowers used on the front porch can also be brought around to the back for a burst of color.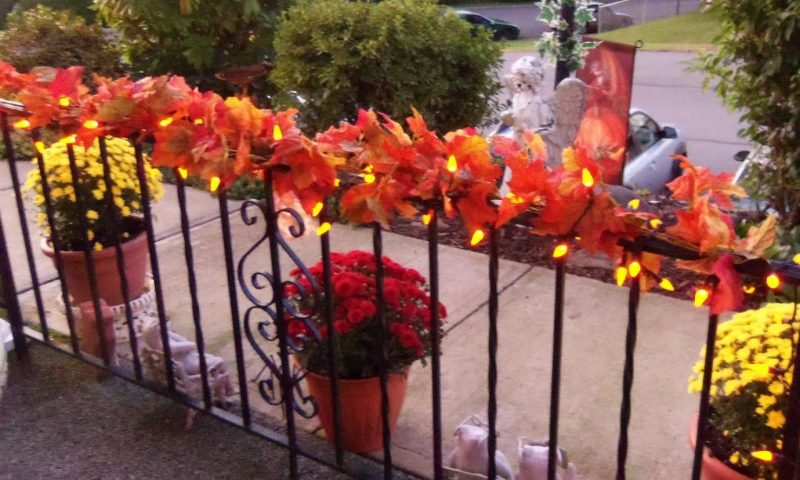 Leaning Ladder
Lean an old wooden ladder against the house and hang ears of Indian corn tied with ribbon, small wreaths and intertwine twinkle lights around the rungs. Old garden tools like rakes and pitchforks can also be garnished with the same embellishments to add a bit of Thanksgiving to the back of the house.
Around the Pit
Add Thanksgiving themed pillows and cozy blankets to outdoor seating areas, and then add some pumpkins, gourds and lanterns strategically placed around the fire pit or chiminea to get everyone in the mood for giving thanks around the fire.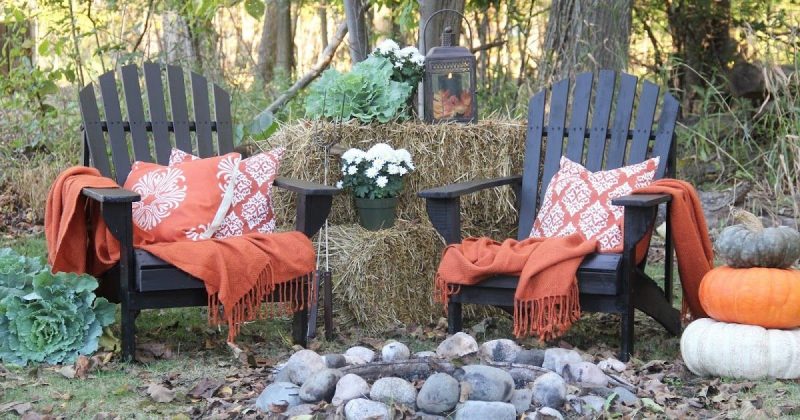 When decorating the outdoor space for any holiday, the easiest way to begin is to think about the colors, styles, and elements associated with that holiday and go from there. Thanksgiving is one holiday that is so much fun to decorate for and a lot of the embellishments used can be found in your yard!
Pinecones, acorns, dried leaves are all naturally occurring decorations that can effortlessly collected and used in outdoor displays.
Fall colors are some of the most beautiful bestowed upon us by nature-deep oranges, golden yellows, rich browns are all complementary to any home. Think about what nature provides in terms of the wide spectrum of colors around the landscape when choosing ribbons, signs and anything else that is being used to decorate for the Thanksgiving holiday.
The important thing to remember when dressing up the outdoor space for Thanksgiving, is to have fun! Thanksgiving is all about being grateful and counting blessings, and one that is certainly always included is having a home and a space to create wonderful landscapes to be enjoyed not only by its occupants, but by anyone lucky enough to pass by share in the joy of your holiday arrangements.
Nikki is a full-time homemaker with a love for plants, nature, and the outdoors. She holds a Bachelor of Arts degree in education, combining her talents and favorite hobby to write educational material for other plant and backyard enthusiasts. Co-founder of Backyardville, Nikki seeks insight for her blogs through reading along with hands-on research in her own yard and garden. Her experiences as a child growing up in a farming community and spending time with her gardening grandmother sparked an interest in growing plants and seeking ways to beautify the spaces around her. Nikki lives in a quiet suburb in Iowa with her husband and their two outdoor-loving children.