By learning to make your space usable at night, you can create a yard that will be 'light years' ahead of others in your area. Lights play an important role in making your yard look great and be more usable after the sun goes down. Installing lights does not have to be a tricky task, especially with low-voltage light kits available online and in stores. There is no need to hire an electrician, as you can complete everything perfectly just with a few design tips, simple math, and the appropriate lights for the job. It is a good idea to hire a pro though if you do not have power available outdoors and need to install an outdoor GFCI.
Before you decide to buy some landscape lighting, it is important to take your time and map out your plan first. For this, you will have to determine exactly what you want illuminated in your yard. Do you just want to set a romantic mood in the late hours? Do you only want landscape lighting to illuminate a particular area in your yard for security reasons? Or you may be thinking of going for landscape lighting to illuminate a path leading through your yard to mark its boundaries. Once you know the real purpose, you will be able to decide exactly which lighting fixtures are going to work great for you.
Decide on Landscape Light Design Ideas
The best option would be to call in a pro and let them take charge of everything, but you can certainly handle the task on your own if you are willing to invest some of your time and energy. To make things easier, it is a good idea to make a sketch of your yard first. Your sketch should include the position of all existing lights, benches, buildings, shrubs, trees, and other decorations in the garden. Understand that every object in your yard is going to absorb light or reflect it. Therefore, you should plan accordingly.
You can use different types of lights for different areas. Here are some design ideas to consider:
Use trees properly. You should consider using light on trees when you focus ground lights up into foliage. If you do not do it, the up-lit crown is looking more like a hovering UFO. You may want to place at least two 20W downlights in a tree if you want to illuminate foliage from above. Be sure to point them in a way that their beams do not cross. You can use floodlights, bullet lights, well lights, etc. for this task.
You can use garden lights to make planting beds look perfect. Be sure to have at least 20ft distance between fixtures. Remember, you do not need continuous illumination here, but your focus should be on getting pools of light to help move your eye form one plant to the next.
Wash lights and bullets are going to work great for home façade. To highlight architectural details on the front of your house, you can simply use bullet lights with bulbs having at least 12-degree beam spreads. You can also focus them at the corners of your home and have some softer wash lights used in between to cover the space.
Bullet, well, and floodlights work great to illuminate garden walls. It is a good idea to position these lighting fixtures carefully and a bit closer to the base, as this will ensure that those beams bring texture into sharp relief.
Bullet, flood, and wash lights can be used to create focal points or highlight and element, such as a tree swing, fountain, or an arbor. You need to use two lights here and may even consider using the beams that cross each other to reduce the harsh shadows.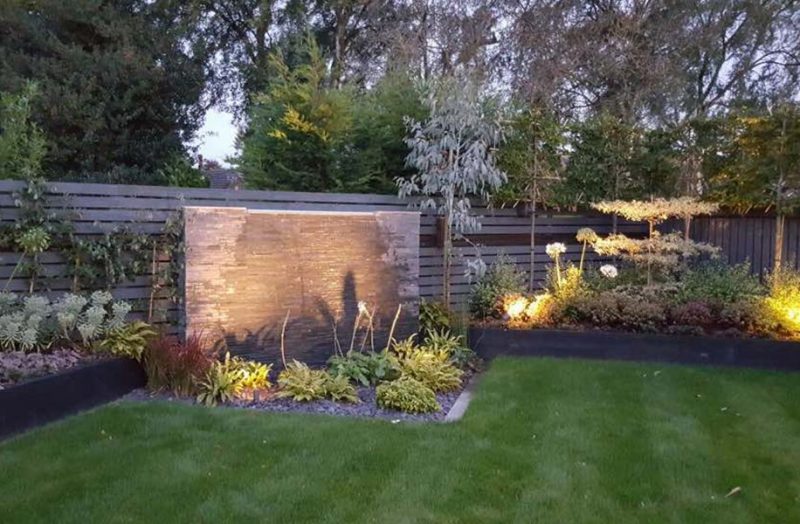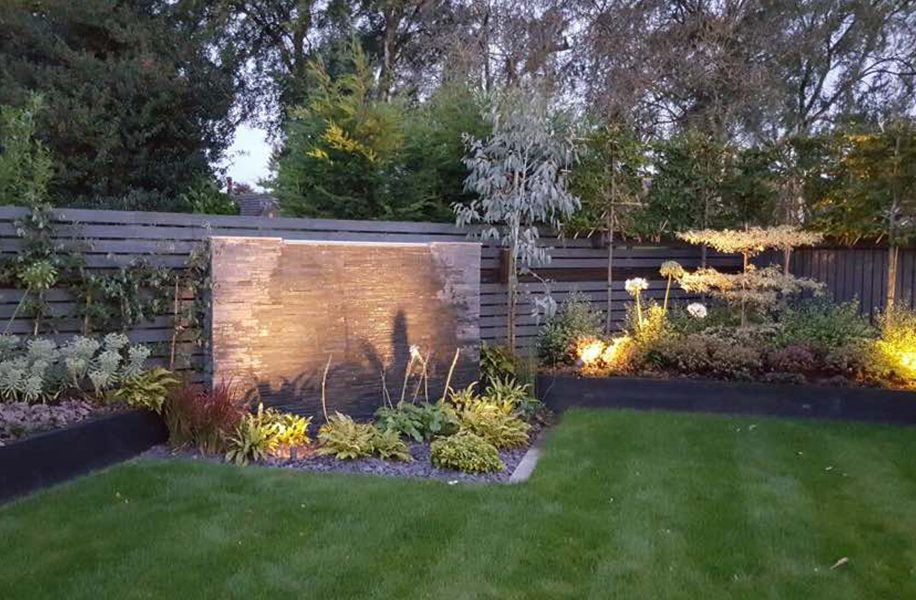 Types of Landscape Lights
Thoughtful landscape lighting can make your yard look awesome. It can make people driving by stop and admire the work you have done to make your yard look different. However, you need to educate yourself about different types of landscape lights to be able to select the best for your yard.
Currently, most landscape lighting is low voltage, which is mainly because it is relatively cheaper and easier to install, especially compared to 120-volt systems. With a step-down transformer, low-voltage lights can easily achieve so many effects while using one-tenth the power. It is easy to use these lights to create ethereal moonlight coming out of a tree canopy or to produce a subtle glow that washes over your low garden wall.
Whatever design idea you have in your mind, you can always find lights to go with it. Here are some different types of landscape lighting:
Electric Lighting System
You can simplify your work and increase the value of your property simply by opting for professional-grade electric lighting systems. You can find these systems with low voltage lighting. It works great when your focus is on illuminating social areas, such as gazebos and decks. The downside is that you will have to run wiring to make these systems work, and even though it is not going to be as tricky or tedious as a standard lighting system, you may still be better off asking an electrician doing it for you. Moreover, the wiring requires special care and you have to ensure that you replace the bulb on low-voltage lights after regular intervals. Some of these systems come with timers, but it is important to set them for daylight savings time.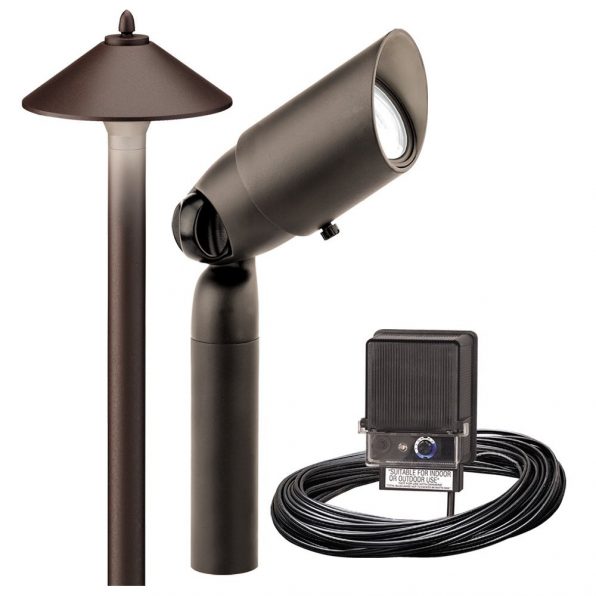 Solar Lights
One of the biggest reasons many people opt for solar-powered lights instead of electric lights is that it is easy to move solar lights from one area to another. These lights use solar energy to illuminate your yard during the night. You may want to put your money on these lights if you do not have electricity in the yard. Solar lights are quite cost effective; in fact, you do not need to pay anything to make them work. The upfront cost of installation is the only cost you have to bear. Modern solar landscape lights do not require any wiring, so they are extremely easy to install. You can use LED solar bulbs and save yourself from doing any maintenance because these bulbs come with a service lift of up to 20,000 hours.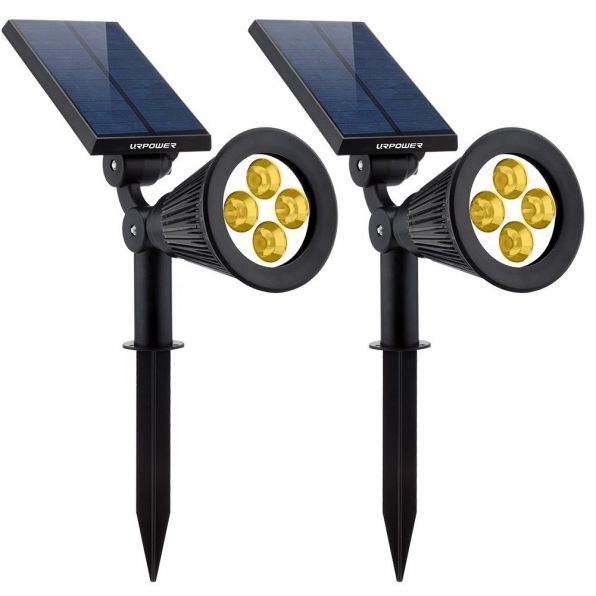 You may have many reasons to opt for solar lights, but keep in mind that they can be unreliable because they require direct sun and if a tree or another object blocks that direct exposure, these lights may stop functioning well. The good thing is that some of these lights come with separate sensors – you can put those sensors in direct sunlight and place fixtures wherever you want. Also, remember, solar lights are not going to be as bright as electric fixtures and may provide ambient lighting only.
Battery Powered Lights
You may want to opt for battery-powered lights when you want to go with a sustainable energy source. You can have them installed wherever you want because they are wireless. Solar lights with batteries work great here. You can opt for these lighting fixtures when you have areas that receive plenty of sunshine throughout the day. But, it also means that if the battery is not charged due to any reason, these lights may not be bright enough in the evening.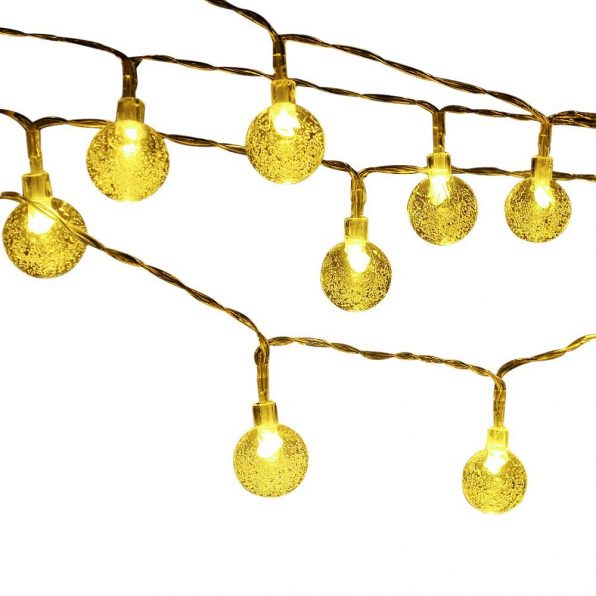 LED Lights
The biggest benefit of LED lights is their long lifespan – it may last up to 50,000 hours, which is much greater than incandescent bulbs that may only last for 2,000 hours. Interestingly, LED lights are much more energy efficient, especially compared to incandescent bulbs that waste about 90% of their energy. The small size of LED lights also makes them a great choice for areas where other lighting fixtures cannot be used properly.
LED lights are more durable as well, mainly because they do not come with glass components like conventional light bulbs. However, these lights can be quite expensive and you may notice that bulbs from different manufacturers are different in terms of white light hue. Keep in mind that even white LED lights are going to emit a somewhat blue-tinted light, so choose accordingly.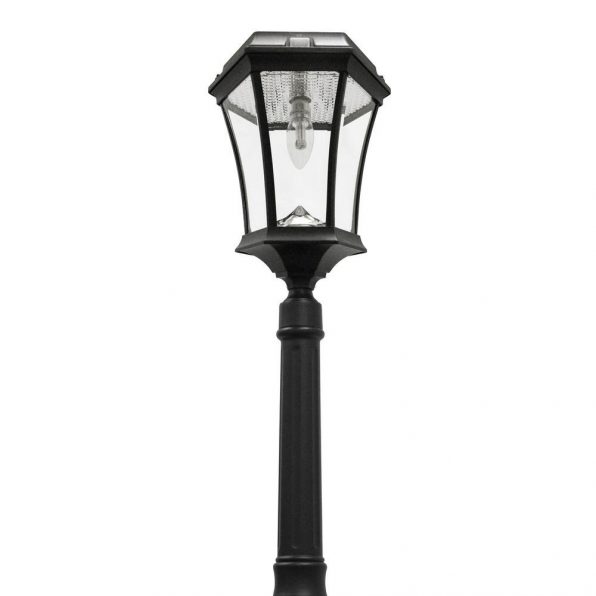 String Lights
String lights can also help you achieve specific design ideas for your backyard. You can find different types ranging from traditional incandescent string lights to LED string lights, which can be electric or battery operated. These lights serve great as bistro, café, patio, and garden lights. You can easily find heavy-duty light strings that are suitable for extended outdoor use. The good thing is that these lights are available in strands of solid, clear, and multi-color combinations and come with an option to stay on, twinkle, or have a chaser pattern.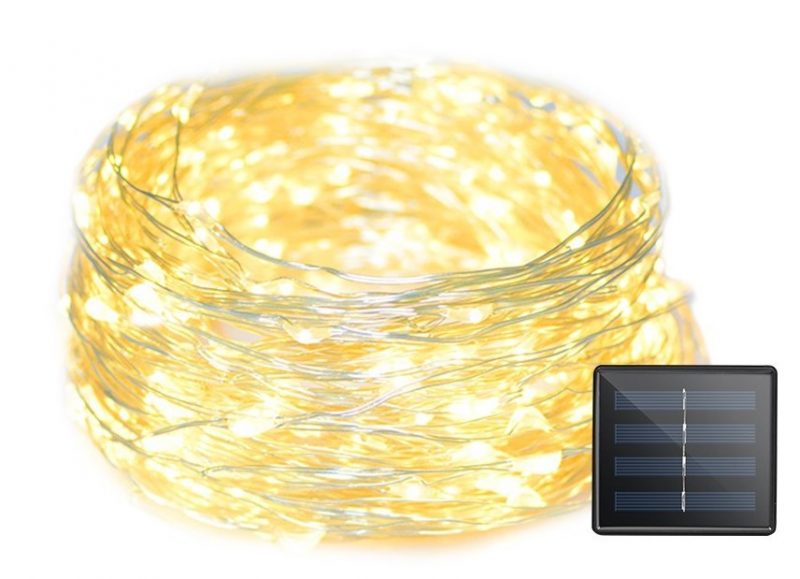 Be sure to check if the string lights you are going to buy are suitable for outdoor use. Do not attach more than three strands of string lights with each other and be sure to follow safety guidelines when using these lights. They are inexpensive, but they may not provide enough light.
Where to Use Landscape Lighting
You can use lighting in different ways to make your backyard look like a piece of art. Some lighting fixtures work great to increase brightness in your yard, but others help you highlight certain areas only. Now that you know the types of landscape lighting, it is equally important to know which of those lighting fixtures will work great for certain areas in your backyard.
Path or Walkway Lights
Having lights leading to the paths through your yard can add a touch of elegance to your property. When used correctly, walkway lights make your home look inviting to your visitors. They also add to the overall safety of your property. You can choose from many different design options here. For instance, you can use up-lights, which are mainly created to light areas from below. They work great to highlight specific features such as a stonewall or trees. You can opt for the offset lights on the walkway to mark parameters. You can add some entirely in the garden bed and use others to cast some light directly onto the path. Remember, path lighting works when you place your fixtures properly. You can make it work even when you use inexpensive stakes, but always keep in mind that these fixtures should serve as gentle hints for where to move next. Less is usually more here.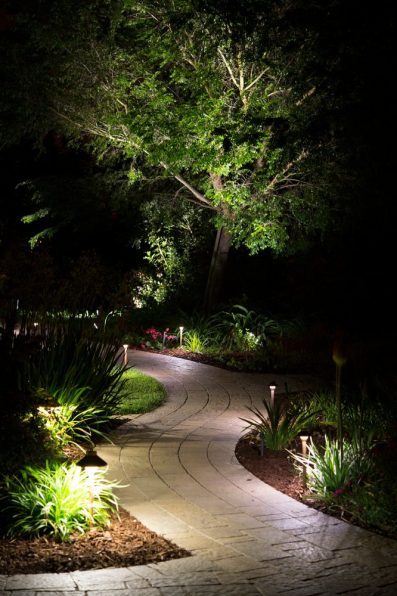 Driveway Lights
To illuminate the area where you park your car, you can try different options. You can find some lights that need to be installed into the actual driveway and you can also find 6-8ft post lights to add brightness and style to your driveway. You can also buy spot light kits and use them in your driveway. If you have brick paver driveways, a great idea is to buy lights of the same size as your bricks and light them up with low voltage wiring. Here, you can also use short post dome style lights, free standing lamp post lighting, in-ground lights, wall mounted lights, and even paver driveway light kits.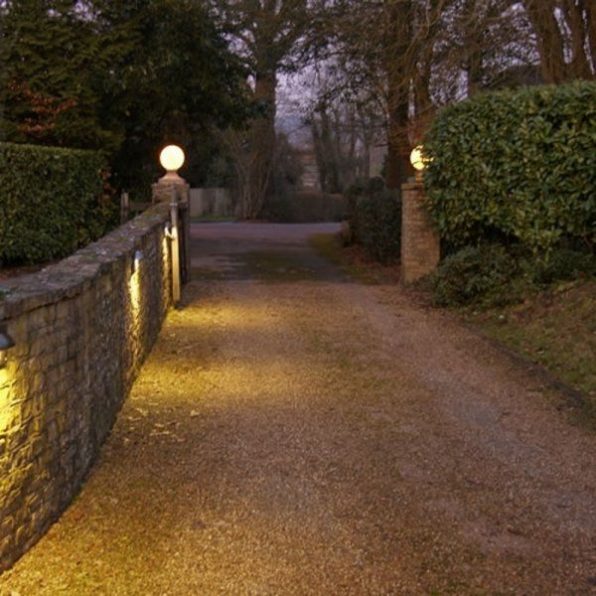 Solar panel lights can also be use as driveway lights, but they may become a bit expensive when you have to install a large remotely located solar panel. If you are going for solar driveway lighting, opt for LED or low voltage bulbs. For electric lights, you can create a stronger lighting with HID, fluorescent lights, halogen lights, and more.
Deck or Patio Lighting
You can use landscape lighting to make your patio look stylish. Again, you can find different lighting fixtures to use in areas where people walk or sit. In your patios and decks, you can use light on benches, railings, balconies, posts, stairs, etc., to create a more aesthetic look. With right type of patio or deck lighting, you can easily extend recreational activities well into the night. For instance, you can use recessed deck lights if you are looking for something that could be installed at lower levels. You can have them installed on pavers, among deck floorboards, or underneath seating areas.
Accent deck lights are focused downwards and work great when you want to highlight a specific feature. You can have them installed on posts and railings to enhance safety. Similarly, you can also choose stair deck lights and have them installed onto the vertical riser of stairs or opt for post deck lights and install them on the top of posts and rails along the deck area.  An oversize floor lamp may also work well and provide the entire seating area with enough light to use it during later hours.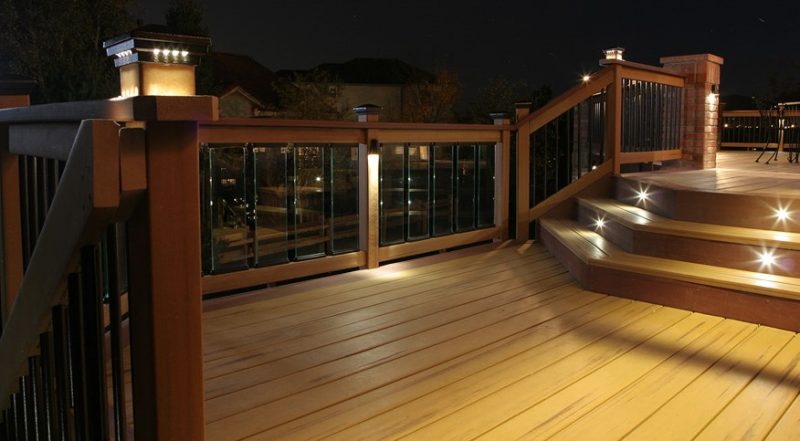 Pool Lights
To enhance the beauty of your yard with a pool, you can opt for some underwater lights and use them to make water features and fountains look perfect. They also work great in container water gardens. Simply buy some solar lights and have them installed in your pools for great effects. You can basically choose from halogen pool lights, incandescent pool lights, and LED pool lights. Compact Fluorescent Light bulbs are much more cost efficient than old incandescent lights. Halogen lights are even better because they use less power and still produce white light. LED lights are available in different colors though and may be a better option depending on your unique requirements. Be sure to consider the local code when buying pool lights because you may only be allowed to use a low voltage 12V light – 120V lights are also allowed in some areas.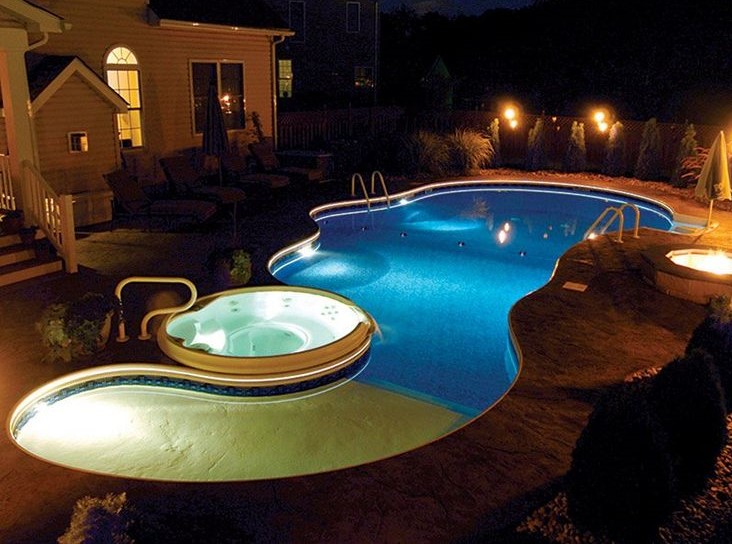 A good option would be to install flush-mounted pool lights because they are aligned with your pool wall.  Another option is to install surface-mounted LED light, which does not require any expertise for installation. They can be retro-fitted to upgrade any lights you currently have in your pool. Pool garden lighting is yet another option if you want a fixture installed outside of your pool. When planned and placed correctly, these lights make your pool look good and bring your entire yard/garden to life at night. Along with these options, you can also consider going for floating or submersible LED pool lights, which work great for a party, as they create amazing effect. Floating on the surface of your pool, they can be solar or battery powered, and are available in different colors, shapes, and sizes.
Plant Lights
Having lighting fixtures installed on plants or trees can make your garden look mesmerizing at night. The technique is called moon lighting and involves placing lights about 30ft or higher to create a natural look. Keeping them high also keep them hidden. These types of lights work great for seating areas because there is no issue of having those light bulbs at eye level.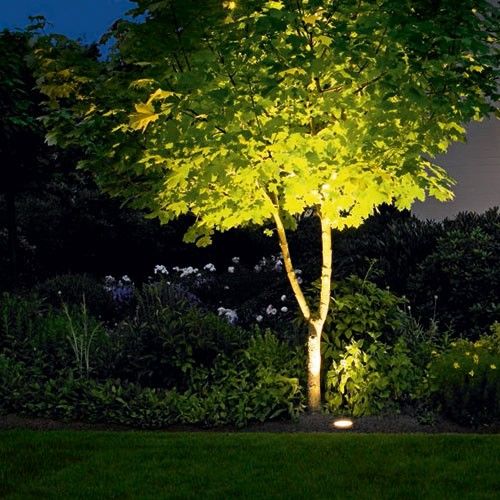 Outdoor Lighting for Security
By making the right use of security lighting, you can make a burglar look for the next easier target. You can find a variety of options when looking for security lighting fixtures. They range from low-level path lights to high-mounted floodlights. Doorway and porch lighting usually serve as decorative lighting, but they can also enhance the security of your property.
It is important to determine where you want those fixtures to be placed because this will help buy lighting with right type of components. For instance, porch lights usually go under a roof, so it is okay if they are not waterproof, but they still need to be strong enough to tolerate dampness. Fixtures installed in your yard or right next to outside stairs should be weatherproof or else you may need to replace them too often.
Here are two of the most common types of security lights that serve the purpose perfectly:
Spotlights/Flood Lights
Flood lights are also called security lights, and are quite effective because they can keep an extended area illuminated without the use of several light bulbs. Getting these lights installed is a simple and effective way to deter intruders. There are different types of floodlights available, so be sure to take your time before making a choice. Always consider the type of finish you want – these lighting fixtures are available in different finishes, including stainless steel, copper, and colored lacquer on aluminum. Pick a light that compliments the existing style and color of your home.
You can also put your money on motion sensor floodlights because they help preserve energy and still ensure that no breaks into your house. However, if you are more concerned about your security, you can opt for 'dusk-to-dawn' floodlights because they turn on at sunset and shut off automatically at dawn.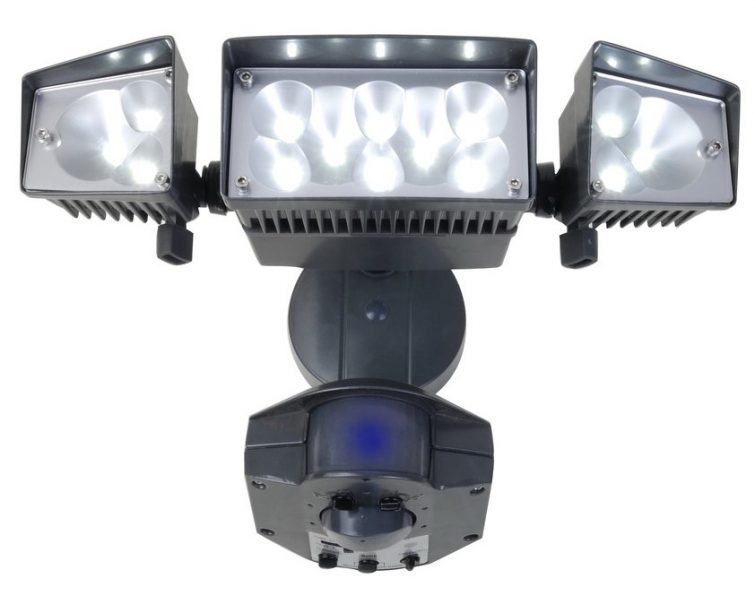 When making a choice, also consider the types of light bulbs used in these flood lights. They could be halogen bulbs, which come with a longer lifespan but are expensive; they could be sodium vapor floodlights, which are more energy efficient as compared to halogens but take longer to achieve full strength; or they can be high intensity discharge (HID) bulbs, which produce efficient beam of light but take some time to show their full power.
Motion Sensor Lights
Motion sensor lights or motion detector lighting works great to enhance the security of your property because it lights up your yard or garage automatically after 'sensing' or 'detecting' any nearby motion. Good thing about these lights is that they are not that expensive and are easy to install. These lights work by detecting infrared waves or heat waves radiated by moving objects. The detector in these lights is very sensitive to moving objects, especially the warmer objects, such as animals, people, or cars. Depending on the settings, the light may stay on up to 20 minutes. You can also adjust distance range on your motion detector.
The best place to install these lights is on the driveway or the walks leading to your back and front doors. These lights also work just fine to light up patios, decks, and potentially hazardous locations, such as swimming pools and stairways. For better security, you can position these lights to cover all entry points of your house, including the patio door, fence gates, and the areas around your yard, bushes, and trees.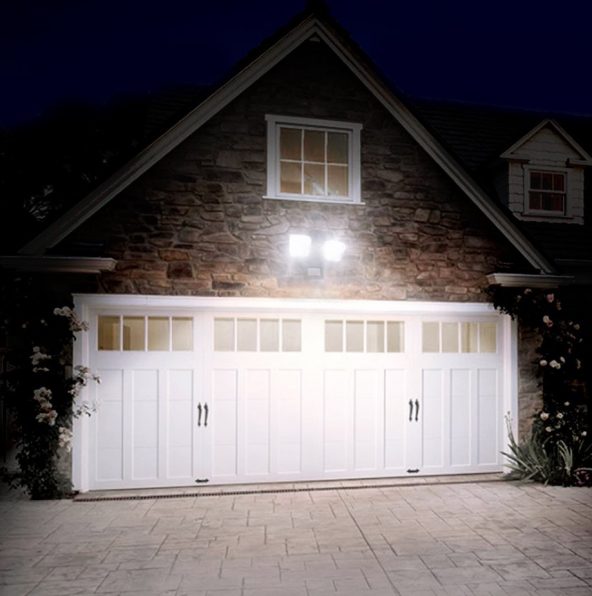 In Conclusion
Landscape lighting can turn your yard into a highly usable space even in the late hours. However, it is important that you have a plan of action before going any further. Simply walk into your backyard after the sun goes down and see what areas require lighting. There is no need to overload the areas with lights, but you need to select right types of lights to get desired results. Be sure to shop around and look for something that matches your style. It is also a good idea to experiment a bit and play around with what design ideas you have selected, but know where to draw the line.
Nikki is a full-time homemaker with a love for plants, nature, and the outdoors. She holds a Bachelor of Arts degree in education, combining her talents and favorite hobby to write educational material for other plant and backyard enthusiasts. Co-founder of Backyardville, Nikki seeks insight for her blogs through reading along with hands-on research in her own yard and garden. Her experiences as a child growing up in a farming community and spending time with her gardening grandmother sparked an interest in growing plants and seeking ways to beautify the spaces around her. Nikki lives in a quiet suburb in Iowa with her husband and their two outdoor-loving children.