Are you looking for a way to provide some extra shade in your backyard? Maybe you want to create an area to gather with friends or family to enjoy the outdoors. There are lots of different outdoor structures that can create shade, distinguish a separate space, or simply provide an eye-catching structure in your yard, but none are quite as versatile as a pergola.
Pergolas are sturdy structures that are simple to construct and can serve many functions. They are built with four main, corner posts and an upper crisscrossed beam structure. While the spaces between the beams don't appear that they would provide much shade, a strategically placed pergola can provide shade in just the right spot during the brightest part of the day. Pergolas are also popular places to grow climbing plants and vines which can provide even more shade and privacy to the area.
When it comes to purchasing a pergola, there are lots of options. You can, of course, start from scratch and gather all the necessary lumber, tools, and hardware to build your own following some instructions from a book or online. There are also pergola kits available for purchase in which all the lumber is pre-cut and ready to be assembled per some simple instructions. Pergolas can also be purchased nearly, fully assembled. The most work you may have to do is attach the top beams and anchor the legs in the ground.
Backyard Discovery is typically known for their wooden playsets, but they also sell two wooden pergolas that are high-quality and ready to assemble in your backyard space. Read on for more details and information regarding these two attractive cedar pergolas.
Backyard Discovery Cedar Pergola
The Backyard Discovery Cedar Pergola would make a beautiful addition to any backyard. Not only does its dark cedar finish look attractive, the sturdy design allows it to be functional as well. It is built with a criss-crossed beam style on the arbor top that makes it more sturdy and adds to its ability to provide shade. For those who would like to use their pergola to support climbing plants or vines, this one is a great candidate.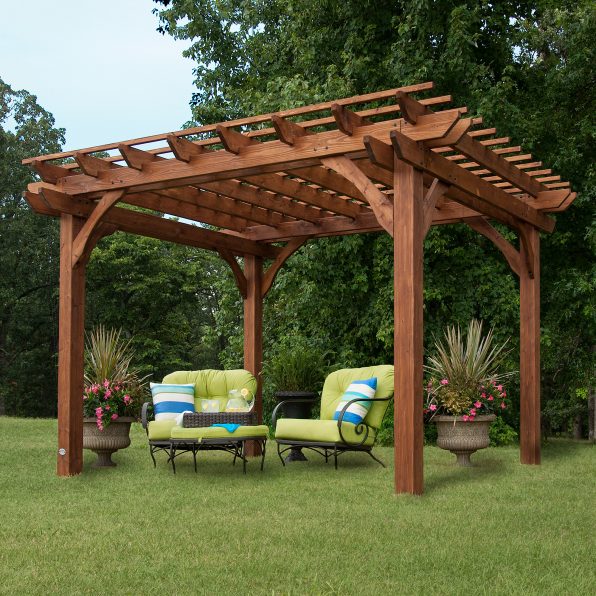 What is included with the Backyard Discovery Pergola?
When you order this cedar pergola you will get all the wood components and hardware you need to complete the assembly in its entirety. Each wood part is already pre-cut to the exact size and shape required along with being pre-drilled so there is no question about where bolts and screws need to go.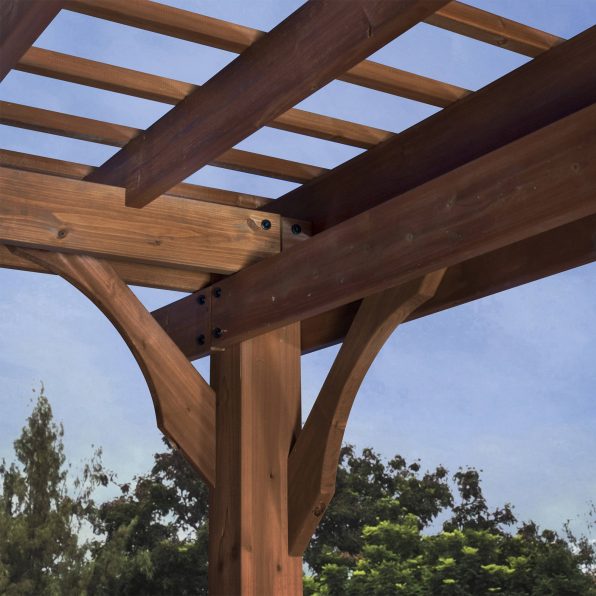 Wood parts are also pre-stained and treated for your convenience. A unique aspect of the Backyard Discovery Pergola, you will also get 4 resin feet with concrete screws to secure the posts and hide any anchors you use.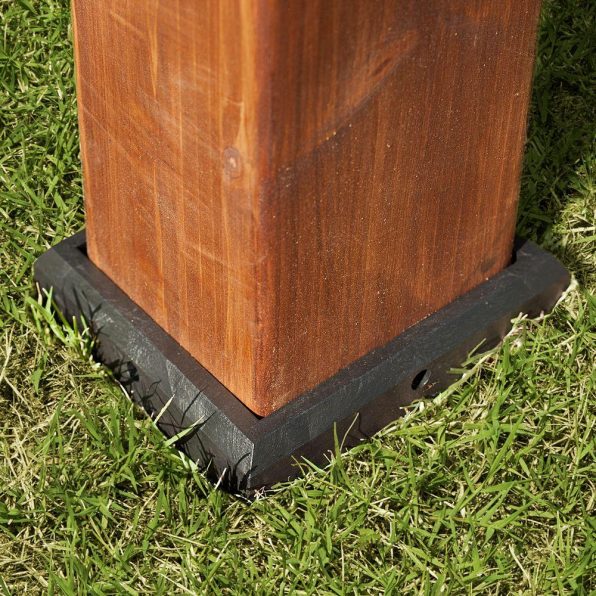 This pergola also comes with a detailed, illustrated instruction manual. The manual includes a complete list of all the wood parts with measurements and descriptions. There is also a detailed list of all the required hardware down to the smallest screw and washer. Each step for building the pergola is outlined with precise detail including labels that refer back to the parts list and illustrations.
How big is the BD Cedar Pergola?
The completed pergola is 12 feet by 10 feet at its largest length and width which is at the outside of the arbor top. Backyard Discovery also offers a 10 foot by 10 foot pergola if you need something slightly smaller. For those who plan to put patio furniture or a pad of cement under the pergola, the inside dimensions between the posts is 9 feet by 7 feet on the larger pergola and 7' x 7' on the smaller.
The height of the structure when completed is 7 feet 10 inches from bottom to top. When standing on the inside, the height is a little shorter at 6 feet 7 inches but still provides plenty of headroom to stand or sit under while enjoying the outdoors.
The manufacturer recommends leaving 6 feet of clearance on all sides of the structure for safety purposes. The arbor top and corner posts should be 6 feet from fences, other buildings, electrical wires, and low-hanging tree branches.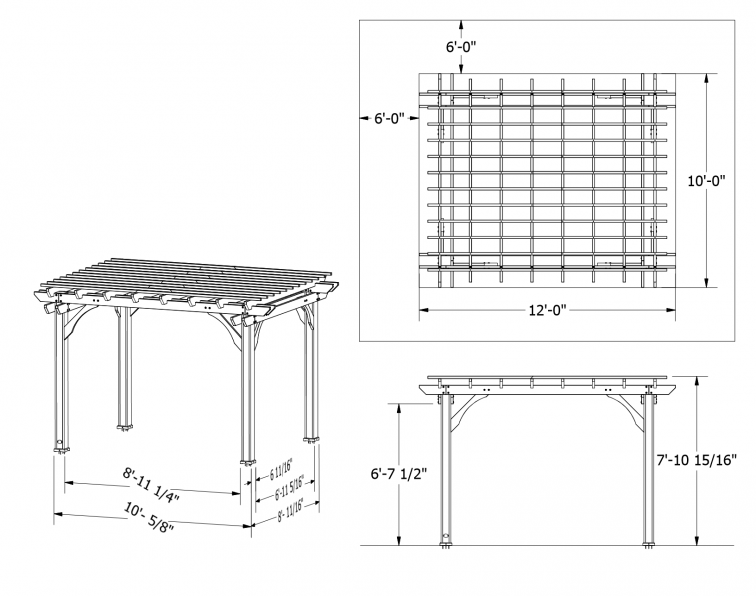 What do I need for assembly of the Backyard Discovery Cedar Pergola?
When you install the Backyard Discovery Pergola all you will need to provide is a few simple tools as well as the help of another adult. Backyard Discovery does include a Torx Wrench and Torx bit that are required for some of the unique bolts. However, the following tools are not included when purchasing the pergola but are recommended for completion:
Tape measure
Screw driver – Phillips
24" level
Square
Rubber mallet
Electric drill with Phillips head and socket driver
Concrete drill bit
Ladder
Specifications
Top dimensions: 12' x 10'
Footprint dimensions: 10' 5/8" x 8' 11/16"
Inside dimensions: 8' 11 ¼" x 6' 11 5/16"
Height: 7'10 15/16"
Inside height: 6' 7 ½"
Weight: 383 pounds
Wood type: 100% Cedar
Price: approximately $1,000
Backyard Discovery Oasis Pergola
The Backyard Discovery Oasis Pergola is another high-quality, durable outdoor structure. This backyard accessory not only adds visual appeal but also provides a place to relax with the family or gather with friends. Unlike other pergolas that are open underneath or need additional patio furniture to make them a place for hanging out, the Oasis Pergola has built-in benches and a bar that are ideal for entertaining.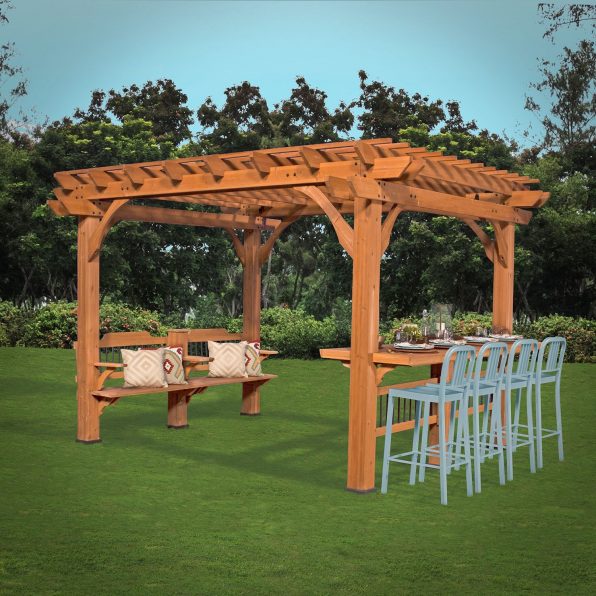 What is included with the Backyard Discovery Oasis Pergola?
Like all of their outdoor products, the Oasis Pergola comes with everything you need for do-it-yourself assembly. All the 100% cedar lumber is pre-cut, pre-drilled, and pre-stained. Every nut, bolt, screw, and hardware you need is also included.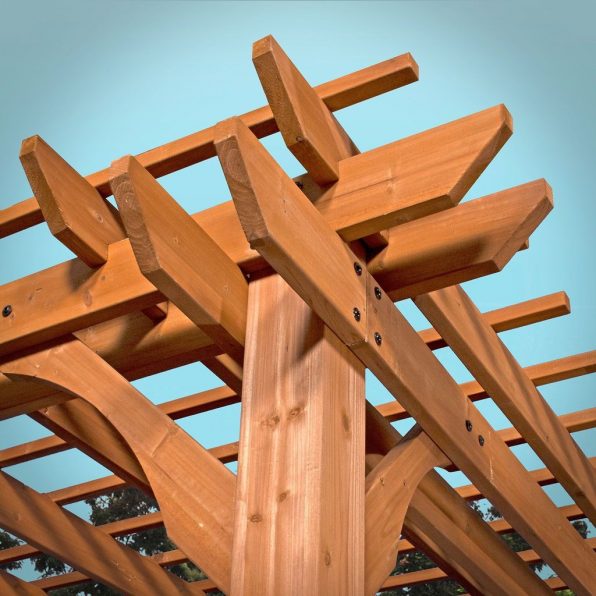 There are 4 unique resin feet that allow for multiple types of anchoring, including concrete. And the feet also provide cover for the anchors so the complete pergola looks clean and contemporary. The pergola is built around 4 sturdy, 6" x 6" corner posts.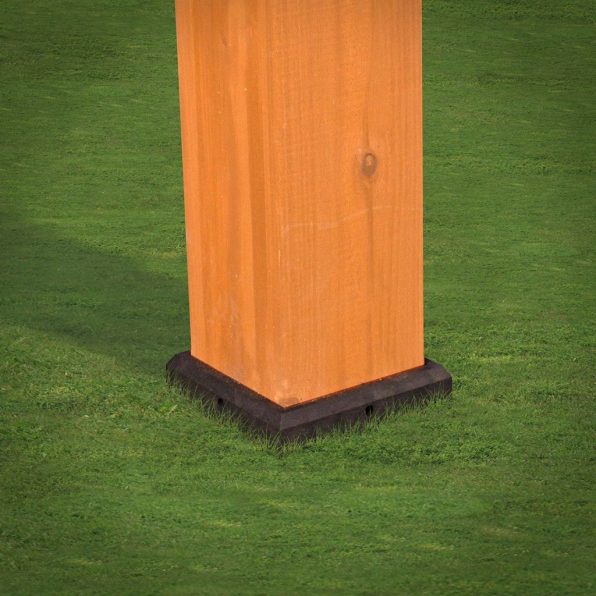 The Oasis Pergola can easily be constructed by two adults with its extremely detailed instruction manual. The manual lays out the exact measurements of the pergola and provides a detailed list of all the wood and hardware parts that should be included in the boxes. The illustrated step-by-step instructions are well-labeled for ease of construction.
How big is the BD Oasis Pergola?
Once constructed the Oasis Pergola has overall measurements of 12' long, 10' wide, and 8' tall which includes the arbor top. The footprint of the pergola is 10 feet long by 8 feet wide while the inside dimensions are 9 feet long by 7 feet wide. It is nearly 8' tall on the outside while the inside headroom is 7 feet high.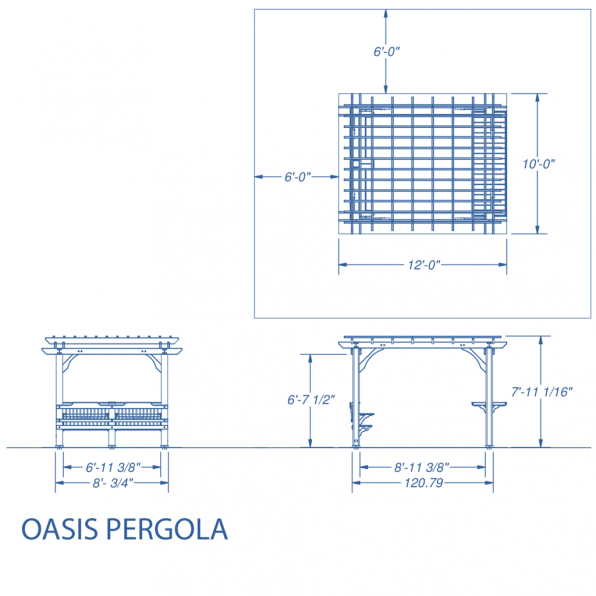 The Oasis Pergola comes with a built-in bench and a built-in bar which are situated on the shorter, 7-foot-wide ends of the structure. They are opposite each other so users can sit or stand and talk while enjoying the outdoors. The bench is designed to hold 4 adults with a maximum weight of 600 pounds. The bar is tall enough to stand next to or works great with tall bar stools that will need to be purchased separately.
What do I need for assembly of the Backyard Discovery Pergola?
When you order the Oasis Pergola it will come with everything you need to assemble the kit yourself, except for a few common tools. Before beginning construction, you need to have a level surface on which to place the pergola. It is also a good idea to inventory all the parts to make sure every piece is accounted for before you are half done and find a piece is missing.
You will want to enlist the assistance of another adult to help hold larger wood pieces in place and steady the arbor top during installation. The following tools will be needed:
Tape measure
Screw driver – Phillips
24" level
Square
Rubber mallet
Electric drill with Phillips head and socket driver
Concrete drill bit
Ladder
Specifications
Top dimensions: 12' x 10'
Footprint dimensions: 10' x 8' ¾'
Inside dimensions: 8' 11 3/8" x 6' 11 3/8"
Height: 7' 11 1/16"
Inside height: 6' 7 1/2"
Weight: 570 pounds
Wood type: 100% Cedar
Price: approximately $1,200
Finally
There is not a lot of difference between these two must-have pergolas from Backyard Discovery. The biggest, most obvious being that the Oasis Pergola is equipped with the convenient bench and high-top bar for entertaining or relaxing. Both pergolas are made of quality cedar lumber and come from a company that has a reputation for excellent products and superb customer service.
So whether you're looking for a place to play, relax, or create an arbor of vines or hanging plants, either one of these pergolas would be an excellent choice.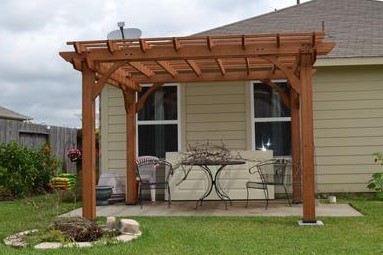 Nikki is a full-time homemaker with a love for plants, nature, and the outdoors. She holds a Bachelor of Arts degree in education, combining her talents and favorite hobby to write educational material for other plant and backyard enthusiasts. Co-founder of Backyardville, Nikki seeks insight for her blogs through reading along with hands-on research in her own yard and garden. Her experiences as a child growing up in a farming community and spending time with her gardening grandmother sparked an interest in growing plants and seeking ways to beautify the spaces around her. Nikki lives in a quiet suburb in Iowa with her husband and their two outdoor-loving children.