The Grand Trekker Play Set is a fairly compact swing set that will fit in most backyards, but still offers plenty of activities that will keep kids playing year-round.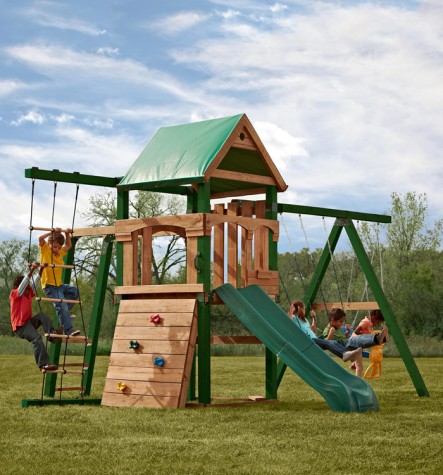 What is included in the Grand Trekker Play set?
The nice thing about the Grand Trekker is that is offers many things, but is efficiently designed so that it will fit in your yard.  There is a swing bar and a monkey bar, but instead of a really long swingset it is designed to have an "L" shape.  This playset is available as a wood complete kit (everything is included) and a no-cut kit (everything is included except 4x4s).
The clubhouse is a good size at four feet square.  And at 4 feet tall it's a good height for little ones and bigger kids.  Under the clubhouse is a perfect spot for a sandbox and the height ensures it will be for kids only.  The deck is covered with a vinyl tarp.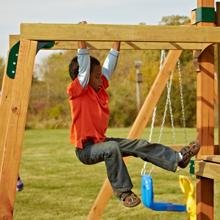 The clubhouse can be accessed by the monkey bars and the rock wall.  In addition to the rock wall there is also a separate rope ladder.  The rope ladder and rock wall are great for climbing which helps kids work on their coordination and build strength while still playing.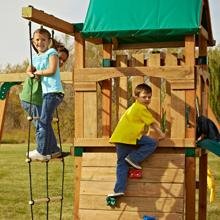 The monkey bar rungs are made from powder-coated metal rings, which means no splinters.  The bars are about 6 feet off the ground and a little less than 5 feet long.  It may be a little short for bigger kids, but is at a safe distance for littles to give it a go.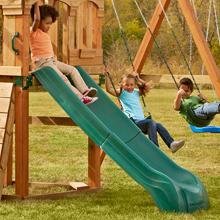 Attached to the playhouse is the slide.  This is always one of the best parts of a swing set.  The Summit Slide comes in two pieces for easy delivery, but is warranted against breaks and cracks for life.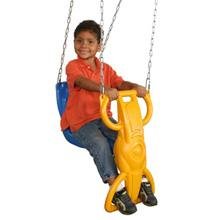 Lastly are the included swings and glider.  Kids never grow tired of swings.  Two belt swings are included as well as the one-person glider.  The Wing Rider Glider Swing is ergonomically designed for comfortable ride.  It is also a great tool for helping kids increase their strength without even knowing it.
Safety Guidelines
For everyone's safety it is a good idea to read through the guidelines before building.  First, build on the lawn.  Hard surfaces, such as packed earth, concrete or blacktop may cause injuries if kids accidentally fall.  To further reduce the likelihood of injury add a surfacing material , such as mulch, wood chips, or shredded tires under and around the playset.  Swing-n-Slide offers a guide to the recommended depths of each type of material on their website.
The surfacing material should be extended 6 feet beyond the end of the playset in all directions.  This safety zone should be free of all obstacles such as trees, sheds, clotheslines, and garages.  The safety zone will help prevent injury by giving kids space without worry of obstructions.
Finally, it's a good idea to have a couple safety rules as a family.  The most important rule for kids is to not run in front of anyone swinging.  Look before you cross.  Try not to play on the swingset when wet; it may be slippery.  Lastly, don't roughhouse on the swing set.  That's best left for the lawn.
How big is the Grand Trekker Play set?
The assembled Grand Trekker measures 16 feet long, 18 feet wide, and 10 feet tall.  When determining the location to build keep in mind the added safety zone you'll need to include.
The playset will be delivered to your house on a pallet with several packages strapped together.  The whole thing will measure about 10 feet long, 4 feet wide, and almost 4 feet tall.  The entire bundle will weigh 610 pounds.  Make sure you have the space to store the package until you are ready to build and be prepared to make several trips to move the pieces.
What ages is this best for?
The Grand Trekker playset is recommended for kids ages 2 to 10 and a maximum occupancy of 10 kids.  With 12 different activities to occupy those 10 kids there will be plenty to do.  This swingset is appropriate for small to large backyards for growing families or those with lots of neighbor friends.
Is there a warranty?
Swing-N-Slide offers a limited warranty on all Swing-N-Slide wooden playsets and accessories.  All parts are warranted to be free of defects in workmanship and materials for up to 5 years under normal use and conditions.  Additionally, the wood has a warranty against rot and termite damage for 5 year.  Cosmetic defects such as splitting, swelling, or warping are not covered as they do not affect the structural integrity of the playset.
What do I need to assemble?
The first thing you should do when your boxed play set arrives is to take an inventory of the parts.  Each piece has number and all wooden parts are marked.  This numbering system helps inventory go quickly.  To help yourself keep everything straight it is a good idea to check one box at a time then set it aside before moving on to the next box.  If a part is damaged or missing contact the Swing-N-Slide customer service department, not the store where the set was purchased.  The customer service department may be reached at the number 1-800-888-1232 or by email at service@swing-n-slide.com.
Next read through the instructions.  The manual includes the parts for each section of the building process so you'll know what you need before you start on a particular spot.  The manual is available online in case you misplace yours.
It is recommended the swingset be assembled by two adults with the minimum build time being 6 hours.  If you are slightly less handy it may take more time.  Our reviews indicate this is often the case.  Luckily Swing-n-Slide has an incredible customer service depart that is happy to help answer questions you may have while assembling.  All of their representatives have been trained and have hands on experience building the playsets they offer.  This gives them excellent, first-hand knowledge to help you with your trickiest questions.  The customer service department is open every day except Sunday and is available by phone, email, or online chat.
All wood that is provided has been pre-cut and pre-stained.  The boards are made from cedar which is naturally resistant to rot, decay and insects.  The boards are not predrilled and it is recommended they be predrilled before assembling to minimize splitting.  All hardware, brackets, and accessories are included as well as the patented bracket system, Rapid-Loc.  This system securely holds the lumber in place which helps reduce build time.  You will need a few tools to help assemble such as a drill, hammer, and measuring tape.
How do I maintain this swingset?
To keep your swingset looking great and living long there are a few things you'll need to do.  The first and most important is to apply a water-based stain and clear water sealant annually.  This will reduce the chances of decay and extend the life of the wood.  Depending on your weather, you may need to do this more often.
At the end of every play season when the temperature begins to dip below freezing it is a good idea to remove the plastic accessories and store them out of the elements.  The garage or shed will work, but inside in the basement, perhaps, is best where it will be out of the cold.  These items can be replaced when the weather warms up in the spring.
After replacing the accessories check the metal parts for rust and sand and repaint if necessary.  The moving parts should be checked for wear or deterioration and metal moving parts should be lubricated.  The hardware covers should be checked and replaced and the hardware should be tightened if loose.  Check the wood for splintering or cracking and sand if needed to prevent splinters.  Finally rake the surfacing material and check the depth.  Replace as needed to maintain the recommended depth.
Is this the Grand Trekker Play set for me?
Based on the size and numerous activities that little ones can grow into the Grand Trekker Play set is best for growing families with small to large-sized backyards.
Kenda is co-founder of Backyardville and a homeschool mom who has a passion for learning along with her kids. This passion extends to the outdoors where she enjoys growing food to feed her family, creating habitats to attract wildlife, and finding ways to nurture and sustain the Earth. With a Bachelor's degree in Materials Science and Engineering from Iowa State University, Kenda uses her education and personal experiences to write and share knowledge with others. Her continuous desire for learning is evident in her blogs and the information she shares. Kenda resides in Des Moines with her husband and two sons.