With two clubhouses, two slides, and two swings the Prescott playset is double the fun.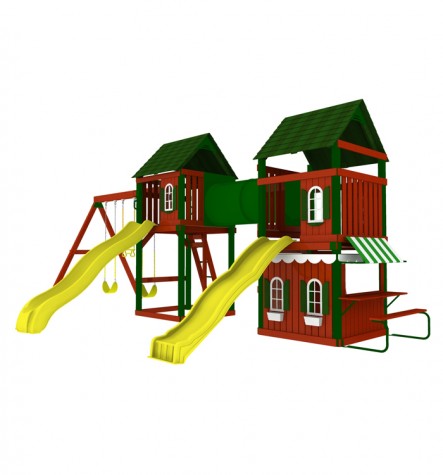 What is included in the Prescott Play set?
The most exciting and unique feature of the Prescott play set are the two clubhouses.  One clubhouse is taller than the other, but both decks are the same size.  The two are connected by a crawling tube.  Both decks are surrounded by wooden slates and even have windows.  They are both sheltered by their own vinyl canopies.
Each clubhouse is accessed by a ladder and each have their own slide.  The nearly-8-foot slides are wave slides meaning they are not straight, but have unique bumps to give a more exciting ride.
The underside of the shorter clubhouse features a cute playhouse.  The deck is 4 feet off the ground making the playhouse the perfect height for kids only.  In the playhouse are adorable windows with realistic shutters and window boxes.  The top of the house is surrounded by delectable scallops that look like they belong on a gingerbread house.  Attached to the house is a snack bench and table shaded by an delightfully striped awning.  The imaginative play that will happen in that house is never-ending.
The taller clubhouse is 5 feet off the ground.  The area under the deck is empty, but the shaded area would be a great spot for a sandbox.  The swing beam is connected to the taller clubhouse and the 8-foot beam has room enough for two swings and a trapeze bar.
Safety Guidelines
As with all types of playsets and swingsets there are a few safety concerns to consider before building and possibly purchasing.  The swingset should not be built on hard surfaces such as concrete, blacktop or packed earth.  A hard surface may result in injury from a fall.  Stick to the lawn when building.
After construction to further reduce the likelihood of injury apply a surfacing to the area under and around the playset.  Surfacing materials include wood chips, shredded tires, and pea gravel.  You can find a guide on surfacing material and how deep to make it on the Swing-N-Slide web site.
This surfacing material should be spread to extend 6 feet beyond the swingset in all directions.  This safety zone should be free of obstacles such as trees, garages, sheds, plants, power lines, clotheslines, and other structures.  This also gives kids room to play.
As well as preplanning, it is a good idea to teach your kids safety rules when playing.  The most important is to look before running; never run in front of someone swinging.  Try not to play when the playset is wet; it's safer when dry.  Additionally, save the roughhousing for the lawn.  The playset is not the place for it.
How big is the swingset?
The Prescott playset is a rather large one.  It measures 23 feet long, 12 feet wide, and 10 feet tall.  Don't forget the 6-foot safety zone you'll need to include when planning the location.
The swingset will be delivered on a pallet with several packages strapped together.  The bundle will measure approximately 8' long, 4' wide, and 4' tall and is delivered curbside.  The entire package will weigh approximately 861 pounds so make sure you have room in your driveway for the bundle and don't expect the move the entire package at once.
What ages is this best for?
The recommended age range for the Prescott playset is 2-10 years of age.  With 9 different activities and a weight limit of 1260 pounds there is enough to occupy 12 kids at one time.  That's a lot of kids.  This playset will work great with a large family or if you want to be the star of the neighborhood.
Is there a warranty?
Swing-N-Slide offers a limited warranty on all of its wooden playsets and accessories.  They warrant that all parts will be free from defects in workmanship and materials for 5 years, assuming the playset is used under normal use and conditions.  The wood has a 5 year warranty against rot and termites for 5 years.  Cosmetic defects that do not affect the structural integrity or present a safety hazard are not covered.  These would be warping, splitting, checking, twisting, shrinkage, and swelling.
What do I need to assemble?
When assembling be sure to select a location that is flat and level.  This is a very important first step and will save you hours of frustration later.  Additionally, read through the manual and instructions before beginning and take an inventory of all the parts.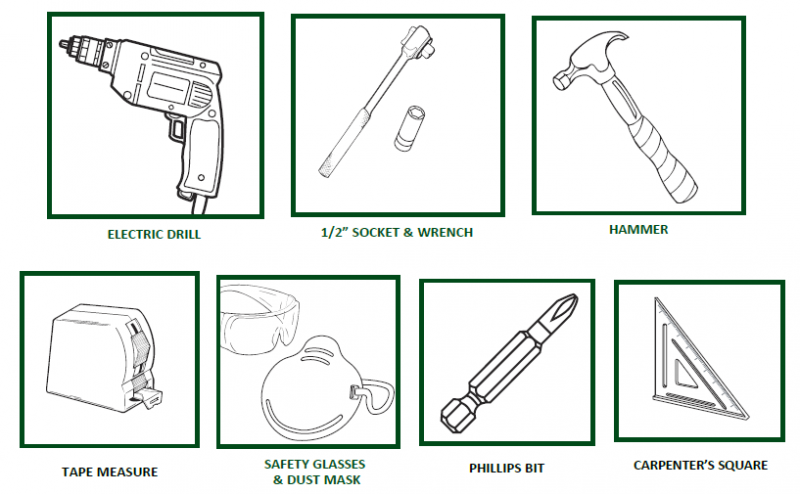 The tools required are a drill, socket and wrench, hammer, tape measure, safety glasses, Phillips drill bit, and carpenter's square.  Hardware, brackets, lumber, and accessories are included.  Included in the set is the patented bracket system called Rapid-Loc.  This system holds the lumber securely and reduces build time.

The wood comes precut and pre-stained to speed assembly.  The wood is made from cedar which is naturally resistant to rot, decay and insects which helps make the playset long-lasting.  It does not arrive predrilled and it is recommended that you predrill the boards to minimize splitting.  Keep this in mind as it will add to assembly time.
Swing-N-Slide makes the claim that most of their playsets can be assembled by two adults in one day.  This includes people that are not handy.  Our reviews indicate that assembly time may end up being longer.  The great news, however, is that the customer service at Swing-N-Slide is top notch and they have experts standing by to help you with problems or questions you may have during assembly.  All of their customer service representatives have spent time assembling the swingsets which gives them a first-hand knowledge of assembly that is rare in most customer service departments.  The customer service department is open most days (closed Sundays) and is available by phone, email, or online chat.
How do I maintain this swingset?
For a long-lasting swingset there are a few things you'll want to do to keep your set is tip-top condition.  The most important is to apply a water-based stain as well as a clear water sealant at least annually.  This will reduce the chances of decay and extend the life of the wood.
Plastic accessories, such as the slides and swings, should be removed in the winter, or when temperature dips below freezing.  Store these parts in the garage or shed, out of the elements.  They may be replaced at the beginning of the play season when the weather begins to warm up.
In the spring after you've replaced the swings and other accessories check the metal parts for rust.  Sand and repaint if necessary.  Check all moving parts for wear or deterioration and lubricate the metallic moving parts.  Inspect the protective covers of bolts and whatnot and replace if needed.  Tighten the hardware and inspect the wood for splintering or cracking.  Finally rake and check the depth of the surfacing material.
Is this the swingset for me?
If you are looking for doubly fun, unique swingset with plenty to do, have a large space, and growing family this is the swingset for you and your backyard.
Kenda is co-founder of Backyardville and a homeschool mom who has a passion for learning along with her kids. This passion extends to the outdoors where she enjoys growing food to feed her family, creating habitats to attract wildlife, and finding ways to nurture and sustain the Earth. With a Bachelor's degree in Materials Science and Engineering from Iowa State University, Kenda uses her education and personal experiences to write and share knowledge with others. Her continuous desire for learning is evident in her blogs and the information she shares. Kenda resides in Des Moines with her husband and two sons.