This Greenworks pressure washer is one of the most powerful available for residential applications. The Greenworks Pro 2700-PSI 15 Amp 1.2-GPM Electric Pressure Washer is suitable for any job around your home, regardless of how big it is.
Specifications
Pressure: 2700 PSI
GPM: 1.2 at max PSI
Hose Length: 25 feet
Cord Length: 35 feet
Soap Tank: Yes
Price Range: $400
PWMA Certified: Yes
What's Included with the Greenworks Pro 2700-PSI 15 Amp 1.2-GPM Electric Pressure Washer
Pro 2700-PSI 15 Amp 1.2-GPM Electric Pressure Washer
A High-Pressure Hose
Turbo Nozzle
Soap Nozzle
15-degree Spray Tip
25-degree Spray Tip
40-degree Spray Tip
Owner's Manual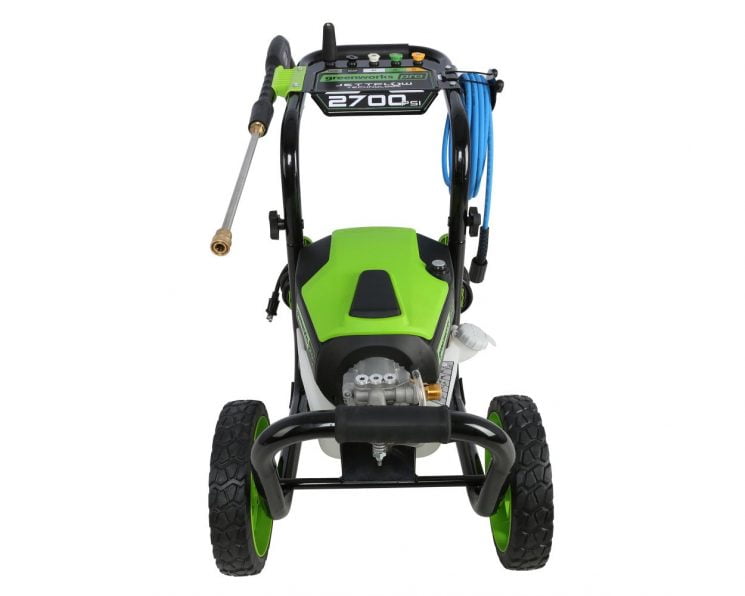 How to Use the Greenworks Pro 2700-PSI Washer
This pressure washer is an amazing tool. The 2700 PSI means it can conquer any job, while the wide tip variety means you won't accidentally damage anything. However, understanding which components work best for which jobs can be tricky.
Tackling tough stains is part of why you want a power washer. This Greenworks pressure washer delivers with its turbo nozzle attachment. The water coming out of the turbo nozzle should only be used on metal, stone, and concrete. It can remove any stains on those materials though.
If you're interested in keeping your brick in perfect shape, there's a combination for that too. The Greenworks Pro with a 15-degree nozzle delivers concentrated power to handle all the cracks and places debris hides.
For wooden structures like fencing and decks, you can pair the Greenworks Pro with a 25-degree nozzle. This choice clears grime off of decks and fences quickly without damaging them. You won't need to pressure wash repeatedly with this option.
For vehicles, such as cars, boats, and kayaks, there's the 40-degree tip for the Greenworks Pro. This choice disperses the water over a wide area, quickly rinsing your vehicle of mess. If you want to power up your cleanings, pair this with the included soap nozzle for spotless clean quickly.
A soap nozzle is a multipurpose tool, especially paired with the Greenworks Pro 2700-PSI Pressure Washer's built-in detergent tank. You can use pressure washer safe soaps for everything from deck cleaning to your car.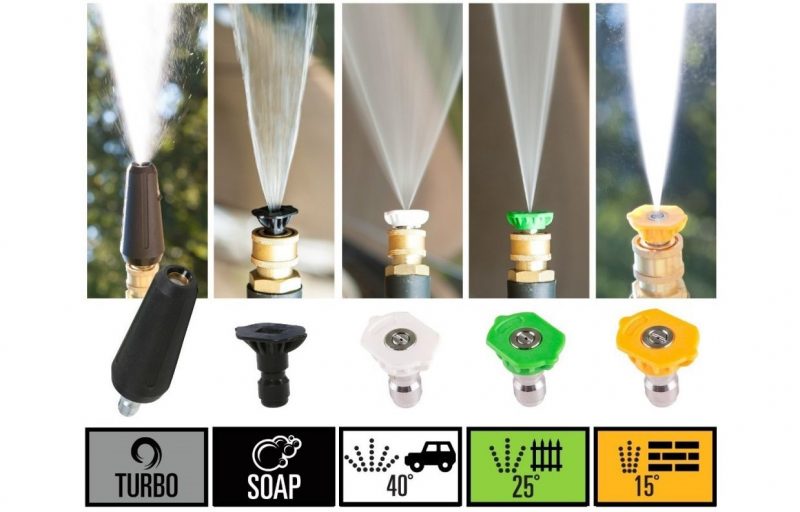 The Unique Motor
The Greenworks Pro 2700-PSI carries a brushless motor. These motors tend to last longer than conventional options while delivering outstanding power.
The motor is also gas-style, which means it runs continuously. This feature helps provide you the higher pressure you need to get your job done. It also keeps the pump primed so that you can work longer.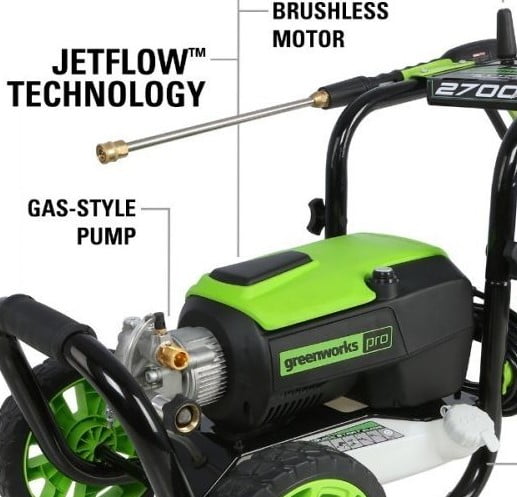 The Greenworks Pro also employs JETTFLOW technology, which Greenworks created. This tech uses digital sensing and adjusts the output so that there is constant pressure coming out of your pressure washer. That creates universal clean.
The Backyardville Take
The Greenworks Pro 2700-PSI 15 Amp 1.2-GPM Electric Pressure Washer is a powerful and versatile choice for your home pressure washing needs. This powerful choice handles even the most challenging jobs on your property.
Interested in seeing some of the other great products that Greenworks has to offer? Learn more about their line of electric pressure washers in our Best Greenworks Pressure Washers Reviews.
Frequently Asked Questions
How Do I Change the Hose on a Greenworks Pressure Washer?
First, ensure that the Greenworks Pro 2700-PSI is not on. First, unthread the wand end of the hose. Then do the pump end. To attach a new hose, connect to the pump and then the wand.
How Do I Add an Attachment to My Greenworks Pressure Washer?
Detach the Greenworks wand from the end of the high-pressure hose on your Greenworks Pro Pressure Washer. Then thread the attachment you would like to use.
If you're changing nozzles, turn the current nozzle to the right to detach it. Then put your preferred nozzle on.
How Do I Attach the Soap Applicator to the Greenworks Pressure Washer?
The Pro 2700-PSI 15 Amp 1.2-GPM Electric Pressure Washer has a built-in detergent tank. Simply unscrew the detergent tank cap and use pressure washer safe detergents.
How Do I Take Apart My Greenworks Pressure Washer?
Before beginning to disassemble your Greenworks Pro 2700-PSI, disconnect the power and water inputs. Then detach the hose. From there, you will need a socket wrench to handle the mounting bolts and an Allen wrench to loosen the pieces near the drive shaft. You can then pull the pump out for maintenance.
Nikki is a full-time homemaker with a love for plants, nature, and the outdoors. She holds a Bachelor of Arts degree in education, combining her talents and favorite hobby to write educational material for other plant and backyard enthusiasts. Co-founder of Backyardville, Nikki seeks insight for her blogs through reading along with hands-on research in her own yard and garden. Her experiences as a child growing up in a farming community and spending time with her gardening grandmother sparked an interest in growing plants and seeking ways to beautify the spaces around her. Nikki lives in a quiet suburb in Iowa with her husband and their two outdoor-loving children.