The heat is turning up, the sun is staying out longer, and you want to spend more time in the water. It can mean only one thing – summer is here! Whether it is in a backyard pool, a pond on an acreage, a lake, or a local river, a lazy day of floating is sometimes the best way to beat the summer heat.
These 5 cool inflatables are must-haves for your floating adventures. Some are perfect to enjoy alone while others have room for the whole family or 5 of your closest friends. They can free float, be anchored, or even tethered to a boat. And of course, what float would be complete without a spot to hold a refreshing beverage.
Learn more about these great floats and get yours ordered in time for those sweltering, hot days.
Floating Island Raft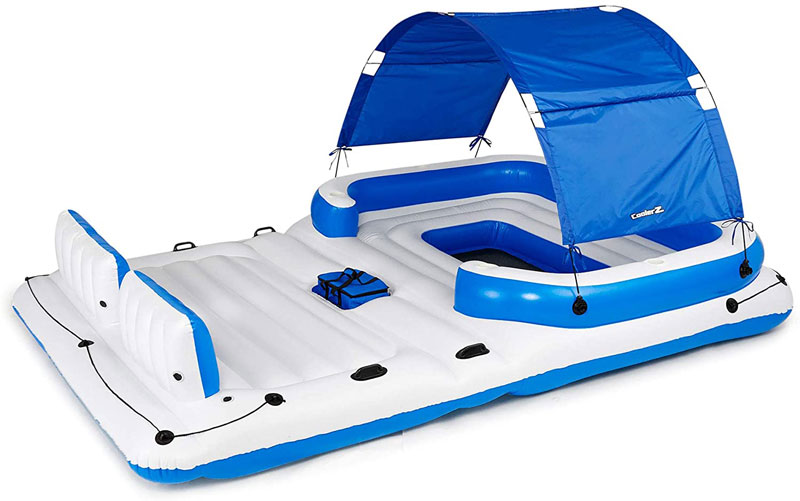 Size: 12.75' x 9'
Number of People: 6
Weight Limit: 1100 pounds
Cool Features: 6 cup holders, built-in cooler, retractable sunshade, mesh floor area
Price: $220
Looking for a fun way to spend a lazy afternoon on the water? You need this Tropical Breeze Floating Island Raft. It is the perfect inflatable for a party on the lake, river, or even the beach. You and five of your friends can lounge in style with this huge float that has back rests on one end for lounging in the sun. The other end features extra wide pillow backrests, a sun shade, and a mesh bottom that hangs into the water for those who prefer to stay cool.
The Floating Island Raft is also equipped with six cup holders to accommodate everyone's beverage of choice. And it has a built-in cooler bag to keep the spare drinks cool and readily available. The attached grab line is perfect for holding on or for tying up to other floats, a boat, or even attaching an anchor so you don't float out to sea. Need a refreshing dip in the water? The attached swimming platform and sturdy handles make it simple to get in and out of the water with ease.
Constructed of tough and tear-resistant PVC, this cool inflatable can withstand all types of use, even if you just use it for laying on while resting on the beach. It also comes with a repair kit and patch in case of accidents.
Get one for your next day on the water!
Boat Party Island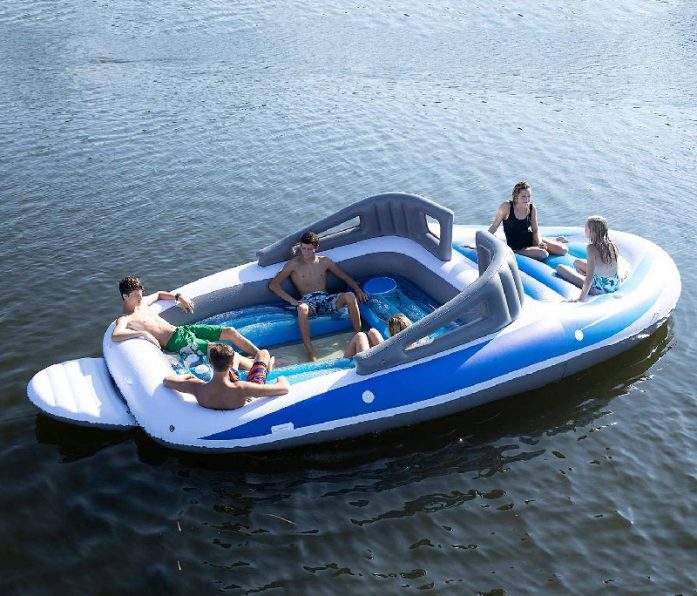 Size: 10' x 20'
Number of People: 6
Weight Limit: 1320 pounds
Cool Features: 8 cup holders, step-up platform, mesh bottom, built-in cooler
Price: $320
The perfect party boat, this Boat Party Island will hold 6 people and provide the perfect setting for floating in the water and soaking up some sun. Whether it's on the lake, in the pool, down the river, or just hanging out on the beach, this cool inflatable is large enough for the whole family, kids included.
Equipped with tons of cool features, the Bay Breeze Boat Island Party comes with a built-in cooler and 8 cup holders. Yep, that's enough for somebody to have two beverages at once! It also has five handles and an inflatable step-up platform on that back that provides support for climbing in and out of the boat while you are in the water. The rear inflatable bench seat is large and comfortable for all "riders" while the front bow is a perfect place to lay to soak up the sun.
This cool inflatable boat is made of durable heavy-gauge PVC. It has a safety valve with quick-release and speedy inflation so you can easily inflate and deflate to your preferred comfort and inflation level. There is no battery pump included. And while it is a boat, it is only intended to be used as an enjoyable floatation device. There is no motor or paddles and it is not designed to be pulled behind another boat.
Flamingo Party Island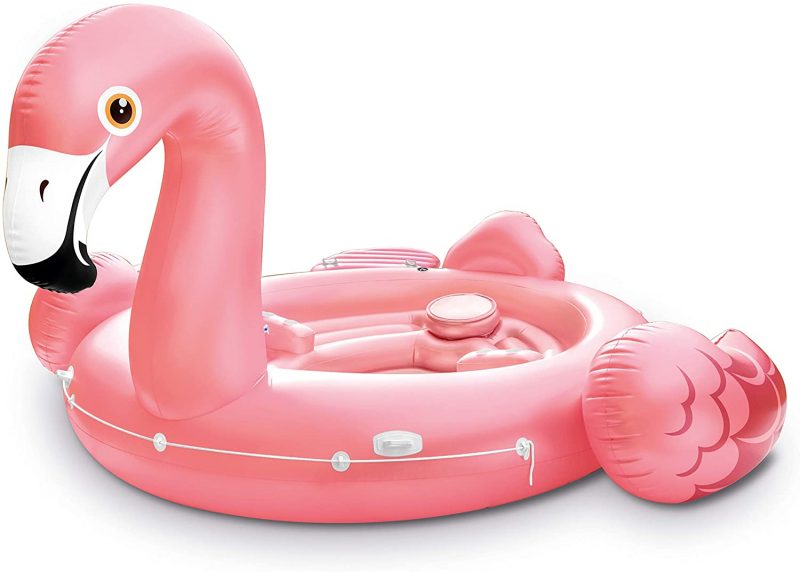 Size: 166" Long x 147" Wide x 73" Tall
Number of People: 4
Weight Limit:
Cool Features: Cup holders, mesh bottom, boarding platform, built-in cooler
Price: $170
You will be floating in style when you're on the water with this enormous floating flamingo. The bright pink Flamingo Party Island is huge measuring nearly 14 feet long and 12 feet wide. It's the perfect inflatable party float for 4 people to enjoy an afternoon on the lake, river, or pool.
Equipped with a built-in cooler and 4 cup holders once you start your flamingo ride, you'll be able to float in comfort for hours. The mesh bottom allows you to cool off and lounge without needing to get in the water. Ready to take a dip? Simply climb down and up using the detachable boarding platform and one of the 7 heavy-duty handles.
Made by popular inflatable company Intex, the Flamingo Party Island is constructed with durable 20-gauge vinyl and comes with a repair patch in case of accidents. It also includes and anchor bag with a rope in case you don't want to ride your flamingo into the sunset.
Patio Dock Inflatable Water Platform
Size: 15' Long x 6' Wide x 6" Thick
Number of People: 10+
Weight Limit: 2000 pounds
Cool Features: Included electric inflator, hand pump, non-slip surface, 24 welded web-loops
Price: $1400
This cool inflatable is a must-have for anyone who spends a lot of time in the water. The versatile Patio Dock Inflatable Water Platform provides a secure place to lounge, sunbathe, jump in, or even launch a wakeboard without the need for a permanent dock structure. It is large enough to hold up to 10 or more people and durable enough to hold your cooler and a couple beach chairs for a day of lounging on the water.
Inflating and launching is simple with the included 15 PSI electric inflator that has a 20" power cord or options to plug into a cigarette lighter or battery terminal clamps. There is also a double action hand pump in case you don't have access to electricity. Even with its large size, transporting the water platform is manageable with 6 carry handles. The 11 stainless d-rings and 24 web-loops on the top and bottom allow you to anchor the platform, tie up to a boat, or connect to other platforms for a whole floating party dock.
One of the largest floating swim platforms you will find, the Island Hopper Patio Dock Water Platform is built for quality with a 5 year warranty for no seam blowouts. The top surface is a durable EVA foam that is soft and non-slip. Repair patches, stow straps, and an instruction manual are all included. For more fun and comfort there are additional, optional accessories including an inflatable pillow and soft entry ladder.
Inflatable Aqua Treadmill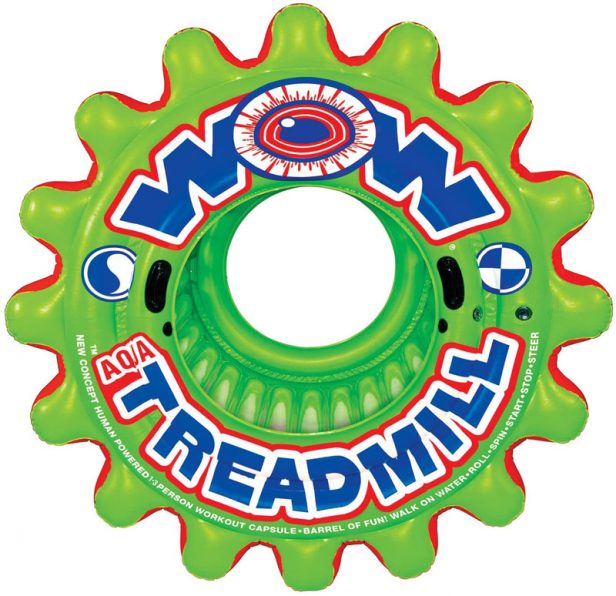 Size: 74" x 74" x 61"
Number of People: 1-3
Weight Limit: 650 pounds
Cool Features: Speeds up to 10 mph, steerable, bright colored
Price: $200
This cool Inflatable Aqua Treadmill is a great way to have some fun on the water but also get some exercise. Put some human power to use by climbing inside the cockpit and walking, running, or pushing the Treadmill to make it go. The patented sprocket system allows it to grab the water and really make it move at speeds up to 10 mph. Move all around the lake or pond by putting all your weight to one side and steering to the left or right.
The Aqua Treadmill can be seen across the water with its bright-colored construction. However, the center section is see-through making it easy for riders to see where they are going. Handles on the outside make transportation easy. And when you're tired of moving this inflatable can be used as a floating island by tying the 10 foot rope to one of the grommets.
Nikki is a full-time homemaker with a love for plants, nature, and the outdoors. She holds a Bachelor of Arts degree in education, combining her talents and favorite hobby to write educational material for other plant and backyard enthusiasts. Co-founder of Backyardville, Nikki seeks insight for her blogs through reading along with hands-on research in her own yard and garden. Her experiences as a child growing up in a farming community and spending time with her gardening grandmother sparked an interest in growing plants and seeking ways to beautify the spaces around her. Nikki lives in a quiet suburb in Iowa with her husband and their two outdoor-loving children.