You likely have a standard garden hose that you purchased at your local home improvement store and it does what it is supposed to-provides water for your outdoor needs. It is the same hose your father used and his father before him and frankly you never really saw a reason to seek out anything else. That is until now. The Flexzilla Garden Hose is an outdoor lover's dream when it comes to garden hoses.
Unique Features of the Flexzilla Garden Hose
You probably have never heard about this modern version of an old staple, and if you have more than likely you bought it. So, what makes this hose any better than what your old Dad used to wash the cars on Sunday? It's amazing! Let's take a closer look.
Flexible
The most impressive feature about the Flexzilla Garden Hose is the fact that it will not kink because it lays flat! It has no "memory," so that means when you are weaving in, out and around your bushes and shrubs, your hose isn't kinking up behind you cutting off your water supply.
That flexibility is unique to the Flexzilla Garden Hose and allows you to maneuver seamlessly through your back yard without having to stop and untangle your hose every few feet. What makes this possible is the flexible material that makes up the Flexzilla-it is a special polymer blend that moves around with you as you garden, instead of the stiff vinyl, rubber or polyurethane that regular hoses are comprised of that often twists up and stays that way until you fix it. Who hasn't wrestled with their garden hose in the rose bushes while your neighbored chuckles from behind the fence? Not anymore!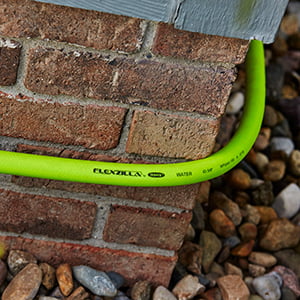 Non-Toxic
Another awesome benefit to the polymer material is that it is non-toxic, allowing clean water to pass through the hose for you, your family, and your pets to safely drink! Did you know that drinking from a regular garden hose is unsafe and can be harmful to your health? It's true! Water that is carried through a regular garden hose is subject to bacteria, mold and even lead! When you opt for a Flexzilla Garden Hose you are once again free to take sips of cool water right from your hose on those hot summer days or fill up the dog's bowl in the backyard. This is a huge plus that allows you to work and play without running back and forth into the house.
Lightweight
The Flexzilla Garden Hose is also very lightweight which makes it perfect for anyone to use. No more lugging that heavy hose all over the yard-rolling up this hose is a breeze and won't break your back. You can also say goodbye to those annoying leaks at the spigot because the Flexzilla Garden Hose has superior O-rings and anodized aircraft aluminum ends that guarantee you a leak free connection. It is also available in a variety of sizes ranging in 3 ft to 100 ft which allows you to select the best option for your yard size and comes with a 60-day money back guarantee.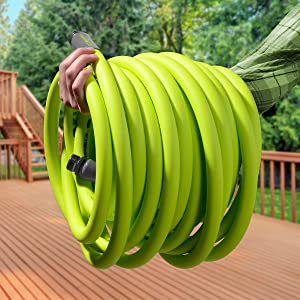 Weatherproof
We all have at one time or another have forgotten about that garden hose being outside on the first below freezing night. You wake up realize that you will be putting another hose in the trash because it is now stiff and cracked. With the Flexzilla Garden Hose you will sleep peacefully and wake up to a hose just like you left it, because this hose is all weatherproof down to -40 degrees below zero. So, matter where you live, you can own the Flexzilla Garden Hose without any regard to climate.
Voted the "Best Garden Hose" of 2020 by independent review sites at USA Today and BestReviews, the Flexzilla Garden Hose is unsurpassed in quality and in performance. It was also rated a 4.7 out of 5 at Best Garden Hose Info with that flexibility being the most desired feature.
Different Types of Flexzilla Hoses
The Flexzilla Garden Hose is available in a few different varieties including:
Kink free easy to coil, lays flat and lightweight offered in ¾ inch and 5/8-inch inner diameter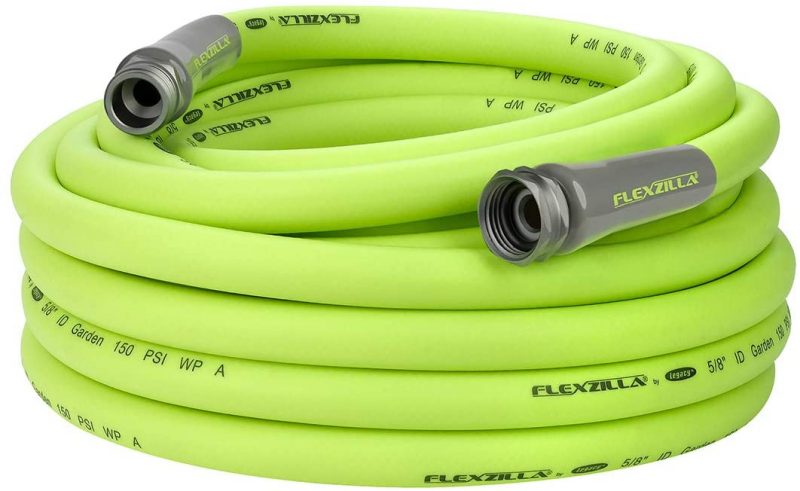 An upgrade from the standard, this version of Flexzilla offers an exclusive swivel grip design that prevents those annoying twists that bind when unwrapping your hose. It also has a bigger grip to make its use more comfortable.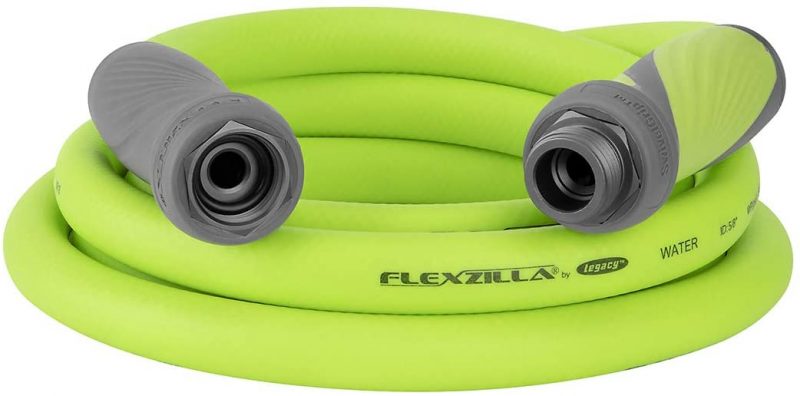 Offers the same awesome features of the standard garden hose except in shorter lengths to allow for easy attachment of a garden reel to a spigot without the worry of tripping over or the unnecessary expense of excess lengths of extra hose.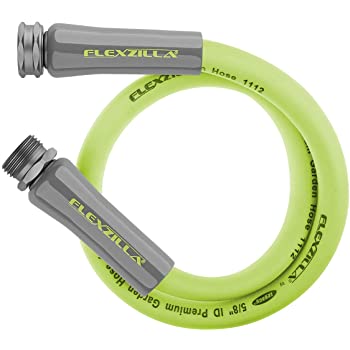 Aren't crazy about the neon green color, no worries! The Colors series of the Flexzilla Garden Hose come in a beautiful variety of earth colors to blend in with your landscape. Colors include brown mulch and red clay.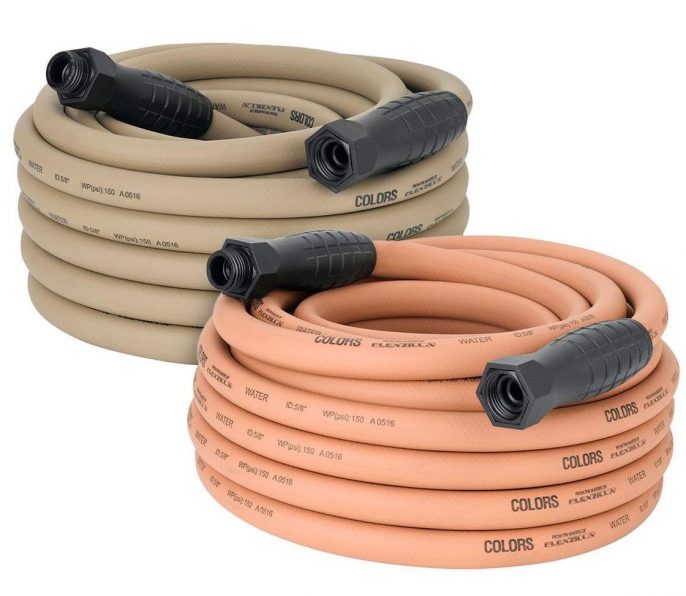 Flexzilla Garden Hose Accessories
Like to add more to your Flexzilla, there are several options for accessories!
Easy to operate, heavy duty and available in a few choices of adjustable sprays! All leak free with soft grip.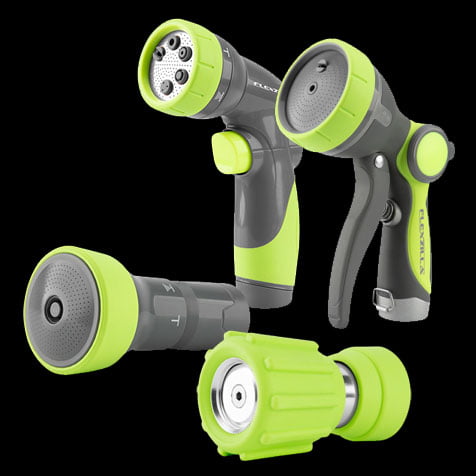 And if you are looking to pressure wash that old, tired fence, or your house that needs some freshening up-the Flexzilla Pressure Washer Hose is tough and durable, and can withstand pressures from subzero to 140 degrees Fahrenheit, all while maintaining its superior flexibility! Perfect for your pressure washer.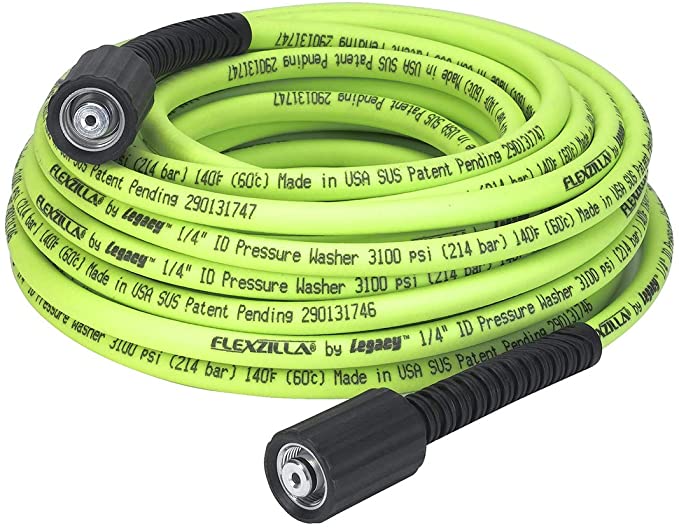 Where can you buy a Flexzilla Garden Hose?
Great question! The Flexzilla Garden Hose is available at several major retailers such as Walmart, Lowes and Home Depot.
At Lowe's the 50ft version is $44.98.
At Home Depot, the 100ft length with ¾ inch fitting is priced attractively at $64.99.
At Walmart the 75ft ¾ inch fitting Flexzilla is offered for $79.98.
It is worth noting that although the Flexzilla Garden Hose is available on Amazon, Flexzilla will not honor their customary 60-day money back guarantee if you decide to purchase from a non-authorized reseller. Please make sure that when you do decide to purchase your Flexzilla, that you are doing so from a trusted source.
You have so many choices when it comes to selecting a reliable garden hose so it makes perfect sense to pick one that has all the fantastic features and benefits that allow you to move freely around your yard with ease and worry-free functionality.
To get the best for your outdoor needs, make sure you opt for any of the remarkable hoses offered to you by Flexzilla Garden Hoses. You'll be on your way to a gorgeous garden and lush backyard when you choose any of the great hoses by Flexzilla!
Nikki is a full-time homemaker with a love for plants, nature, and the outdoors. She holds a Bachelor of Arts degree in education, combining her talents and favorite hobby to write educational material for other plant and backyard enthusiasts. Co-founder of Backyardville, Nikki seeks insight for her blogs through reading along with hands-on research in her own yard and garden. Her experiences as a child growing up in a farming community and spending time with her gardening grandmother sparked an interest in growing plants and seeking ways to beautify the spaces around her. Nikki lives in a quiet suburb in Iowa with her husband and their two outdoor-loving children.