As much as we would like to avoid it, in some parts of the country the snow fall is inevitable. As a homeowner it is always best to be prepared for when the white stuff starts to fall. Nobody wants to find themselves with a sidewalk or driveway full of snow and no means of getting out the door or the garage. That's where a simple snow shovel comes in.
While it would be ideal to just have a snow blower to get rid of that driveway full of snow, not everyone has the space or need for one. But having a snow shovel in your arsenal of garden tools is probably a smart decision. But what kind of snow shovel should you have? Or what is the best type for your needs? To some it's as simple as buying the cheapest one at the hardware store, but for others it's about efficiency, time, or even your health.
So, does it really matter which snow shovel you keep hanging in your garage? This simple and quick guide might provide just the information you need for choosing the right snow shovel.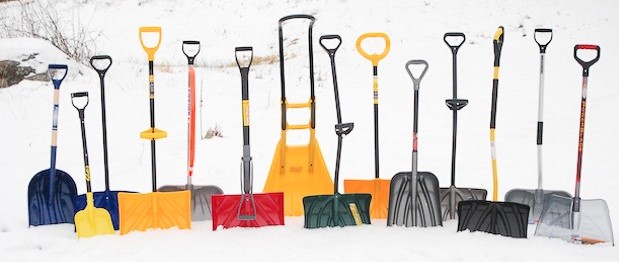 Which Shovel Blade Type is Best?
A shovel is a simple tool made up of two basic parts, a blade and a handle. It really should not be complicated, but with all the different types and choices available choosing the right one for the right price can be a daunting task. The best place to start is with the blade type and asking yourself a simple question – How much snow am I going to be moving?
Snow shovel blades come in just a few main types that are designed for different jobs. Each of those kinds can be made up of a different material and come in various sizes to accommodate the amount of work that needs to be done.
Shape
Snow shovel blades come in two basic shapes, round and rectangle. Each has its own advantages and job description. A round blade is better for scooping and picking up the snow to throw it off the driveway. It is also great for scooping your way through large snow drifts or the heap left by the snow plow. Rectangle shaped blades are ideal for simply pushing the snow rather than scooping. Their straight edge does a great job of cutting through hard snow and moving it out of the way without having to lift it off the ground. This option is also good for breaking through packed snow.
Size
Each the of snow shovel shapes listed above comes in a variety of sizes. Straight, rectangle blades range in size from 12 inches to more than 24 inches. Round shovels are more of a standard size around 12-18 inches but often come in deeper sizes to hold more snow. The size of shovel blade you choose will depend on how large of a space you need to clear and how much snow your body is capable of pushing or lifting in one heave.
Material
The blades of most snow shovels are made of either metal of plastic. Obviously, a metal blade is going to be more durable and strong. It is designed to cut through hard snow or even ice. It will be able to carry more snow but can also be quite a bit heavier. This can cause unwanted back strain.
Shovel blades made of plastic are more lightweight and easier to operate. They are flexible and allow the snow to slide off more readily. Plastic is not a good choice for chipping away ice and damage more easily if you have a rough driveway or a lot of rock or gravel.
A combination shovel, which includes a plastic blade with a metal strip at the end still has the strength of metal for cutting through ice or protecting the end of the blade from screws, rock, or other debris.
What Type of Shovel Handle Do I Need?
Probably more important than the blade type on your snow shovel is the type of shovel handle you choose. Each of the blade types mentioned above will come with a variety of handles. The handle length and material will affect the weight of your shovel and the ease of use. The handle's shape can make it easier to use, especially if you tire quickly or have back or mobility problems.
Shape
The majority of snow shovels come with a basic straight shaft handle. However for ease of use and varying levels of activity they have also been designed with ergonomic handles, dual or spring-assisted handles, and folding or telescoping handles. Ergonomic handles are designed for those with limited mobility or who simply do not want to bend over a lot while shoveling. The handle has a sharp bend in it towards the back and does make it more difficult to lift heavy loads of snow but in turn eliminates back strain while pushing.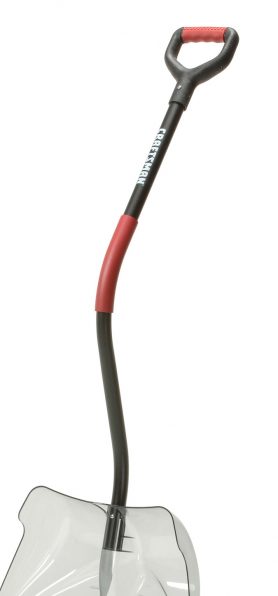 Dual or spring-assisted snow shovel handles are also great for people with difficulty lifting heavy amounts or with back problems. These 2-in-1 handles have a straight shaft like a regular shovel along with a second shorter handle that branches out. Some of these are just a simple handle for more leverage while others are spring-loaded to help toss the snow away from you.

Shovels with telescoping or folding handles are not typically ideal for shoveling large amounts of snow. They are designed to be a more compact shovel for storing in a car to be used during emergencies or for hiking trips if you'd need to store it in a bag. Telescoping handles have a screwing mechanism that allows the handle to extend or retract while a folding handle does just what it sound like, folds on hinge to make it easier to store.
Length
With a few exceptions, most snow shovel handles vary in length from 24" to 32". The size you choose will depend on your height, stature, and how large of a job you are going to undertake. By picking the right length snow shovel you will be able to do more work while avoiding stress on your body and exerting less energy. Take the time to try a shovel out in the store and test how its length works with your body type. You should be able to feel a slight bend in the knees and not have to bend over at the waist too much while pushing snow if the length is right for you.
Material
The four main types of material used to construct a snow shovel handle are metal, plastic, wood, and fiberglass. Each type has its own advantages and disadvantages and will again be picked based on your individual needs and preference.
Most metal handles are made of aluminum which makes them extremely lightweight and inexpensive. It also makes them more prone to rust if not cared for properly and easily bendable if trying to move wet, heavy snow. Another lightweight handle option is plastic and is probably the top choice for those who shovel weight is the greatest concern. Plastic is easy to handle but it is also prone to cracking and breaking if left exposed to the elements.
The heaviest material options for shovel handles are wood and fiberglass. Fiberglass is used in lots of shovel types because of its durability. It is nearly indestructible, doesn't rust, and won't bend with lots of heavy use. It is, however a heavier material and not great for people who are concerned about weight. Wood is another durable choice and is more lightweight than fiberglass. However, it does require extra maintenance such as keeping the screw holding it to the shovel nice and tight. Wood handles last longer if they are oiled once a year to keep the wood strong and resistant to water.
A Closer Look at Snow Shovel Types
Snow Pusher
A snow pusher is the most popular snow shovel type on the market. It typically has a rectangle shaped blade with varying types of handles. This particular snow pusher, the Manplow Wishbone Snow Shovel has a 42 inch rectangle blade and a dual handle. While the second handle on the shaft is not spring-loaded it does allow for a second grip to give you more pushing power and more leverage for throwing snow.
The blade on the Manplow Wisbone is constructed of a heavy plastic. It is designed to be durable but not scratch surfaces. It can also be easily rotated if one edge becomes worn. The handle on this snow pusher is aluminum making it durable and lightweight for reducing fatigue while shoveling. Find out more about this shovel with the strongest single pole handle system on the market.
Wheeled Snow Pusher
Just like a basic snow pusher, a wheeled snow pusher features a rectangle blade and a handle for pushing. However, this one comes equipped with a set of 6" wheels. These handy, grippy wheels provide traction and the ability to move snow without ever having to pick up the shovel. The 25" wide blade on this shovel works much like a snowplow, pushing up to 5" of snow off to the side of the sidewalk or driveway. And all you have to do is push the handle while saving strain on your back.
The handle on the Ivation Heavy Duty Rolling Snow Pusher is adjustable to a height of 45"-50" allowing the user to stand upright while shoveling. It is padded and lightweight for comfort. The blade is constructed of a high-impact polypropylene and is angled and concave to effectively clear snow in just one pass. Learn more here:
Snow Scoop
The Forest Hill Super Tuff Aluminum Straight Edge Scoop Shovel has been deemed the "Ultimate Shovel". While it is designed for use on all sorts of materials from mulch to grain, feed, stones, and compost, it also makes a great snow scoop. Its patented design features a .125 inch thick aluminum blade. The blade is curved at the top with a straight edge and is crack resistant. Its handle is sold Ash wood and is 36 inches long. It doesn't have a lot of bells and whistles but will handle large, heavy scoops of snow.
Snow Sleigh
A snow sleigh is designed to move large amounts of snow in little time while allowing the user to stand upright and avoid strain on the back, legs, and arms. Simply grab the curved, ergonomic handle and push the snow down the sidewalk or driveway without ever having to lift the shovel.
The L Shaped blade on this Garant Yukon Ergonomic Sleigh Shovel is 26 inches wide and constructed of durable polyethylene. It has a galvanized steel wear strip to lengthen its life from scraping or rock damage. The steel, ergonomic handle is perfect for stability and comfort. Get yours here: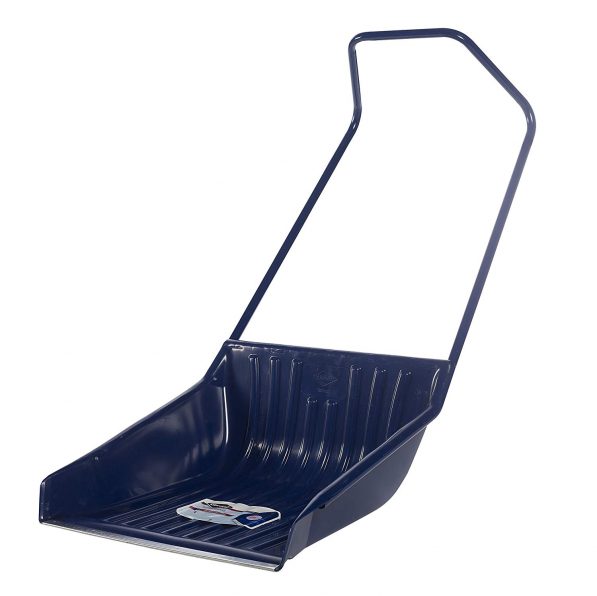 Ergonomic Shovel
This ergonomic shovel doubles as both a snow shovel and a snow pusher. It has a straight edge rectangular blade for scooping and throwing snow and is also curved for pushing large amounts of snow aside without lifting. The Suncast Double Grip Ergonomic Shovel is made with a non-stick graphite blade that features a galvanized steel wear strip.
The handle of this snow pusher-shovel combo is bent for ease of use and also has a double grip which provides for a higher lifting point, putting less stress on the blade and on your body. Learn more about this ergonomic shovel here:
Telescopic Shovel
The Power Small Telescopic Snow Shovel is the perfect little shovel for travelers or to keep in the car in case of a snowy emergency. It features a durable hard-plastic blade with an aluminum edge. The blade is rounded for ease of scooping. The telescopic one-piece handle is constructed of an anodized aluminum tube making it extremely lightweight. It is topped with a D-shaped grip and easily telescopes from a length of 30 inches to 38 inches. Low on storage space? Maybe this is the shovel you need.
Folding Shovel
Just like a telescoping shovel, this Elivern Folding Snow Shovel is perfect for small spaces. It is by no means meant to clear a whole driveway or front walk, rather is recommended to clear off cars, keep in the car in case you need to dig  your way out of snow, or as a perfect shovel for kids.
It has a 9 inch durable blade with an aluminum edge. The handle has a comfortable D-grip and can be folded an expanded from 13 inches to 26 inches. It can also be used in a vertical or horizontal position to meet all of your snow shoveling needs. Get one here:
Nikki is a full-time homemaker with a love for plants, nature, and the outdoors. She holds a Bachelor of Arts degree in education, combining her talents and favorite hobby to write educational material for other plant and backyard enthusiasts. Co-founder of Backyardville, Nikki seeks insight for her blogs through reading along with hands-on research in her own yard and garden. Her experiences as a child growing up in a farming community and spending time with her gardening grandmother sparked an interest in growing plants and seeking ways to beautify the spaces around her. Nikki lives in a quiet suburb in Iowa with her husband and their two outdoor-loving children.