So, you are ready to do some cleaning around the house and yard? What better appliance to make the cleaning process quicker and more efficient than a pressure washer? Choosing the right pressure washer can be a daunting task, especially with all the various brands and models available. Each brand has its line of washer based on pressure, water capacity, and number of accessories.
When choosing the pressure washer for you, the most basic place to start is deciding if you want a gas-powered or an electric pressure washer. Our first article in this series will hopefully do that by comparing and giving you the basic differences between each, see Electric or Gas Pressure Washer: Which is Right for You?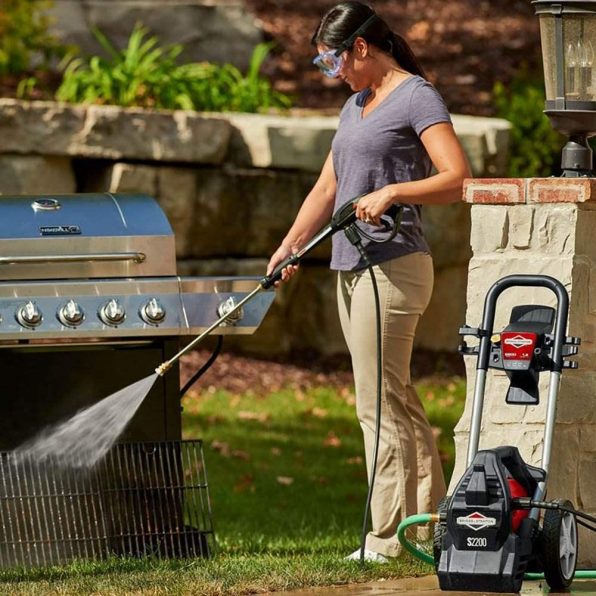 If you have settled on an electric pressure washer to fit your needs now the task is deciding which features are most important to you. Do you want it to simply wash a car? Will you be using it for more heavy-duty cleaning or to simply clean your deck a couple times a year? Whatever your needs some of the best electric pressure washer for the home are outlined below and might fit what you are looking for.
Greenworks 1500 PSI 13 Amp 1.2 GPM Pressure Washer GPW1501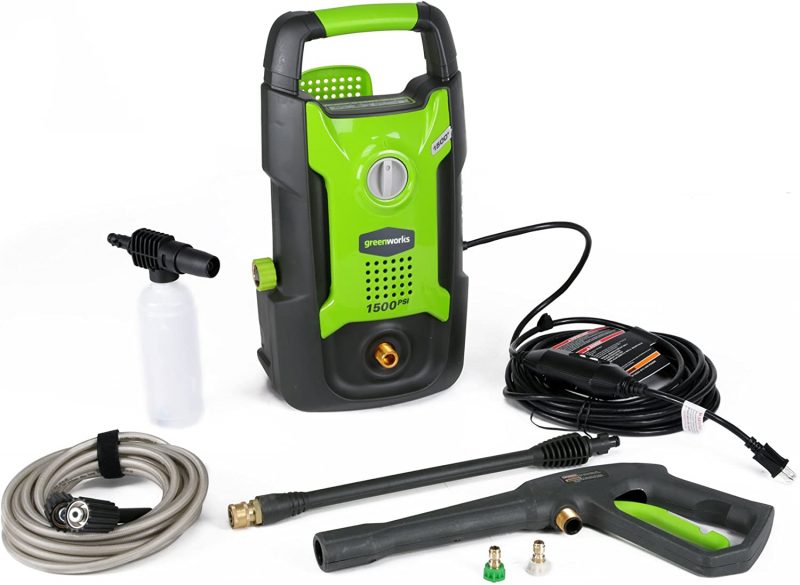 Pressure: 1500 PSI
GPM: 1.2
Motor: Universal induction, 120V, 13 Amps
Hose length: 20 feet
Cord length: 35 feet
Soap tank: No
Accessories: Quick disconnect, 25˚ and 40˚ quick connect tips
Price Range: $75-$100
This lightweight pressure washer from Greenworks is one of the most compact yet efficient models you can find. Do not let its small size fool you as it still packs 1500 pounds of pressure and can cut through dirt at 1.2 gallons per minute. While it does not have wheels, it is compact enough to easily carry it anywhere and it can be used sitting either horizontally or vertically on the ground.
Whether you are using it to wash the family car or to clean the patio furniture before spring use, the Greenworks 1500 comes with a 25° and 40° tip that makes it usable for a variety of situations. These tips utilize a quick connect system to make them more user friendly. The hose and trigger handle attach via a threaded twist on connection. You'll be able to reach high and low and all over the yard or driveway with the long 20-foot hose and the 35-foot power cord.
This Greenworks Pressure Washer does not come with a built-in tank for soap but does include a detergent tank that can be attached to the handle. Other features include inline GFCI in the power cord and 1,500 watts in the universal 13 Amp induction motor. Perfect for the homeowner looking for a dependable pressure washer that is compact, easy to store, and reasonably priced.
Pros
Can be used vertically or horizontally
Lightweight
Easy to carry
Quck disconnect
Cons
Only 2 hose tips
No wheels
Soap applicator not attached
Sun Joe SPX3000-MAX Pressure Washer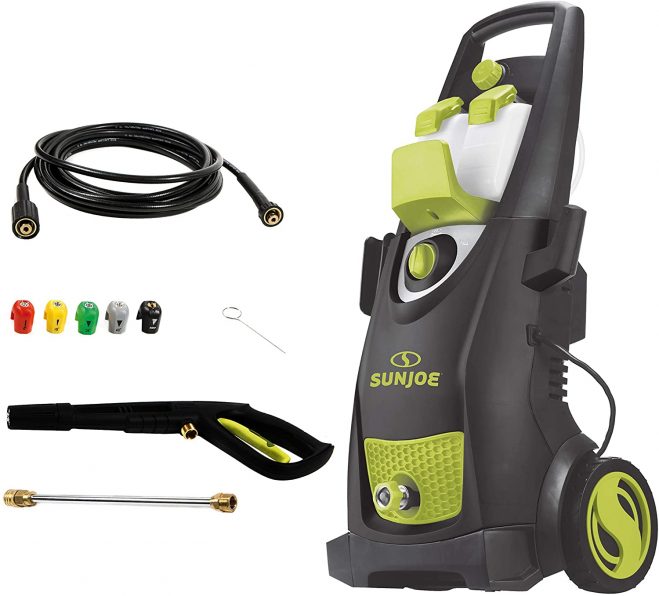 Pressure: 2,800 PSI
GPM: 1.3
Motor: 14.5 Amp Brushless induction motor
Hose length: 20 feet
Cord length: 35 feet
Soap tank: 2 – 30.4 fluid oz each
Accessories: 5 Quick Connect spray tips – 0º, 15º, 25º, 40º, and soap
Price Range: $200-$300
If you are looking for a powerful yet affordable pressure washer then the Sun Joe SPX300-MAX might be the model for you. It comes with everything you need for a variety of household cleaning needs with the power to feel like a more commercial washer. The 14.5-amp brushless induction motor gives you maximum cleaning power with 2,800 PSI and 1.3 GPM. It also runs quieter and works cooler so it will last longer than other electric motors.
The Sun Joe SPX3000-MAX High Performance Pressure Washer has some superior features that make it a top choice in electric pressure washers. It comes equipped with two onboard detergent tanks that each hold 30.4 fluid oz. The detergent dial lets you choose between two separate detergents or a mixture of each to provide the perfect cleaning solution for your job. The Total Stop System allows you to save energy and extend the life of your pump by automatically turning off when the trigger is not engaged.
Other things to take note of on this pressure washer are its 20-foot-long, high-pressure hose that is steel-reinforced for durability. It also has a 34-inch extension wand and 5 spray tips that can be easily swapped using the quick connect system. Spray tips come in 0º, 15º, 25º, 40º and a soap tip to ensure you have the right angle and pressure for light to heavy cleaning jobs. With a 35 foot power cord and easy glide wheels, you can use this versatile pressure washer almost anywhere around the house.
Pros
Powerful 2
800 PSI
Dual detergent tanks
Total Stop System
Quiet brushless induction motor
Cons
Insufficient cord storage
High pressure hose known to pop off
Karcher K5 Premium 2000 PSI Electric Pressure Washer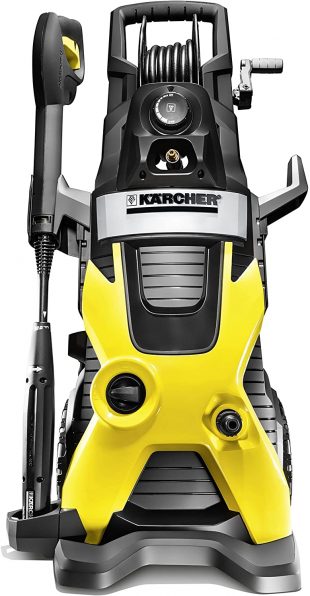 Pressure: 2,000 PSI
GPM: 1.4
Motor: 13 Amp Water Cooled Induction Motor
Hose length: 25 feet
Cord length: 35 feet
Soap tank: Yes
Accessories: Vario Spray Wand, Dirt Blaster Turbo Nozzle
Price Range: $200-$250
The Karcher K5 Premium Electric Power Pressure Washer is one of the top electric pressure washers because of its high-end performance and ability to tackle all levels of household cleaning. Its features allow the user to move easily from delicate jobs like cleaning a prized motorcycle to heavy-duty jobs like removing old stain from a wood deck. The K5's motor cleans quickly and powerfully with 2000 PSI and 1.4 GPM. And it comes equipped with two wands – the Dirtblaster spray wand that takes on hard jobs such as removing stains from concrete and the Vario Power Spray Want that adjusts the spray level with a quick turn.
Moving the Karcher K5 from storage to the front drive and then around to the backyard is quick and simple with the 7.7-inch high-impact wheels. The built-in hose reel for the 25-foot-high pressure hose makes clean up and storage quick and easy as well. An on-board detergent tank makes soap use a breeze with a convenient dosage knob to adjust the amount you want to use.
Another feature to boast about on the K5 Premium Electric Pressure Washer is the water-cooled induction motor which increases the life of this model up to 5 times that of most electric washers. The water-cooled system reduces the heat on the pump and motor and also helps reduce the machine's noise by up to 50%.
Pros
Integrated hose reel
Vario Power Spray wand
Dirtblaster wand
Onboard detergent tank
Water cooled induction motor
Cons
Hard to find replacement parts
No cord storage
AR Blue Clean 2000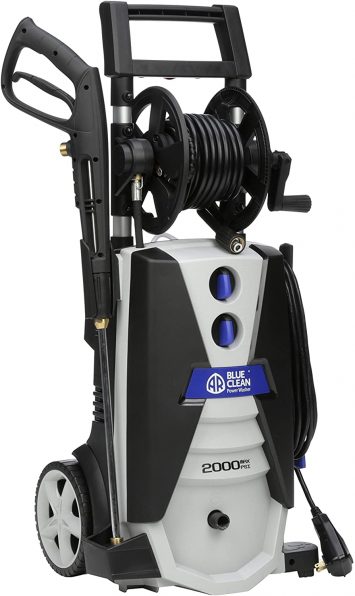 Pressure: 2000 PSI
GPM: 1.4
Motor: 14 Amp universal motor
Hose length: 30 feet
Cord length: 35 feet
Soap tank: Yes – 48 oz, integrated
Accessories: Hose reel, Quick-coupler, 4 pro-style tips (0º, 25º, soap, turbo nozzle)
Price Range: $200-$250
The AR Blue Clean 2000 is an affordable and versatile pressure washer that is perfect for every cleaning job you may encounter. It is reliable and durable, designed to do everything from powerful jobs like blasting away dirt and mold from surfaces such as fences, siding and patio furniture. It is also safe to use when cleaning concrete, stucco, and stone. Ready to re-stain the deck or fence? The AR Blue Clean has the equipment you need to pressure clean most wood surfaces. And of course, it is perfect for lower pressure jobs like cleaning your car, truck, ATV, or motorcycle.
This electric pressure washer comes equipped with a motor that is capable of offering up to 2,000 PSI at 1.3 GPM. It has a 35-foot power cord with auto-reset GFCI and a swivel cord release, which is easily stored around the on-board hose reel. The 30-foot high-pressure hose allows you to move easily around the job site while rarely needing to move the washer itself. However, the included 7-inch wheels make portability quick and simple. An inboard detergent tank holds 48 ounces of detergent.
One of the best things about this AR Blue Clean 2000 pressure washer is its included pressure washer gun and accessories. The washer gun is professional style with a zinc steel pressure washer wand. At the end of the wand you will find a quick-coupler nozzle that makes switching between one of the 4 tips effortless. Included tips allow for a 0° or 25° spray. You can also advantage of the soap nozzle or the rotary nozzle for a variety of cleaning advantages.
Pros
2 Quick-change wands
3 Spray tips
Inboard 28 oz. detergent tank
Pressurized hose reel
Uses 80% less water
Briggs & Stratton S2200 2200 MAX PSI Electric Pressure Washer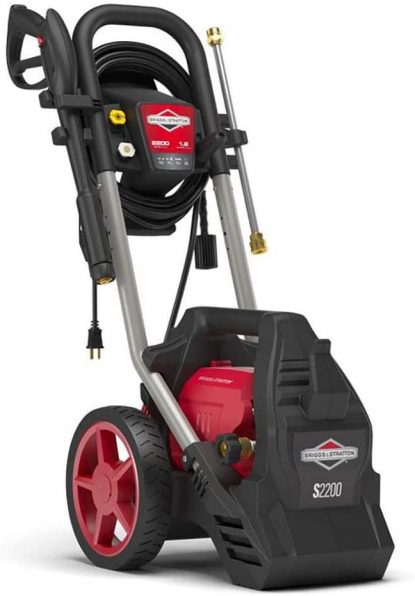 Pressure: 2200 PSI
GPM: 1.2
Motor: Brushless induction motor
Hose length: 25 feet
Cord length: 35 feet
Soap tank: No
Accessories: 3 quick-connect spray tips (15°, 40° & turbo), attachable detergent foamer
Price Range: $225-$300
Briggs & Stratton is a recognizable name in tools with small engines, and their pressure washers are no exception. For a high quality, reliable machine you will definitely want to consider their S2200 2200 Max PSI Electric Pressure Washer. Designed to be user-friendly this model is light weight, easy to start, and has a brushless induction motor that makes it quieter than many of its competitors. It is also equipped with an instant start & stop system, so it only runs when you pull the trigger on the spray gun. This helps reduce motor time, decreasing heat and avoiding excess wear and tear on the motor.
You can pull this pressure washer anywhere with its 8" wheels that are flat-free. And the 35-foot cord allows you to use the washer anywhere around the house, even when an outlet isn't readily available. With 2200 PSI and 1.2 GPM early any job can be tackled around the house or in your backyard. This washer is an excellent choice for medium-duty jobs such as cleaning siding and driveways, washing cars and GFpatio furniture, or removing mold, grease, dirt, and rust.
The Briggs & Stratton 2200 comes with a 26-foot high-pressure hose that hangs on the compact steel frame with a hook. You can easily switch between jobs with the quick-connect spray tips that are stored on-board. Tips include a 15°, 40°, and a turbo cleaning tip for tougher jobs. While this model does not come with a built-in detergent tank it does have an attachable foamer that allows you to use a variety of soap only when needed.
Pros
Powerful 2
200 PSI
Instant start/stop system
Quiet cleaning
3 Quick-connect spray tips
Hose and cord storage
9″ Solid wheels
Cons
Detached detergent foamer
High pressure hose known to disconnect
In Conclusion
While this list does not come close to listing the amount and types of electric pressure washers that are available, we hope it gives you a good idea of some of the best washers on the market. And helps you understand the types of washers and accessories that are available. Again, you will want to refer to your personal preferences on what the washer will be used for and how often. You might even find yourself using a great pressure washer for a task you didn't even know needed to be done. Watch our site for more specific reviews of electric pressure washers as well as a more detailed look at the top gas-powered washers.
Nikki is a full-time homemaker with a love for plants, nature, and the outdoors. She holds a Bachelor of Arts degree in education, combining her talents and favorite hobby to write educational material for other plant and backyard enthusiasts. Co-founder of Backyardville, Nikki seeks insight for her blogs through reading along with hands-on research in her own yard and garden. Her experiences as a child growing up in a farming community and spending time with her gardening grandmother sparked an interest in growing plants and seeking ways to beautify the spaces around her. Nikki lives in a quiet suburb in Iowa with her husband and their two outdoor-loving children.