When there is snow on the ground and the condition are just right who among us can resist the urge to climb to the top of a hill and find the best way to fly to the bottom at the highest speed possible? That's right, not many of us. No matter what our age or experience level, sledding in the winter is something that just needs to be done. Learn what the best snow sleds are this year.
Many of us have our personal preferences on the best way to make it back to the bottom of the hill during a sledding outing. Some prefer a nice, leisurely glide to the bottom while others favor a straight shot at maximum speed. Still others prefer the thrill of swerving back and forth, spinning in circles during the descent, or even hitting an icy ramp at full force to catch some air on the way down.
No matter what type of sledding conditions and preferences you have there is a sled out there for everyone. Some are built more for speed while others are built for doing tricks. There are also those that allow multiple riders and some designed for younger riders.
We here at Backyardville have provided you with a list of the best sleds for 2020. While we have not personally had the pleasure of trying them all, we would not pass up the opportunity to do so. And with quite a variety to choose from you're sure to find something that suits your sledding needs!
Flexible Flyer Foam Snow Saucer
This super-cool sled combines the ease of a saucer with the light weight of a foam sled. The Flexible Flyer Saucer is perfect for younger kids since it's easy to carry uphill and has a soft cushion of foam to sit on. Don't let its simplicity fool you, this colorful saucer can really fly down the hill in both new snow, since it doesn't sink in, and packed snow, making it go super-fast.
With the Flexible Flyer Foam Saucer, you'll get a smoother ride than a hard plastic saucer since the 1 inch polyethylene foam inside helps absorb those bumps and divots. You will want to hold on tight to the foam grip handles because this sled will send you spinning.
The Facts
Material: Foam
Color: Multi-colored
Size: 26" diameter, 1.5" high
Weight: 1 pound
Ages: 5 and up
Lucky Bums Kids Snow Toboggan
Ready to slice through the snow at rapid speeds? Then you need this durable and cool kids toboggan. Made of safe, durable plastic the Lucky Bums Snow Toboggan is designed for one rider who is ready to make many trips down, and back up, the slopes. Equipped with smooth, built-in handles kids can hang on comfortably when the ride gets fast. Lucky Bums even included a pull rope for ease of hauling the sled back to the top of the hill or for pulling snow gear or an arsenal of snowballs.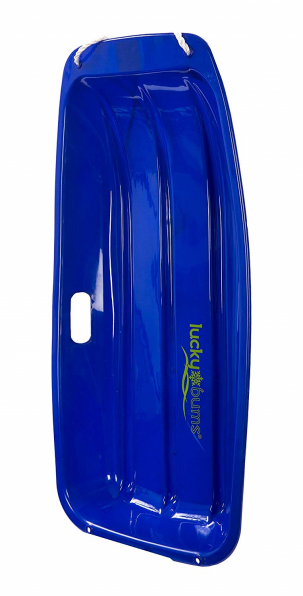 The Facts
Material: Plastic
Color: Blue, Green, Pink, Red or Black
Size: 35" long
Ages: 3-15 Years
Buy one, or 2 for your family here
Flexible Flyer Metal Runner Sled
Another classic from Flexible Flyer, this metal runner sled is sure to be popular with everyone in your family. However, it may be especially attractive to the adults since it will bring back memories of their childhood. And this one is built just like the original with a smooth birch wood body and powder-coated steel runners. You'll be able to steer and maneuver around the curves with ease using the steering bar. Either lay on your stomach and steer with your hands or sit up and use your feet.
While the Flexible Flyer Metal Runner Sled isn't the greatest for a fresh batch of powdery snow, once there's a few packed tracks, this sled is sure to fly. Its light weight makes it simple for kids to pull and maneuver, yet it is large enough (accommodating up to 250 pounds) to allow adults a ride down the hill as well.
The Facts
Material: Birch wood, powder-coated steel
Size: 48" Long, 20" Wide, 6.5" High
Weight: 12 pounds
Ages: 5 Years and Up
Find this cool, vintage sled here
GoFloats Winter Unicorn Snow Tube
Make that dream of having your own unicorn a reality with this super-trendy Unicorn Snow Tube. That's right, you can fly down the hills in style with this inflatable tube that is built for riders of all sizes. At 45 inches wide even adults can enjoy a ride comfortably. And the 2 built in handles provide stability for younger riders or those that can't handle the thrill.
With the GoFloats Unicorn Snow Tube you will not only get a fun winter toy, you'll also get a quality winter toy. GoFloats uses a material that is 100% thicker than other manufacturers for reliable durability. Their tubes are also equipped with a high, enclosed center for comfort and to keep your bottom dry while you ride.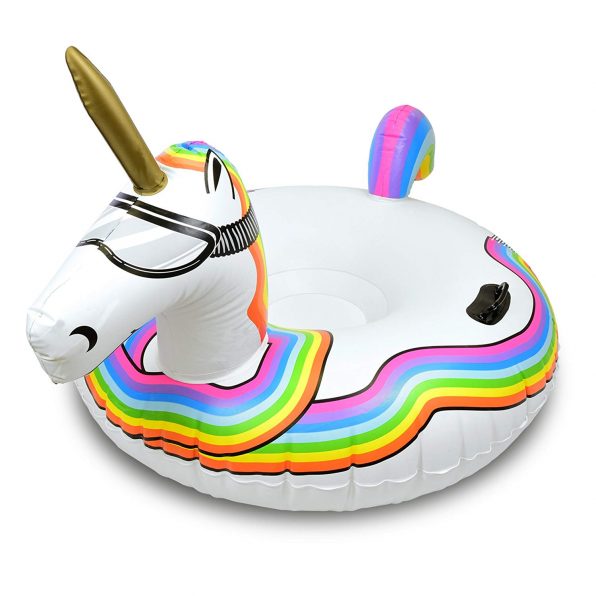 The Facts
Material: Vinyl
Size: 45" Wide x 38" Long
Weight: 5 pounds
Ages: 5 Years – Adult
Flexible Flyer Wooden Toboggan
The type of sled your grandparents probably remember using, this Flexible Flyer Wooden Toboggan is designed to look like a true classic. Constructed of wood, just like the originals, this particular toboggan is built with Northern Hardrock Maple. This not only makes it a hardy sled, but also an attractive one.
You can be assured that the Flexible Flyer Toboggan will give you the thrilling ride you're seeking. It will also provide a safe ride. The front hood is held securely with countersunk zinc plated screws providing extra strength. There are also two chains that hold the hood in constant tension for stability as well as a beautiful, traditional silhouette. The rich walnut stain on the center and outside slats make this one of the most attractive sleds on the hill.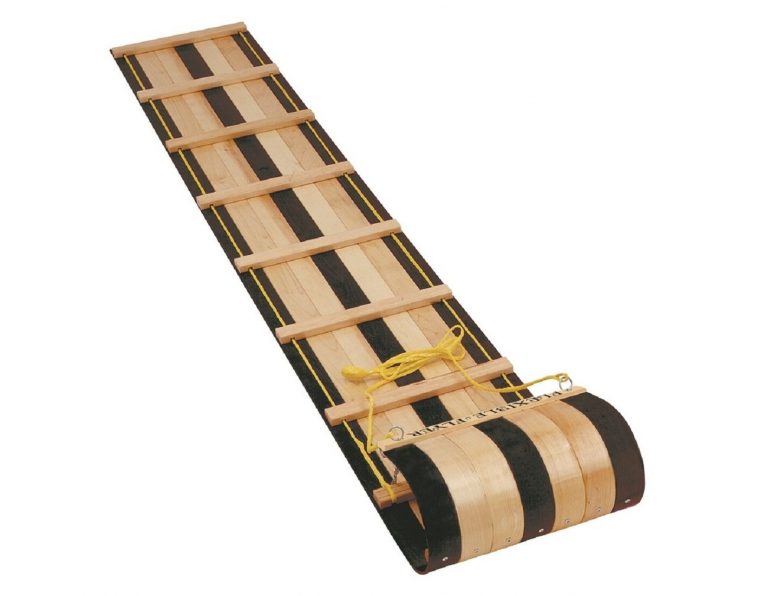 The Facts
Material: Northern Hardrock Maple Wood
Color: Maple and Walnut
Size: 72" Long, 16 ¾" Wide, 12" High
Ages: 5+ Years
Yukon Hammerhead Pro HD Steerable Snow Sled
Everyone will know you are ready for some serious sledding when you bring the Yukon Hammerhead Pro HD to the top of the hill. Constructed of a powder coated 6000 aluminum frame, polycarbonate front skis and HDPE rear skis, this steerable sled is so light it will glide through any type of snow. Combined with T3K Carbon, the materials used in the frame make it light as well as tough and durable.
The Yukon Hammerhead Steerable Sled is built for 1 rider but can accommodate up to 230 pounds, so almost any age can use it. This sled is built for speed so no matter what your age it is recommended you wear a helmet and use extra caution for others on the hill. Steering is made easy with a patented stainless-steel leaf spring steering system that is Hammerhead's own design. This sled also comes with a carry strap for pulling the sled back to the top after an exhilarating ride.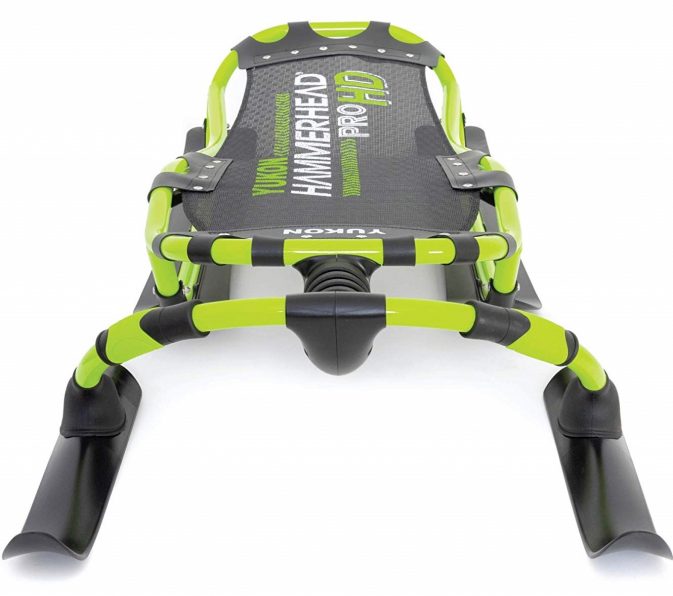 The Facts
Material: Aluminum frame, Polycarbonate skis
Color: Green and black
Size: 22.5" Wide x 51" Long
Weight: 14 pounds
Ages: 8 Years – Adult
Learn more about this steerable sled
Flexible Flyer Snow Screamer
This sled is sure to be a family favorite. The Flexible Flyer Snow Screamer is a 2-person sled made of lightweight polyethylene foam. With 4 handles and room enough for 2, you can ride by yourself or fly down the hill with your favorite family member or friend.
The Snow Screamer is equipped with a thick cushion of foam for a nice smooth ride. The foam is laminated on either side for a sturdy top and a bottom that's extra slick and crack-resistant. It's the perfect sled for gliding over new snow without sinking in. Looking for an extra thrill? The bottom can even be waxed for a speedier ride down the slope.
The Facts
Material: Polyethylene foam
Size: 47" Long, 21.5" Wide, 2" High
Weight: 3 pounds
Ages: 5 Years and up, not to exceed 250 pounds
Wham-O Deluxe Snow Hog Snow Sled
Looking for the most unique sled on the slopes? Look no further because you will definitely stand out when you're riding the Wham-O Deluxe Snow Hog Snow Sled. That's right, you will look just like you're riding your "hog" but with no need for wheels. Designed to look just like a motorcycle, the Snow Hog has a foam pad seat and foam grip handles.
With its easy to maneuver steering wheel you can drive almost anywhere through the snow with great control. It even has a foot brake if you start speeding too quickly down that steep hill. This sled's double walled construction makes it durable and gives it a more comfortable ride.
The Facts
Material: Plastic
Size: 33.5" Long, 15" Wide, 14.8" High
Weight: 12 pounds
Ages: 7 Years and Up, not to exceed 150 pounds
Lucky Bums Plastic Saucer
Probably what most of us picture when we think of a snow saucer, the Lucky Bums Plastic Saucer is a classic. Constructed of shiny, durable plastic it is built for countless trips down the hill and will last multiple winters. Perfect for one rider who wants to speed and spin down the hill.
This saucer from Lucky Bums includes everything that this company prides itself on. Construction is durable and safe and guaranteed to last. It has smooth grip handles that won't scrape or pinch little fingers when the ride gets fast and they need to grab on tight.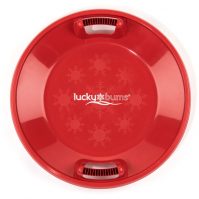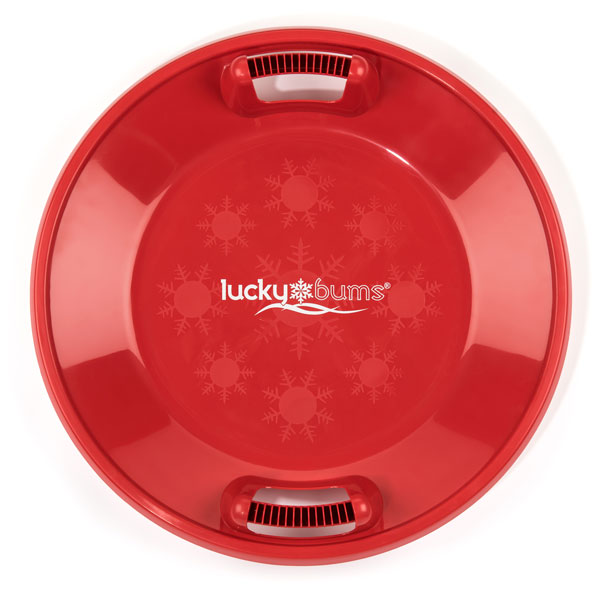 The Facts
Material: BPA and Phthalate free plastic
Color: Red, Pink, Blue, Black or Green
Size: 25" diameter
Ages: 8-14 Years
Geospace LED Ski Skooter
You will definitely be the talk of the neighborhood with this unique sled. Actually, the GeoSpace LED Ski Skooter is more like a snowboard than a sled. It's the perfect winter toy for sliding down a hill, but it can also be used on flat snowy surfaces just like a scooter. With a fold-up handle, riders of all sizes and heights will be able to ride with balance and precise steering. The handle can be folded down when you're done for ease of storage and transportation.
The Ski Skooter is constructed of durable polyurethane materials which provides a smooth ride over most snow-covered surfaces. Extra excitement is added to this sled with its LED light module at the top of the handle, which also provides a light for safety. The LED light can shine in 5 different colors along with the ability to strobe and fade as well.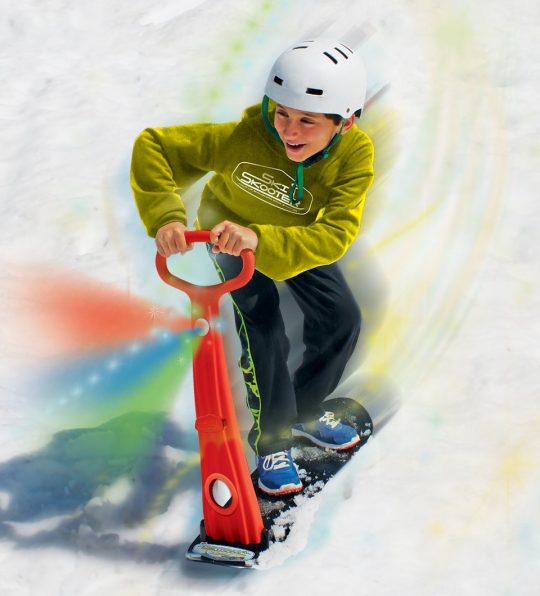 The Facts
Material: Plastic
Color: Red, purple, or blue
Size: 37" Long, 9.5" Wide, 31" High
Weight: 3 pounds
Ages: 6 Years and Up, not to exceed 220 pounds
Check out this unique "sled" here
Nikki is a full-time homemaker with a love for plants, nature, and the outdoors. She holds a Bachelor of Arts degree in education, combining her talents and favorite hobby to write educational material for other plant and backyard enthusiasts. Co-founder of Backyardville, Nikki seeks insight for her blogs through reading along with hands-on research in her own yard and garden. Her experiences as a child growing up in a farming community and spending time with her gardening grandmother sparked an interest in growing plants and seeking ways to beautify the spaces around her. Nikki lives in a quiet suburb in Iowa with her husband and their two outdoor-loving children.