Everybody loves a warm day spent lounging on the back deck or patio. Whether it is to read, enjoy a beverage with friends, watch the kids play, or simply soak up some sun, there is always a good reason to be outdoors enjoying your own backyard. But what about those scorching hot, mid-summer sunny afternoons or that disappointing spring day when it is raining just enough to keep you inside?
A louvered roof might be just what you are looking for. There are lots of ways to cover a backyard patio or deck, from pergolas to awnings, a natural vine roof or a solid wood roof, but none can provide quite the versatility of a louvered roof. While they aren't for everyone, louvered roofs are gaining popularity as a functional and attractive centerpiece for the backyard. This quick and simple guide might answer some of the many questions you have about this innovative structure.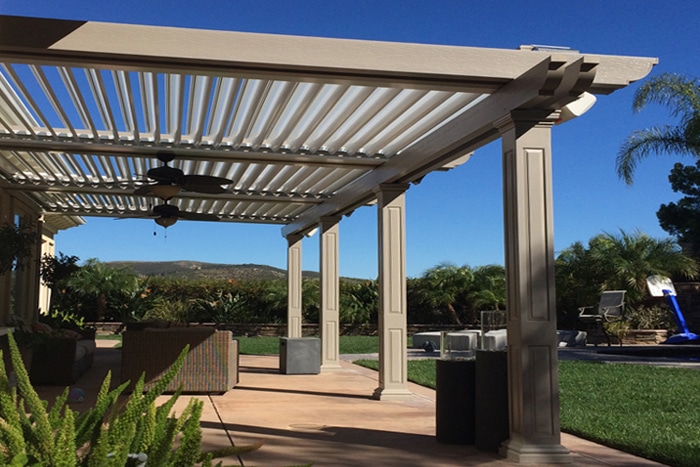 What is a louvered roof?
As mentioned before, a louvered roof is a somewhat recent system of providing a cover for a patio or deck. These roofs have also been found covering pool areas, garden spaces, or backyard hot tubs as well. To put it simply, a louvered roof is a roof that can opened and closed. They have also been commonly referred to as an opening roof, adjustable patio cover, or motorized pergola.
Sounds pretty basic right? So why all the hype? A louvered roof is in fact quite innovative in its structure. It can open and close to provide jus the right amount of sun or shade, or it can keep out rain, reduce wind, or protect your patio from leaves and other debris. Unlike an awning that can only be open or closed, a louvered roof can open at different angles to adjust sunlight and heat. And unlike a pergola, louvered roofs can be closed completely to simulate a solid deck covering to avoid getting wet on a rainy day.
When put together, a louvered roof consists of its framing structure that includes the corner posts and main horizontal beams. The main beams are then connected with louvers, which are basically a horizontal slat that's angled either to shut out or to allow something to come through them. We have all seen louvers before on the blinds that cover our windows. The louvers on our blinds can be angled and adjusted up or down to allow more or less light through a window. These roof systems work exactly the same way, the difference being they are not moving up and down but rather forward and backward. They also cannot be completely opened and pushed back like a window blind.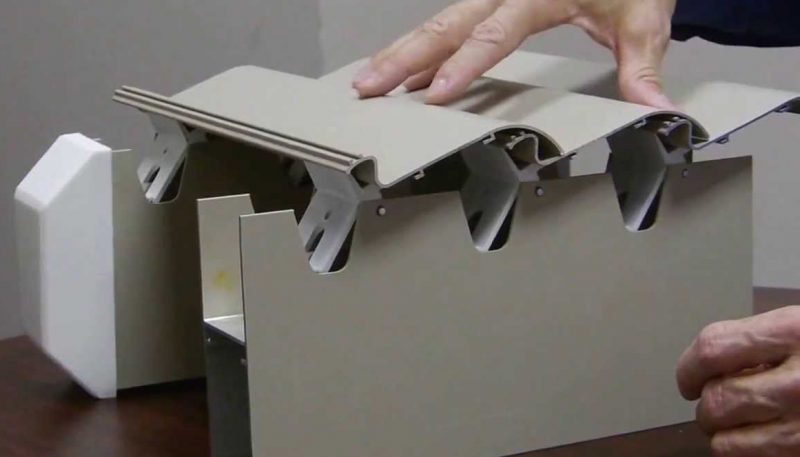 Why do I need one?
Have you recently built a new home? Added a deck or patio onto an existing house? Maybe you have simply dreamed of having a backyard space you can use any day, during any type of weather. Or could it be possible you do not even know you need one yet? For some, this type of roofing system is more of a luxury than a necessity as there are other options that serve the same purpose. Whatever your situation there are lots of reasons homeowners choose to install a louvered roof.
Shade
Providing shade is by far the most common reason for choosing to invest in an adjustable louvered roof. A structure like this one allows you to enjoy your outdoor area for more hours of the day including the hottest days when the sun is beating down the hardest. Simply closing the louvers or angling them in a slightly different direction provides just the right amount of shade to make everyone more comfortable.
Not only is it great for shielding your eyes and skin from those UV rays, a louvered roof also offers protection to your patio or deck. Direct sun can be damaging to wood, concrete, or painted surfaces with prolonged exposure. By utilizing the innovative design of these adjustable roofs, you can extend the life of your deck. They are also great for keeping harsh weather elements from damaging patio furniture, grills, and other outdoor fixtures as well.

Temperature Control
Using a patio cover to control temperature essentially goes hand in hand with controlling the shade and sunlight over your deck. Block the sun and of course the temperature will decrease. However, you can also use the angles of the louvers on one of these motorized roofs to control which way air flows in or out which will naturally provide a cooler space to sit.
This is especially true on windy days. If you strategically angle the louvers towards the direction of the wind, the breeze is allowed through thus cooling the air below it. On a breezy fall day the opposite is true, angle the louvers away from the wind (and ideally towards the sun) so the breeze is blocked and your outdoor space stays warmer. Of course, temperature control is extremely dependent on the outdoor conditions including direction of the wind, amount of sunlight, etc. It may take some experimenting to get just the right settings.
Privacy
Most people do not think of a roof over their deck as a form of privacy. This is traditionally left to fences, a hedge or a wall or partition added to the deck. However, in some cases even a louvered roof can provide a sense of privacy. Maybe your deck or patio is on the lower level of your house and you can block the nosy neighbors from watching you out of their second-floor windows. Closing the roof completely can help block noise during a backyard party, both so others nearby cannot hear your conversation and to also eliminate surrounding noise in the neighborhood.
When looking at motorized pergola roofs there are some brands that offer the option of adding a retractable sunshade. These shades can move vertically up and down the posts of the roof. They are perfect for blocking late day sun coming in sideways, but also provide a partition between your area and the next-door neighbor's space.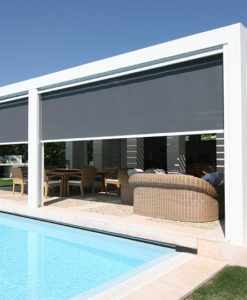 Visual Appeal
Louvered roof systems, especially motorized ones that can be adjusted, are a fairly new concept. While they are gaining popularity in residential settings, most of them have only found their way to restaurants and commercial properties. However, homeowners are finding that the visual appeal of a louvered roof can really make their outdoor space a centerpiece of their home.
Many of these systems are constructed of sleek-looking and sturdy aluminum. This gives them a clean modern look over wood pergolas or canvas awnings. There are also options available so homeowners can choose a color that compliments the color of their house or the brick in their patio. Lights, fans, and other accessories also allow you to customize the roof to your needs. Often, a louvered roof is the pride and joy of those who spend their days on the back patio.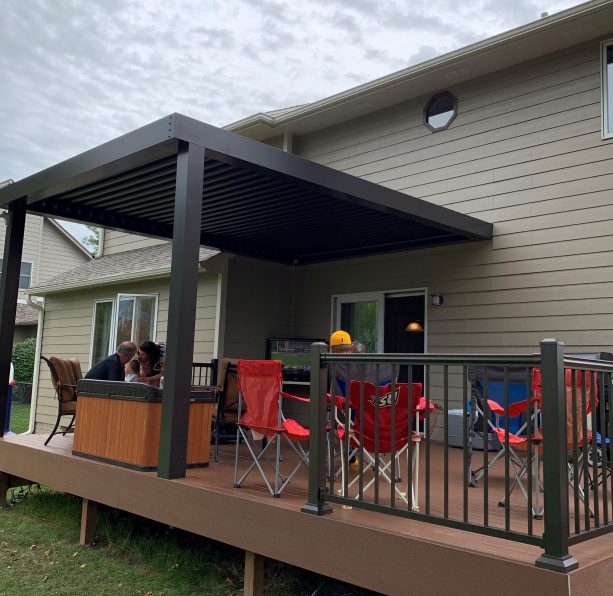 When is the best time to use a louvered roof?
If you love the backyard, then anytime is the best time to use a louvered roof. It is a great addition to any outdoor space as it allows almost year-round use, depending on your average climate, of course.
On a moderate day, your roof might be fully open allowing both sun and air to reach your deck for a comfortable place to relax. It is especially useful on a rainy day since the louvers can be completely closed providing a nearly water-tight roof. You can still relax in your outdoor space or grill your favorite meal without fear of getting wet. Many of these systems also come with gutters and downspouts to keep the rain flowing off the top.
Homeowners that find these closable roofs the most useful are those with decks and patios that receive full sunlight through much of the day. When deciding which kind of covering to consider for your space take into account the side of the house on which it is located. South facing and west facing patios typically receive the most intense heat, especially during summer months. They typically benefit most from a louvered roof.
How does a louvered roof work?
Perhaps one of the greatest features of a louvered roof is how it works. Technology is becoming a staple in many houses with smart homes, security systems, and apps to control everything from your garage doors to your oven. This is no different with the controls of a motorized roof.
The basic structure of these roofs is pretty simple really. Four corner posts, four main beams, and louvers running perpendicular to cover your space. The louvers sit in a track system that is all controlled by a small motor that sits atop one of the beams. When activated the tracks simply move back or forward depending on what you control it to do.
And how is it controlled? It depends on the brand or system of louvered roof you choose to install but most of them are controlled via a switch on the wall, an included remote, through an app on your phone, or a combination of all three. So if you're at home enjoying your deck and need to block out some sun, simply reach out and push the button on the wall. Away from home and see alerts of an impending storm? Pull the app up on your phone and close the louvers from a distance.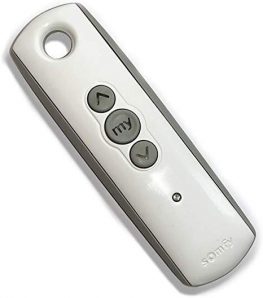 Some of the louvered roof systems also come with some impressive technology that utilizes a wind and rain sensor. If the humidity or barometric pressure changes indicating rain, the system will close itself to keep your patio dry. When the wind picks up and spins the weather vane at a set speed the louvers will open automatically to keep them from vibrating in the wind.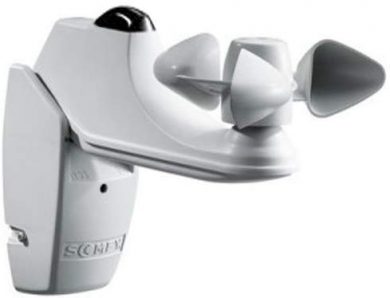 Where can I get a louvered roof?
So now that you know how much you can not live without a louvered roof, where are you going to find one? There are three main companies that manufacture these roofs, motorized pergolas, or automated coverings – Struxure, Equinox, and Solara. Of course, they each have their specific designs, advantages, and price points. Look for a future article comparing the three. In the meantime, check out your local garden store, furniture store, or patio sales place to see if they are a dealer for any of these roofing systems. They can provide more information and help you find the right patio covering for you.
Nikki is a full-time homemaker with a love for plants, nature, and the outdoors. She holds a Bachelor of Arts degree in education, combining her talents and favorite hobby to write educational material for other plant and backyard enthusiasts. Co-founder of Backyardville, Nikki seeks insight for her blogs through reading along with hands-on research in her own yard and garden. Her experiences as a child growing up in a farming community and spending time with her gardening grandmother sparked an interest in growing plants and seeking ways to beautify the spaces around her. Nikki lives in a quiet suburb in Iowa with her husband and their two outdoor-loving children.