If you are a vegetable gardener, you may be familiar with the Mittleider gardening method. Its unique approach to growing common plants allows gardeners to increase their yields without the use of harsh chemicals. Instead it utilizes elements already in the air and the soil to fertilize and increase growth.
The Mittleider method does take a bit of time to set up but once it is established users simply need to maintain a regular, weekly schedule of watering and fertilizing. The building of grow beds or boxes is the first step. These are then filled with a customized amount of saw dust and sand. They can be built in any type of soil which is one of the big advantages of this method.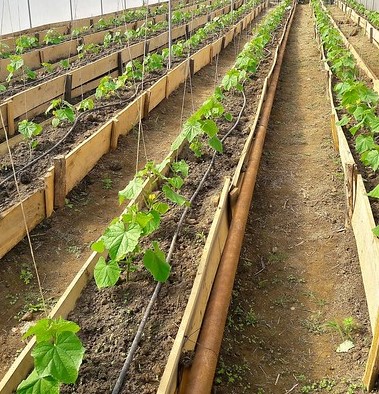 After grow boxes are established the planting begins. The most common plants for Mittleider growing is vegetables such as tomatoes, green beans, or peas. Berries that have climbing vines are also commonly grown. After plants are established and watering has begun, plants also need to be fertilized on a weekly basis. The fertilizing compound and frequency are one of the things that make Mittleider gardening both unique but extremely effective.
Below we have outlined the basics for the two types of Mittleider garden fertilizer and how you can make it at home on your own.
Pre-Plant Fertilizer
The preplant fertilizer is exactly as its name implies. You apply it to the soil pre-planting. So once your grow boxes are built and filled with the proper substances, you will mix your fertilizer and add it to the boxes. It does not matter what type of plants you plan to grow, this preplant mixture will be the same.
The only determining factor for your specific mixture will be your areas amount of rainfall.
There are only 3 ingredients in the Mittleider preplant fertilizer: a calcium source (lime or gypsum), magnesium sulfate, and boron. To determine whether you will use lime or gypsum you need to know your area's average rainfall. Places that receive below 20 inches of rain will use gypsum while places with above an average of 20 inches will use lime.
All these ingredients are typically easy to locate at a local garden store or even a large general merchandise store like Walmart. Lime and gypsum are sold in larger bags, usually 5 to 40 pounds. Magnesium sulfate comes in the form of Epsom salt which is also available in a variety of sizes. And boron is sold as borax, commonly in a box of 20 Mule Team borax.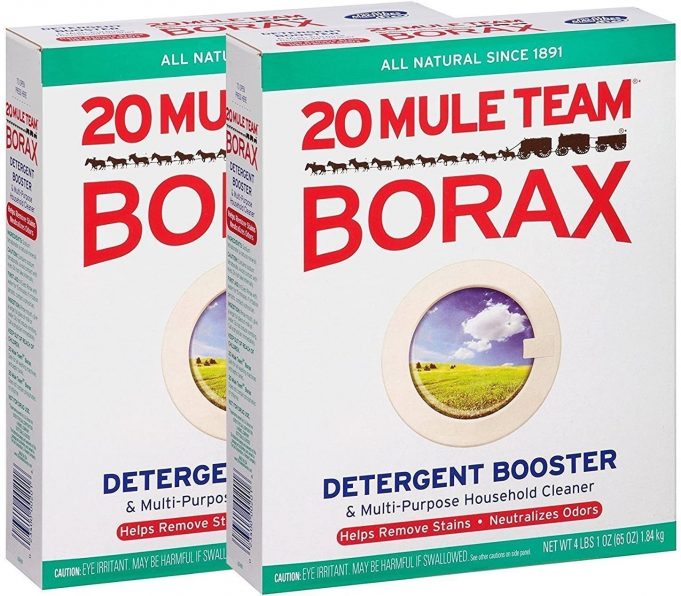 Once you have all of your ingredients, they are easy to mix in a five-gallon bucket using the following recipe:
5 pounds lime or gypsum
1 ounce boron
4 ounces magnesium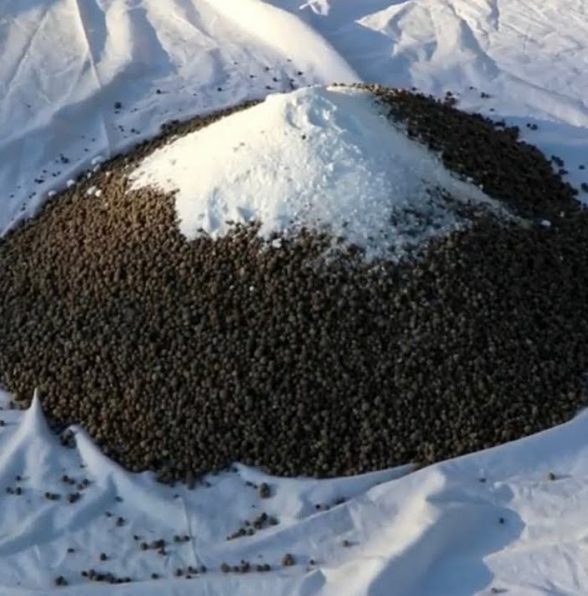 For larger gardens you can double this recipe or you can also find it appropriate to apply more preplant, especially if it is your first year gardening. Preplant fertilizer will help balance the pH of your soil to help maximize the absorption of nutrients into the roots of the plant.
Weekly Feed Fertilizer
Some gardeners may say that the Mittleider method is too complicated based simply on this step of the process, the weekly feed. However, the weekly feed is an essential component and the key to the success and abundant harvest of this gardening process.
The weekly feed fertilizer mix is based on 16 natural minerals that provide essential nutrients to the soil for maximum plant growth. Dr. Jacob Mittleider did extensive research on these minerals and developed this method as well as a specially formulated, micro-nutrient fertilizer mixture. Using his Magic Weekly Feed mix along with a few easy to find ingredients, you can also make this fertilizer easily at home.
The micro-nutrient mix includes 13 of the 16 natural minerals that plants need to thrive. Three of these elements are found naturally in the air including oxygen, carbon, and hydrogen. The other nutrients are present in Mittleider's nutrient solution and need to be injected directly into the soil. These elements include:
Nitrogen
Phosphate
Potash
MgSO4
Sodium Borate
Manganese Sulfate
Zinc Sulfate
Iron Sulfate
Copper Sulfate
Calcium
Sulfur
Chloride
Sodium Molybdate
These essential elements are combined into a perfectly formulated solution, some as just trace elements, based on Dr. Mittleider's years of experience in growing greenhouse plants.
In order to properly carry out this gardening method, you will need to purchase the Mittleider Magic Micro-Mix. It can be found online at The Food for Everyone Foundation website which is the founder's organization. It was established to train countries with little fresh food to eat in his gardening method.
Get yours here: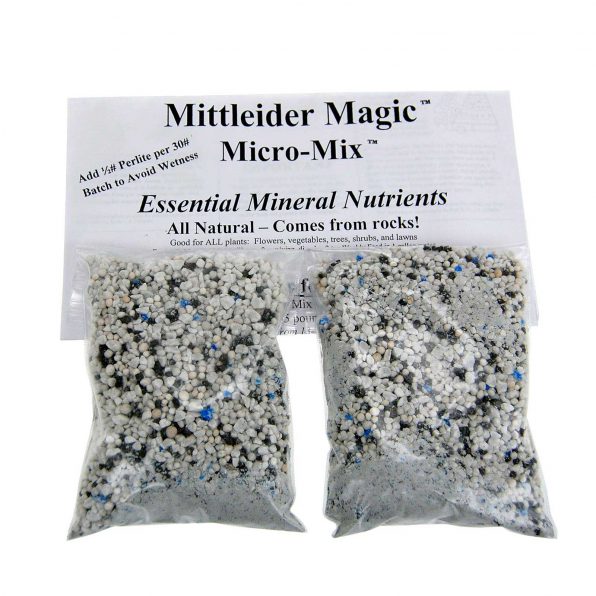 To make the weekly feed fertilizer you will also need a couple more key ingredients including Epsom salt which is easy to find at many general merchandise stores. You will also need an all-purpose fertilizer in a 13-13-13, 16-16-16, or 17-17-17 mixture. These fertilizers are also simple to find at gardening stores, the garden section of Walmart or a local hardware store. The numbers on the bag indicate the amount of 3 primary nutrients in the fertilizer: nitrogen, phosphorus, and potassium.
The recipe for the Weekly Feed Mix is as follows:
25 lbs. of all-purpose fertilizer (13-13-13 up to 17-17-17)
4 lbs. Epsom Salt
10 oz. (1 packet) of Mittleider Micronutrients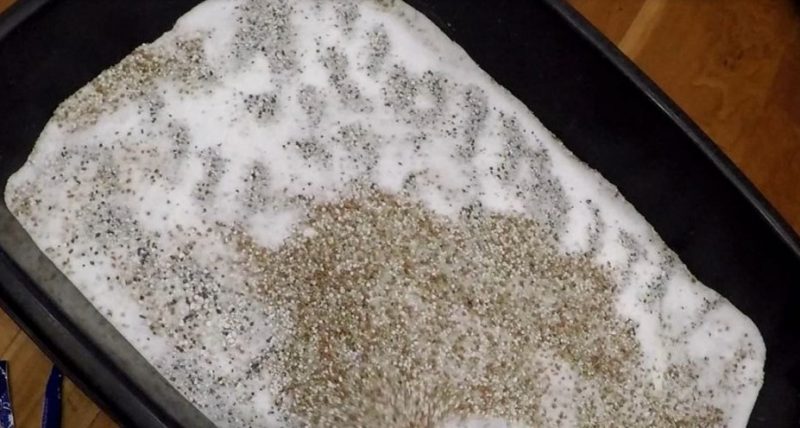 Mixed correctly, a 5-gallon bucket of this fertilizer should last approximately one season. It is recommended that you feed 12 ounces to every 10 feet of garden bed. After applying the weekly fertilizer, you need to water thoroughly so the nutrients can easily make their way to the plants' root systems. Weekly feeding should be done consistently, preferably on the same day each week to maximize the growth or your plants and increase the abundance of harvested vegetables.
Don't miss the exclusive Mittleider Gardening Library Course Book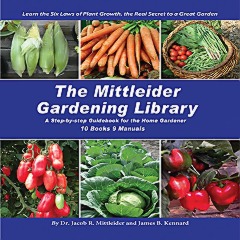 Nikki is a full-time homemaker with a love for plants, nature, and the outdoors. She holds a Bachelor of Arts degree in education, combining her talents and favorite hobby to write educational material for other plant and backyard enthusiasts. Co-founder of Backyardville, Nikki seeks insight for her blogs through reading along with hands-on research in her own yard and garden. Her experiences as a child growing up in a farming community and spending time with her gardening grandmother sparked an interest in growing plants and seeking ways to beautify the spaces around her. Nikki lives in a quiet suburb in Iowa with her husband and their two outdoor-loving children.