The gorgeous Redbud tree (Cercis canadensis) is known for its super vibrant magenta flowers that bloom in the spring and pop against the greenery it is often nestled amongst. This beautiful tree also known as the "Judas Tree" can be seen all over the USA, in parts of Mexico and as far north as Canada but tends to thrive in the East where there is plenty of rainfall to keep the soil moist.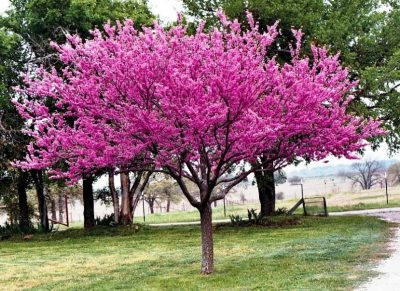 In addition to the pretty blooms, the trunk of the Redbud tree also holds its own unique appeal growing in a twisted, zigzag pattern with a red brown hue. The blooms make an appearance in late spring to early summer and often in clusters on the stems and even the trunk on a few species. Redbud flowers will last anywhere from two to three weeks and the heart shaped leaves will add a bit of antiquity to the backyard lending a bit of something unique to the landscape.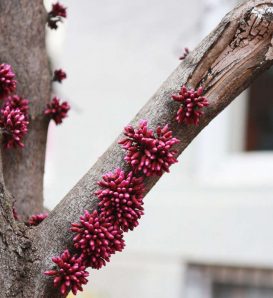 What to Know About the Redbud Tree
The Redbud is a short tree typically growing to a height between 20 to 30 feet and spreading to a width between 15 to 35 feet. They like the sun and when planted in direct sunlight, the tree will be more compact and take on a rounder shape. When planted in a shadier spot the Redbud will be spread out with more room between blooms. The Redbud does not have a long lifespan, lasting only about 20 years as they are quite susceptible to pests and disease.
There are 12 known different types of Redbud trees – Hearts of Gold, Ace of Hearts, Merlot, Ruby Falls, Mexican Redbud, Texas Redbud, Silver Cloud, Alba, Covey, Western Redbud, The Rising Sun and Forest Pansy. Selecting the right one will depend most upon where you live and how much rain your region gets per year. The Redbud is more particular about how much water the ground beneath them retains versus living in a sunny or shady area as it will grow and flourish in either. They are great border trees and add color and character to any modern or mature landscape.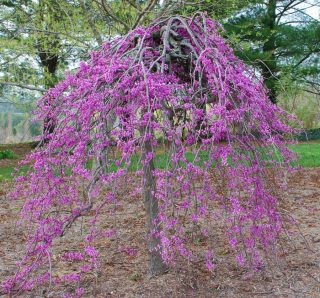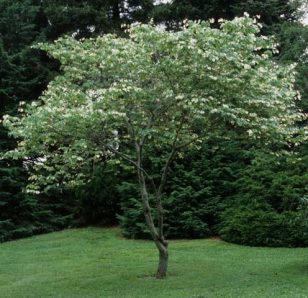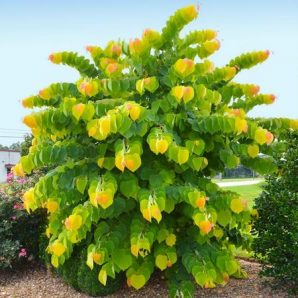 The Redbud tree is a gorgeous addition to any yard and cultivating and planting a Redbud tree is easy to do and will bring joy for many years to come.
Planting a Redbud Tree
Planting should commence sometime around early spring for optimal results.
Step 1: Choose a semi shady spot if possible. Redbuds will tolerate full sun, but a location that offers both sun and shade will offer the best condition.
Step 2: Prepare the soil by aerating and adding garden sand if there is a high clay content.
Step 3: Choose an immature tree from a local nursery to ensure that the Redbud you are planting will acclimate well to the climate you are in.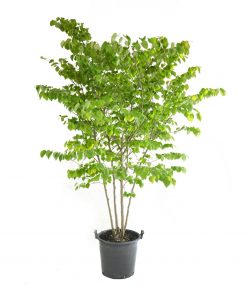 Step 4: Dig the hole at least four times as wide as the root ball. Leave plenty of room for the roots to grow and spread out.
Step 5: Remove the tree from the plastic container with a gentle twisting motion, careful not to rip or tear the leaves or the roots.
Step 6: Place the tree in the hole, keeping the tree as upright as possible. Secure the tree by surrounding it with additional soil for support.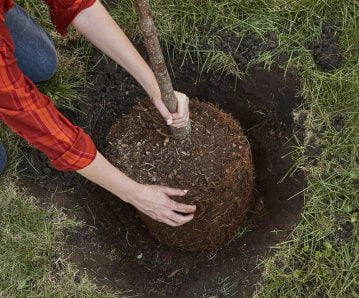 Step 7: Water the hole being sure that the roots and the soil absorb the water before filling in with the remaining soil. After the hole is filled water the top of the fresh soil to help it settle.
Step 8: Add mulch to help with moisture retention and proper draining.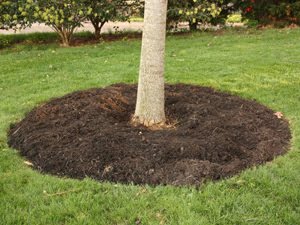 Planting a Redbud tree will reward you with a lovely, blooming reminder of the glory of spring and summer for many seasons to come.
Nikki is a full-time homemaker with a love for plants, nature, and the outdoors. She holds a Bachelor of Arts degree in education, combining her talents and favorite hobby to write educational material for other plant and backyard enthusiasts. Co-founder of Backyardville, Nikki seeks insight for her blogs through reading along with hands-on research in her own yard and garden. Her experiences as a child growing up in a farming community and spending time with her gardening grandmother sparked an interest in growing plants and seeking ways to beautify the spaces around her. Nikki lives in a quiet suburb in Iowa with her husband and their two outdoor-loving children.