The Summer Cottage Playhouse from Backyard Discovery is a wonderful playhouse that will keep kids busy for hours. Parents will love it because it is budget-friendly, easy to assemble and will fit into most yards.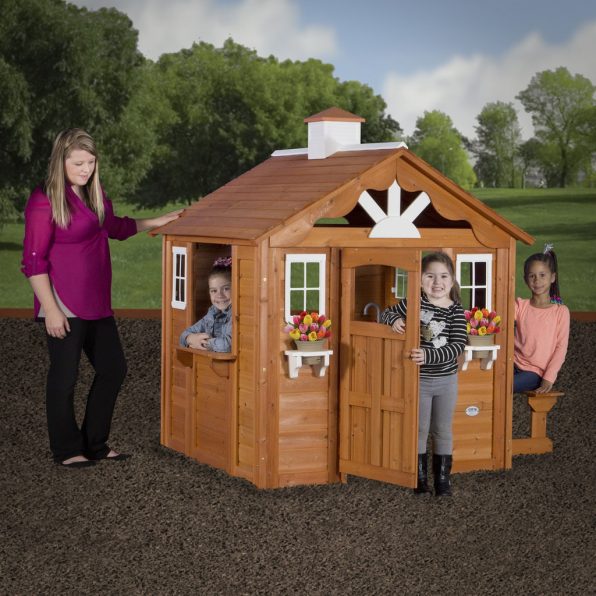 What do I get?
The Summer Cottage Playhouse has many great features and looks like a charming cottage in the woods. The playhouse is made entirely from cedar wood which is naturally rot, decay, and insect resistant. There are many building details that add to the homey and cozy feel of a cottage. The wall panels feature horizontal wood boards reminiscent of a log cabin. There are wood shingles on the roof, sunburst-gables, and scallop trim. White trim on the door and windows tie all the details together.
The door to the cottage latches with a magnetic closure. There is even a working doorbell to announce when company arrives. On either side of the front door are windows with a place for a window flower pot. Inside the cottage there is a toy sink and stove. It will be the perfect place for the kids to make dinner which can be served at the snack window on the opposite wall. There is a bench attached to the snack window to make eating easier. There are large windows on each wall so lots of natural light can get in.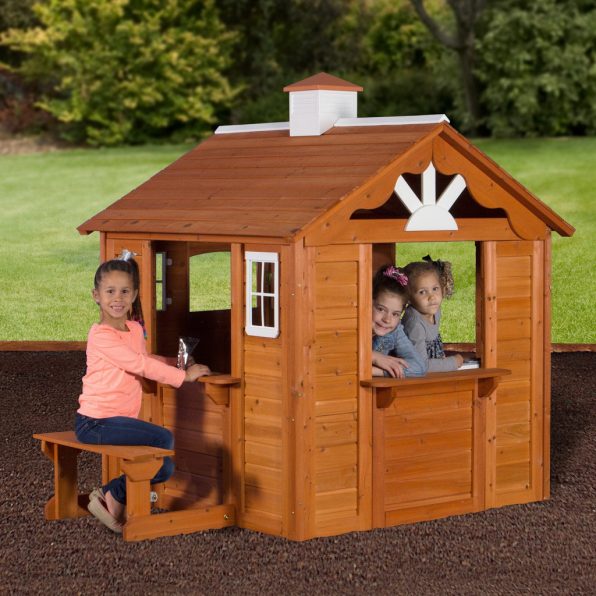 The cottage is recommended for kids age 2-10. The inside of the cottage is 4'10" tall. That may be a little short for older kids.
Will it fit in my yard?
The playhouse measures 6' long, 4'10" wide, and 5'6" tall. The interior of the playhouse is 4'2" long, 4'2" wide and 4'10" tall.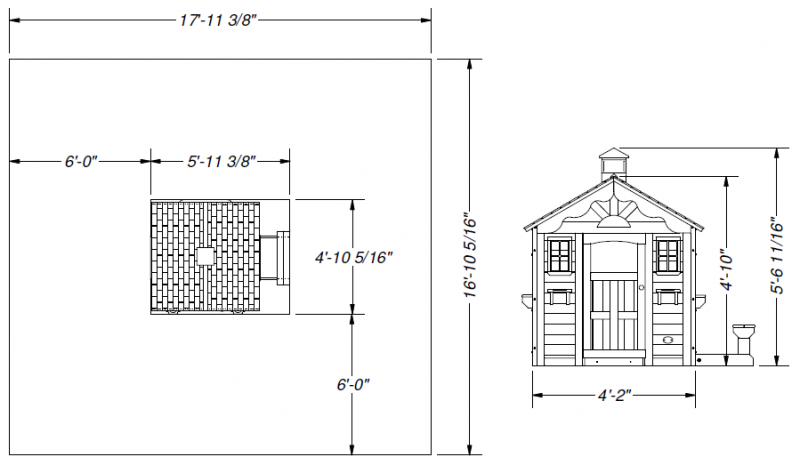 The cottage does not come with a floor and it is recommended that a surfacing material (mulch, sand, gravel) be used on the interior of the cottage after assembly. It is recommended that the surfacing material be extended out to 6 feet around the playhouse.
The playhouse should be assembled and placed on a flat, level area of the yard. It is not recommend that it be placed hard surface (concrete or asphalt). The location of the playhouse should be no less than 6 feet from any structures (fence, house, garage, shed, etc.) or overheard obstructions (tree branches, laundry lines, electric wires.)
The box the playhouse is shipped in measures 44 ½" wide, 56 ½" long, and 7 ¼" high. It weighs 150 lbs. More than one person may be required to move it as well as a larger vehicle.
Can I put it together myself?
The panels for the playhouse walls are shipped prefabricated. This allows for very easy assembly. All the required pieces for assembly come pre-cut, pre-drilled, and pre-stained. Care should be taken to not overtighten any screws with this set to avoid splitting the wood pieces. The wood is plenty strong for its intended purpose, but just so.
The easiest way to begin assembly is to lay out all the pieces and take inventory. The pieces are numbered and listed in the manual. A drawing of each piece is located in the manual for easy identification. By taking inventory of the pieces it is easy to see if any are missing are defective and need to be replaced. This also speeds the assembly process. If a part is missing or needs to be replaced Backyard Discovery may be contacted through their online support.
Does it come with an instruction manual?
All Backyard Discovery playsets come with an easy-to-follow, illustrated manual. The manual contains drawings of the parts and the assembly process, information on the maintenance of the playset. The manual also contains a section of frequently asked questions (and their answers), and warranty information.
Is there a warranty?
The Summer Cottage playset comes with a one year warranty for manufactures defects. The warranty is provided by Backyard Discovery. The wood has a warranty of five years against rot and decay.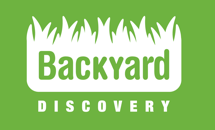 Maintenance
The Summer Cottage playset is made from 100% cedar wood. Cedar contains naturally-occurring chemicals which resist rot, decay and bug infestation. The cedar wood does not contain any added chemicals. The wood is stained with a water-based top coat for appearance only. To increase the life of the wood it is recommended the wood be re-stained annually. It may be stained or sealed with a water or oil based product which will be determined by the owner's preference. Prior to re-staining sand any rough spots.
At the beginning of each play season maintenance is recommend to ensure the safety of the playhouse and increase its lifespan. All the hardware should be tightened and any moving, metallic parts should be lubricated. All the protective covers on bolts, pipes, edges, and covers should be check and replaced if they are broken or missing. Check any metal parts for rust. If rust is found sand it and repaint the metal. The wood should be checked for splinters or deterioration. Any splinters that are found should be sanded and deteriorated pieces should be replaced. All of these items should be re-check twice monthly during the play season.
At the end of the play season or when the temperature drops below 32 degrees Fahrenheit any plastic parts should be removed and stored out of the cold.
Where can I purchase?
The Backyard Discovery Summer Cottage can be purchased online or in-store at many retailers. Walmart carried the playset online for $466.05 with $79.97 for shipping. Delivery to a Walmart store is free. Sam's Club also stocks the playhouse for $499. The shipping to a store is included in the price. Home Depot stocks the playhouse for $522.82. It can be shipped to a store or the customer's residence.
It can be purchased directly from Backyard Discovery's online store for $499 with shipping included. Other online stores that ship directly to the customer include Amazon.
Finally
The Backyard Discovery Summer Cottage is a great playhouse. Kids will love playing in it! It is well-made and will last for years. It is priced to fit into most budgets and is small enough that it will fit in most yards. This will be a great addition to one's yard and will provide entertainment for years to come.
Kenda is co-founder of Backyardville and a homeschool mom who has a passion for learning along with her kids. This passion extends to the outdoors where she enjoys growing food to feed her family, creating habitats to attract wildlife, and finding ways to nurture and sustain the Earth. With a Bachelor's degree in Materials Science and Engineering from Iowa State University, Kenda uses her education and personal experiences to write and share knowledge with others. Her continuous desire for learning is evident in her blogs and the information she shares. Kenda resides in Des Moines with her husband and two sons.