A weed eater, or string trimmer, is a useful tool to help give your lawn the finishing touch. They are typically used to trim back weeds and grass from sidewalks, but they can also get to hard-to-reach places that a mower can't get to such as around trees, fences, mailboxes, and shrubs.
Overview
In the table below you'll find the best weed eaters we've found for 2023.
Selection Guide: What to look for in a weed eater
A string trimer is usually constructed of a long shaft with a handle at one end and a reel of plastic string at the other. The string revolves with a high enough speed to cut through weeds and grass. This is a great tool for a person with back problems. You can eliminate weeds without the stress of constantly bending over to pull by hand.
Electric weed eater
Electric weed eaters do not have a battery or gasoline. They, instead, offer constant power through a power cord. They typically aren't as powerful as gas-powered and the maneuverability of the tool may be hampered by the power cord. They are smaller, lighter in weight, and quieter than gas-powered while also producing zero emissions. They are also the easiest the start. All you have to do is press a button.
Gas weed eater
Gas-powered weed eaters have the most powerful motors available. They can hold more string and cut more than electric and battery models. Depending on the engine they may require a mix of oil and gas. They are also heavier and louder than other types. This is best for a larger yard with heavy growth. They are typically started with a pull cord. Look for a model with a translucent fuel tank so that you may easily identify when the fuel level is low.
Battery powered weed eater
A battery weed eater is powered by a battery and, as a result, is cordless. They are typically the lowest in weight and also the quietest. They are not restricted by a power cord, as a result the range is limitless. You will need to pay attention to the battery as the life is not infinite. Most models allow the battery to be removed to be charged so you may switch to a spare and continue with your tasks. Look for a lithium-ion battery rated from 40-80 volts to get the most power and longest runtime.
Features
Check out the power output on the string trimmer before purchasing. It will be measured in amps (A) on an electric trimmer, volts (V) on a battery trimmer, and cubic centimeters (cc) on a gas trimmer.
A gas trimmer will contain an engine that is either 2-cycle or 4-cycle. A 2-cycle engine is lighter in weight and runs on a blend of oil and gas that you can mix yourself or purchase premixed. A 4-cycle weed eater engine is more powerful and heavier and runs on gasoline alone. It requires regular oil changes, but runs more smoothly and is easier to start.
A trimmer with a curved shaft allows you to trim in tight spots and can be easier to control. A straight shaft will allow you access under obstacles such as benches or shrubs. They are better balanced and will last longer. To allow you to change the height of the trimmer look for an adjustable shaft.
The width of the cutting area is indicated by the cutting swath.
For a multi-use tool look for a trimmer that is able to convert to an edger. An edger-capable trimmer will convert from trimmer to edger while keep the handles and controls the same.
The line, or string, of the trimmer can either be single or dual-line. A single-line head has only one string used for cutting. They are easier to wind when installing a new line. A dual-head used two lines of string to cut which increases the amount you are able to cut per revolution.
Different types of trimmer line is available to make your trimmer more efficient. Standard-grade line is economical and best for low-intensity trimming and smaller yards. Commercial-grade line is best for large yards with heavy patches of grass and weeds. Keep an extra spool of thread so you are always prepared.
The spool of string is wound around a cap in the trimmer head. The string sticks out through holes in the cap. As the string wears out it will need to be advanced. A bump head feeds the string when the head is tapped on the ground. An automatic-feed head will advance the string automatically as needed using centrifugal force. This eliminates tangles in the line and the need for winding.
Look for a model that has a fast-loading spool which lets you insert a new line and wind it without taking the spool apart. You can also find models with a fixed-line head which instead of using a spool used precut pieces of line.
Models that offer variable speed allow you great control. You will be able to provide different levels of power for a variety of cutting conditions.
What are the best weed eaters of 2023?
Stihl weed eater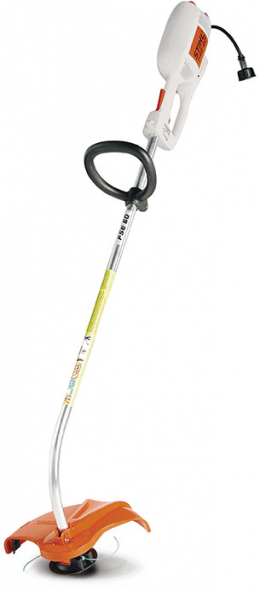 The corded electric weed eater by Stihl is a powerful model without the emissions. It is lightweight, easy to start, and quiet. It is appropriate for light to moderate yard work.
Pros
Noise level: 60 dB
Curved shaft
Controls on handle
Adjustable handle
Built-in cord retainer
Bump line
Cons
Bump head may not release the line sufficiently
Echo weed eater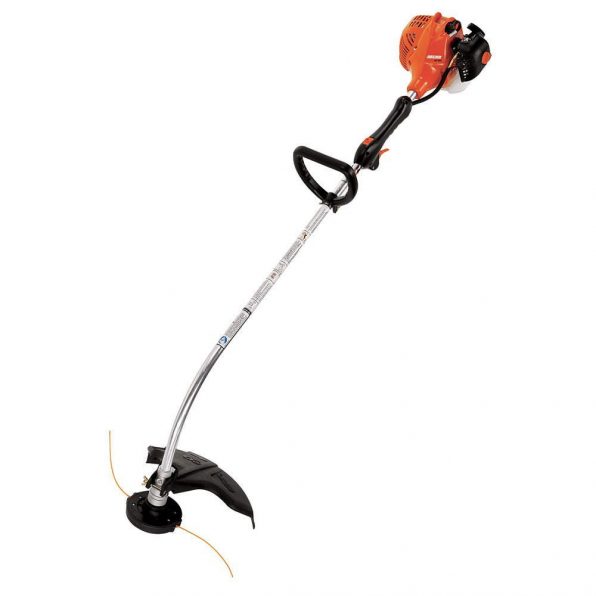 The commercial-grade Echo string trimmer is powered by a gasoline engine. The rapid-load trimmer head makes replacing the line quick and easy.
Pros
Fuel tank capacity: 14.9 oz
Bump feed
Curved shaft\
48" long
Rapid feed line advance
Anti-vibration handle
Fixed line
Ryobi weed eater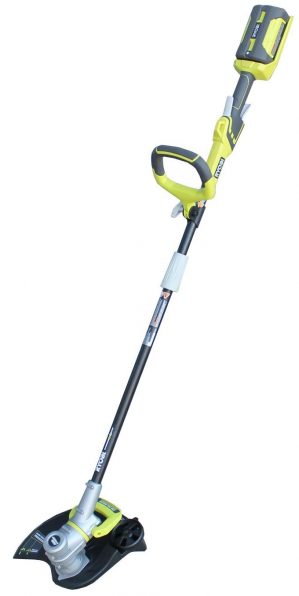 The battery-powered cordless string trimmer by Ryobi is a weed eater as well as an edger. The head pivots to easily convert from trimmer to edger. The speed is variable to allow for more power or a longer battery life.
Pros
Adjustable cutting swath
40-volt lithium battery
Battery recharged in 2 hours
Straight shaft\
55" long
Automatic line advance system
90-degree pivoting head converts from trimmer twalk-behind edger
Connextion Attachment System allows the trimmer taccept attachments tconvert it ta pole pruner\
hedge trimmer\
or edger
5-year warranty
Cons
Battery lasts for only 1 hr.
Husqvarna weed eater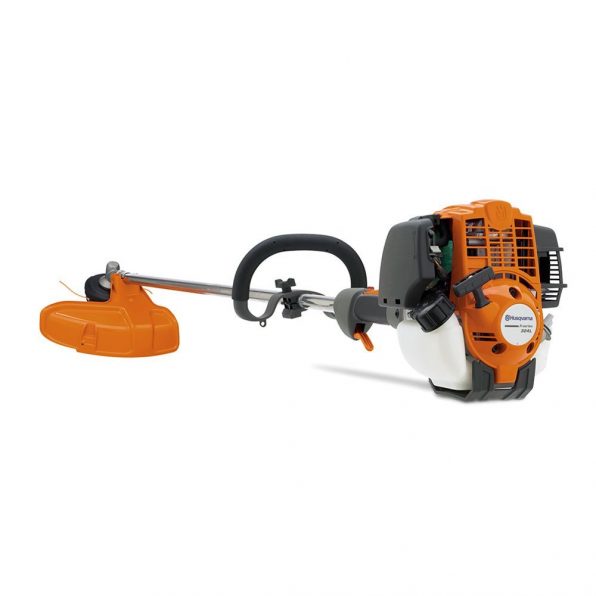 The Husqvarna trimmer features a powerful 4-cycle engine with a Smart Start and air purge which removes air from the carburetor and fuel system to allow you to easily start the engine with minimal effort. It is a great for homeowners looking for a model with commercial power and performance.
Pros
Runs on pure gasoline
Bump line feed
Straight shaft
Loop handle for maneuverability
2-year warranty
Cons
No anti-vibration features
Black and decker weed eater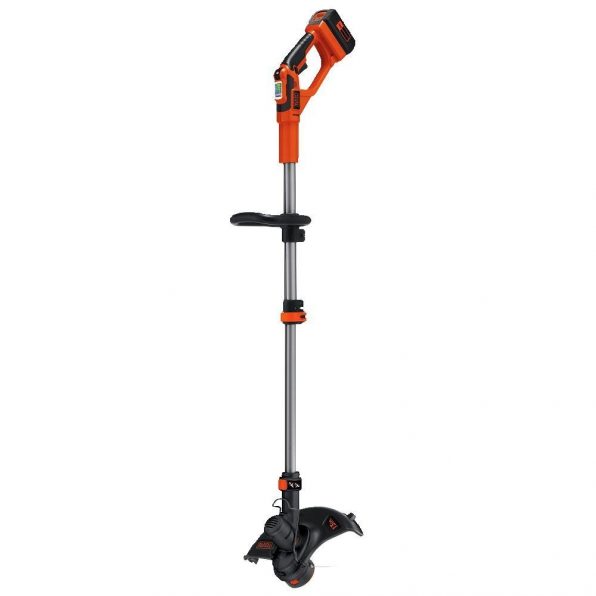 The Black and Decker electric weed eater is battery powered and features a Power Command System to allow you to adjust the motor power to adjust the power level and increase runtime. It can covert from trimmer to edger easily with a quick turn of the shaft.
Pros
40-volt lithium battery
Battery charges in one hour
Power drive transmission
Automatic feed spool\
nbumping
Spool speed: 6500-8500 RPM
Converts tedger without tools
Trimmer head rotates 180 degrees
Straight shaft
Homelite weed eater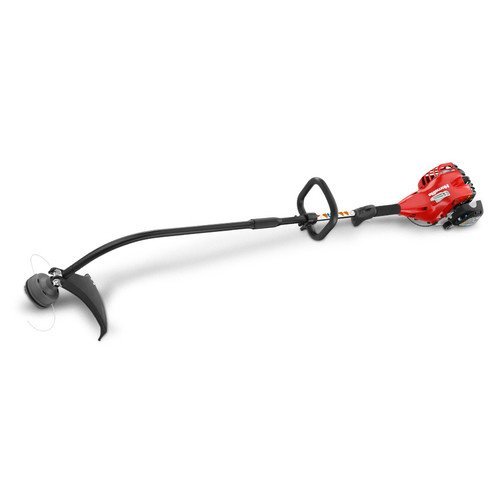 The gas-powered weed eater from Homelite features a clutched engine for easy starting and an easy-load, bump feed string head for convenience.
Pros
Fuel tank capacity: 12.8 oz
Curved shaft
Fast-loading head
Bump feed
Clutched engine
Ntools required treplace string
2-year warranty
Troy bilt weed eater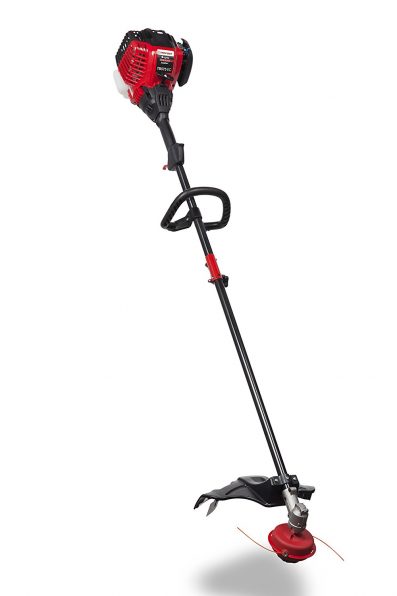 The Troy Bilt TB575 EC straight shaft trimmer is a powered by a 4-cycle engine for maximum torque and constant power. It includes Spring Assist technology and Jump Start capability for an easy and simple start.
Pros
Runs on pure gasoline
Straight shaft
Auto-load head can be loaded with up t20 feet of line
Bump feed
Jump Start (sold separately) capable eliminates pull cord start
Spring Assist helps with pull cord
Attachment-capable design allows engine tpower 10 different attachments (sold separately)
Craftsman weed eater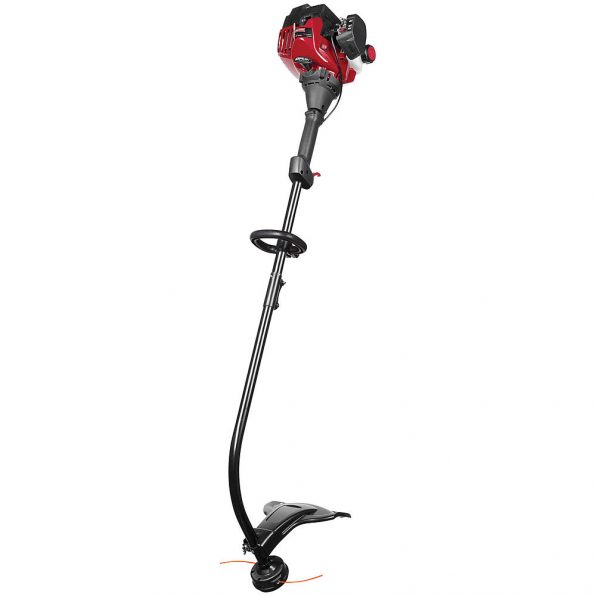 The Craftsman 79437 weed eater is lightweight and features a 2-cycle gas engine and curved shaft. The bump-n-go cutting head gives new line when you need for an efficient use of time.
Pros
Fuel tank capacity: 9.92 fl oz
Curved shaft
Pull cord start
Bump line feed
2-year warranty
Worx weed eater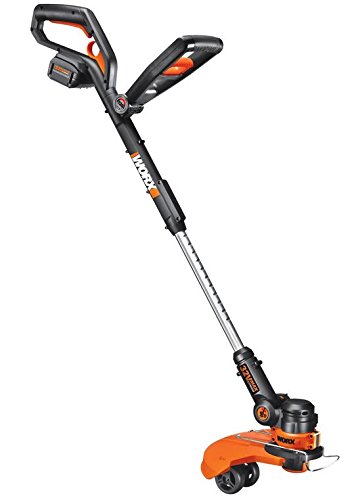 The Worx GT2.0 is string trimmer, precision edger, and mini-mower all in one. The weed eater lawn mower is lightweight and battery-powered and coverts from trimer to edger to mower in seconds without tools.
Pros
32-volt battery
Comes with 3 pre-loaded spools
Free spools for the life of the trimmer
Dual-positioned in-wheels for easy edging
Wheels can be positioned tbe used as a mower
Tool-free adjustments between trimmer\
edger\
mower
Automatic line advancement
Adjustable spacer guard tprevent accidental cutting
Adjustable handle
Cons
Battery charges in 3 hours
Toro weed eater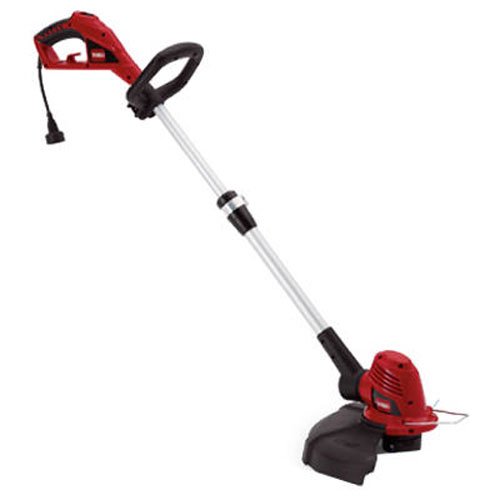 The corded weed eater by Toro is powerful enough to make yard work effortless. It can be converted to an edger in seconds and starts with the push of a button.
Pros
Telescoping shaft
Adjustable handle
Automatic feed line
Converts from trimmer tedger in seconds
Aluminum shaft\
48" long
Shield wheel guides the edger
Push start
2-year warranty
Poulan weed eater

The Poulan Pro string trimmer features a gas motor and dual line head. It is designed to accept 6 optional attachments so the motor can be used for blowing, tilling, hedge trimming, edging, brush cutting, and tree pruning.
Pros
Straight shaft
Bump head
Compatible with 6 attachments
Spring assisted start
Cons
No anti-vibration features
Our Choice
The Black and Decker is a 2-in-1 machine that is easy to convert, and easy to operate. It is light weight and maneuverable.
Frequently Asked Questions
Where can I find weed eater parts?
Parts and accessories for your weed eater can be purchased from most online and in-store retailers.
What kind of weed eater string should I use?
Use standard-grade line for small yards and lighter trimming. Use commercial-grade line for large yards and heavier patches of grass or weeds.
What kind of weed eater attachments can I add?
Depending on your weed eater and what it is compatible with it may be able to convert to an edger, hedge trimmer, pole trimmer, blower, or brush cutter. Make sure the model you are interested in is capable of using attachments.
What is the fuel-oil mix?
For 2-cycle gasoline engines you will need to use a mixture of gasoline and oil to fuel the motor. This helps keep the engine lubricated. You will need a ratio of 40:1 which you can achieve by mixing 3.2 oz. of engine oil with one gallon of gasoline. You can also purchase premixed fuel.
What do I need to do to maintain my weed eater?
Before you start any sort of maintenance on your weed eater be sure the power is off. If it is a gas-powered model be sure the fuel tank is empty. A battery-powered model should have the battery removed, and a corded-model unplugged. Disconnect the spark plug.
Clean your trimmer once a season with a mixture of water and dish soap. Scrub lightly to remove dirt, grease, and debris.
The string will need to be replaced periodically. Start by removing the disk and dispose of any leftover string. Restring,
Replace the air filter every 90 days.
Check the spark plug every three to four months. If it is black it needs to be replaced.
At the end of the season empty the fuel tank and dispose of any extra fuel.
Check as fastenings and tighten as needed before storing it for the season. Do not leave fuel in your weed eater from loner than 30 days.