Raised garden beds, garden boxes, and planters are becoming increasingly popular for growing vegetables and flowers.  Not only do they look neat and orderly, but they have many advantages over in-ground growing, as well.  Raised beds are easy to construct whether you build your own or use a ready-to-assemble kit.  Learn about the benefits of raised gardening and how to add one to your own backyard.

Overview of the Best Raised Bed and Planter Kits
The following table shows the best raised bed and planter kits of 2017.  They are organized by price, then listed in descending order by price.
Bed / Planter
Editor's Score
Bed / Planter
Greenes Cedar Raised Garden Bed
Raised Bed
Cedar
4×8 ft, 10.5 in deep
Bed / Planter
Infinite Cedar Raised Garden Bed
Raised Bed
Cedar
3×6 ft, 11 in deep
Bed / Planter
Greenland Gardener Raised Bed
Raised Bed
Composite
7×3.5 ft, 8 in deep
Bed / Planter
Lifetime Raised Garden Bed
Raised Bed
HDPE
4×4 ft, 9 in deep
Bed / Planter
Keter Elevated Easy Grow Planter
Raised Planter
HDPE
45×19 in, 30 in tall
Bed / Planter
Adams Manufacturing Deluxe Garden Planter
Raised Planter
HDPE
15.5×33.5 in, 36 in tall
Bed / Planter
Gronomics Rustic Elevated Garden Bed
Raised Planter
Cedar
2×4 ft, 32 in tall
Bed / Planter
Gardener's Supply Elevated Planter Box
Raised Planter
Cedar
2×8 ft, 29 in tall
Advantages of Raised Vegetable Garden
Aeration and loose soil
When soil is properly aerated it allows air circulation and water drainage, both essential to the roots of a plant.  In soil that is compacted roots don't receive enough oxygen or nutrients and may become stunted due to lack of room to grow.  Compacted and poorly aerated soil also effects beneficial microbes living in the soil.  A raised bed solves this problem.  You won't be walking on your bed so the soil should stay loose.  It may settle over time so it is a good idea to hand-till your soil at the beginning of the growing season and sometimes at the end.
Drainage
In a raised bed the soil will be loose which, along with air circulation, provides a path for extra water to flow.  Excellent drainage prevents standing water which, for most plants, is less than ideal.  Plants will thrive in moist soil, but will die in excess water which causes roots to rot.  The excellent drainage may cause your planters to dry quicker so you will need to water a little more frequently than in-ground plants.
Healthy roots
Another benefit to the loose soil is the ability of plants to send their roots very deep and in all directions.  They are not hampered by packed dirt, rocks, or any other obstacles that might be in the way.  A well-developed root system allows the plant to pull water and nutrients from many places which allows them to grow quicker and produce a higher yield.  A healthy root system also allows the plant to go longer between watering.
Weed control
When raised beds are started they are often filled with compost, garden mix, and soil that is free of weeds.  As time goes on the bed will be exposed to weeds just as any other place outside, but it will be easier to control.  The loose soil makes pulling weeds easier and the elevated sides make it easier to reach.  Plants are usually spaced closer together because you don't need to leave spaces to walk or access your garden.  Closely space plants will suffocate the weeds and not allow them to begin to grow.
Healthy soil
If you live in a location with poor soil, raised beds are an easy solution.  There are many things you can do to amend your existing soil, but these take time and may not always help.  In a raised bed or planter you can add good, premium soil to help plants thrive.
Less digging
If you start an in-ground garden you will probably be working in an area that already has vegetation growing.  This grass or sod will need to be dug up before you can start planting.  If you add a raised bed you can install it over the existing grass without digging it up saving a lot of time and effort on your part.  Lay newspaper or cardboard on the bottom of the bed before you add the soil to prevent grass from growing through the bed.
Pest control
Pests are one of the biggest problems to gardeners.  Raised beds help to control the problem.  Tall beds keep rabbits out and lower beds can be surrounded with chicken wire.  Burrowing critters can be blocked off with screens or mesh at the bottom of the bed.  Birds can be kept away by netting or row covers.  Snails, slugs, and bugs have a harder time getting into raised beds.  Additionally because the beds are more accessible it is easier to spot bug problems and tackle the problem before it gets too severe.
Efficient use of space and higher yield
It may not seem like adding raised beds will increase your growing space, but when you don't need to leave space for walking you'll be able to plant more in one bed.  A traditional in-ground garden with narrow rows devotes almost half its space to walking paths.  Raised beds can be spaced closer with wide rows which cuts back on the space needed for access.  As a result, you can use your space more efficiently to plant more vegetables.
Raised beds warm up sooner in the spring than the ground meaning you'll be able to plant sooner.  This will not only increase your growing season, but also increase your yield.  You will also be able to plant things more closely because of the healthy soil.  This will also increase the amount of vegetables you'll be able to harvest.
Ergonomical
Stooping to plant or weed in the ground can put a strain on the back.  Raised beds can minimize the bending and stretching which is a relief for persons with knee or back problems.  Benches can also be added to make access even easier.
Types of Elevated Garden Beds
Most raised beds or kits available for purchase are made of cedar wood, recycled plastic or a composite material made from wood pulp and plastic.  Although a raised bed can be made from nearly anything manufacturers tend to stick to the tried-and-true materials.
Cedar
Cedar wood is a natural material that can add a wonderful aesthetic to any garden with its beautiful red hue.  For many gardeners that is a big appeal.  Cedar is naturally rot and decay resistant, but will not last forever.  Boards taken from second-growth trees are as resistant as old-growth trees.  Whichever type of cedar you pick make sure it does not contain sapwood as that will rot.  Cedar, if untreated will eventually turn gray or silver over time, usually in 2 to 3 years.  You can apply a finish to the boards if you wish to keep them red.  It is hard to say how long the cedar will last before decay sets in.  If you live in a wet region where the boards are constantly exposed to moisture the wood will deteriorate faster than dry regions.  It is possible to increase the life of the wood by applying a wood stabilizer which creates a moisture barrier.
Recycled Plastic
Most outdoor furniture that is made from recycled plastic are made from high-density polyethylene (HDPE).  This is the same plastic used for milk jugs.  Recycled HDPE is used for picnic tables, benches, bins and raised bed kits.  HDPE is a durable plastic that is stable and will not leach toxic chemicals into the sol.  This is especially important when considering to use it for a raised bed or planter.  Items made from HDPE are made to last, most manufacturers give a minimum life expectancy of 50 years.  They will not get brittle in the cold or heat; they withstand temperature changes well.  Unlike cedar, recycled plastic will retain its color and texture over its many years of life and the surface can easily be washed.  Plastic boards are heavier than cedar as a result they may be more costly than cedar due to shipping costs.  They also don't have as much linear strength as wood so the beds may bow outward when filled with soil if not braced.
Composite
Composite material is made from wood fiber and UV-protected polypropylene meaning it won't fade or crack due to sun exposure. Composite boards are lighter in weight than the recycled plastic because they are hollow.  This makes them easy to lift and assemble.  They are generally made with an imprint of wood grain on the surface to give the impression of real wood.  This gives them a nice, uniform appearance.   The hollow boards are more fragile than wood or recycled plastic.  They can be easily marked and if hit hard enough will crack.  Planters made from these boards may bow outward when filled with soil.
Top Raised Garden Bed Kit
A raised garden bed is one that is resting on the ground with an open bottom.
Greenes Cedar Raised Garden Bed
The Greenes Cedar Raised Garden Bed is made from rot-resistant cedar boards and is a snap to assemble.  The boards slide into the corner posts without any required tools.  The decorative post-tops are simply installed with a screw driver.  The kit comes with 21 boards and 6 corner posts which can be assembled to make a box that measure 4 feet in width, 8 feet in length, and 10.5 inches tall.  A second kit can be stacked on the first to create a taller bed reaching 21 inches in height.  Because of the easy assembly multiple kits can be combined to expand the bed to a larger size or used to make different shape such as a square or U.
Material: Cedar
Size: 4×8 feet, 10.5 inches deep
Pros: Easy assembly and expandable
Cons: Rough wood
Infinite Cedar Raised Garden Bed
The Infinite Cedar Raised Garden Bed is made from Western Red Cedar and is available in two sizes, 3×3 feet and 3×6 feet.  Both sizes measure 11 inches tall.  No tools are required for assembly and it can be accomplished in minutes.  Instead of screws or nails, which may rust or loosen, the corners are held together with a rust-free aluminum peg that slides through the ends of the boards.  Multiple kits can be stacked to create a taller bed if desired.  The pegs hold the assembly together for many years, and are easy to take apart if needed.  The manufacturer offers a 5 year warranty against defects.
Material: Cedar
Size: 3×6 feet, 11 inches deep
Pros: Held together with rust-free pegs
Cons: Not able to expand
Greenland Gardener Raised Bed
The Greenland Gardener Raised Bed is made from a composite material and measures 7 feet by 3.5 feet and is 8 inches tall.  The boards slide into the corner posts which makes assembly easy and requires no tools.  The planter is a little shallower than others, but if requested clips can be requested from the manufacturer that allows you to stack multiple kits making them taller.  An extension kit can also be purchased if you wish to make a longer bed.
Material: Composite
Size: 7×3.5 feet, 8 inches deep
Pros: No tools required for assembly
Cons: Depth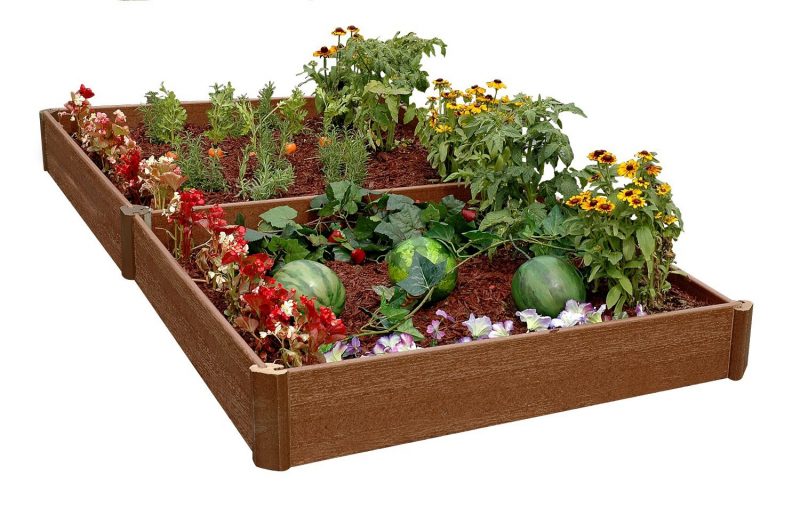 Find Great Deals on the Greenland Gardener Raised Bed at Amazon
Lifetime Raised Garden Bed Kit
The Lifetime Raised Garden Bed Kit when assembled will create a bed measuring 4 feet square and 9 inches tall.  It is made of HDPE that is UV-protected so it won't crack or peel.  The beds have interlocking ridges on the bottoms making them stackable to create a taller bed if desired.  The corners snap together and are secured by screws.  The whole thing can be assembled in minutes.  The dark plastic absorbs and retains heat which is great in the spring, but may cause you to water more frequently in the summer.
Material: HDPE
Size: 4×4 feet, 9 inches deep
Pros: Lightweight, easy to move
Cons: Square footage
Top Raised Planter Boxes
A raised planter box is fully enclosed and is elevated off the ground.
Keter Elevated Easy Grow Planter
Keter Elevated Planter has been ergonomically designed so at 30 inches tall it may be used while sitting or standing.  It is made of polypropylene and features a lovely rattan design on the exterior making it stylish and durable.  It measures 45 inches long, 19 inches wide and hold a capacity of 31 gallons of soil.  It also includes a built-in watering system making watering easy.  A water reservoir has been built into the bottom of the planter to hold excess water preventing the plants from sitting in water and also allowing them access to water as needed.  There is a water gauge on the top of the planter that will help you determine when you need to water.  A drainage tap on the bottom allows you remove the excess water from the reservoir if needed.  This excess water can be used to water other plants.  If the planter will be kept outside remove the drainage cap during assembly to eliminate the possibility of overwatering.
Material: HDPE
Size: 45×19 inches
Pros: Water reservoir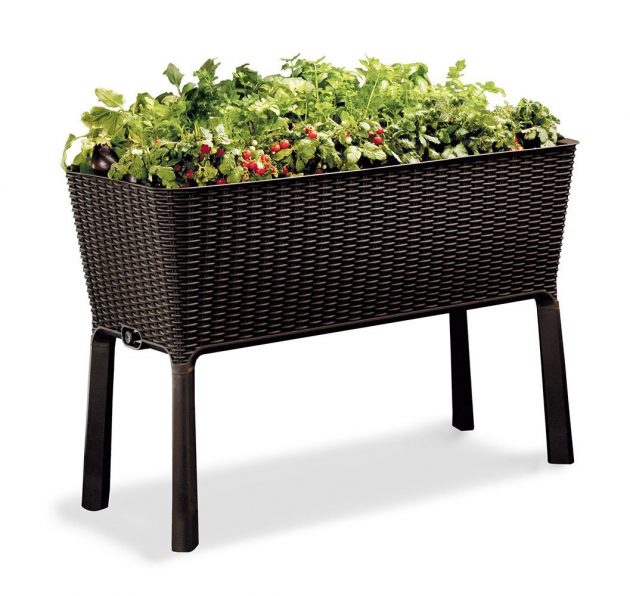 Buy the Keter Elevated Easy Grow Planter at Amazon
Adams Manufacturing Deluxe Garden Planter
The Deluxe Garden Planter from Adams Manufacturing has a planting depth of 7 inches.  It is 33.5 inches tall, the perfect height to stand, and 15.5 inches wide, and 36 inches tall.  It is made from recycled plastic and with the stylish design looks great on the porch, deck, balcony, or even inside.  No tools are required for assembly which can be accomplished in minutes.  If you need to disassemble the planter for storage over the winter the legs and shelf can be easily be separated.  Drainage holes are provided on the bottom of the planter to help prevent standing water.  Add potted plants to the lower shelf to take advantage of the draining holes so no water is wasted.  The shelf can also be used for storage.
Material: HDPE
Size: 15.5×33.5 inches , 7 inches deep
Pros: Shelf for storage
Cons: Shallow depth
Gronomics Rustic Elevated Garden Bed
The Gronomics Rusitc Elevated Garden Bed can be assembled quickly without tools; the boards slide into place.  It is made from Western Red Cedar for a rustic, rough-sawn look.  The boards can be rough so be on the lookout for splinters when assembling.  It looks great on a balcony or patio.  To increase the life of the wooden legs keep them on a hard surface such a patio so they aren't sitting in moist soil for long periods in the yard.    It is available in 4 sizes which gives you a lot of options for placement.  The first two planters are both 32 inches tall and can either be 4 feet by 2 feet or a narrower 4 feet by 1.5 feet.  The second two planters are shorter, only 19 inches tall.  They can be 1.5 feet square, or 3 feet by 1.5 feet.  The depth of all the boxes is 10 inches.
Material: Cedar
Size: 2×4 feet
Pros: Sturdy legs
Cons: Rough surface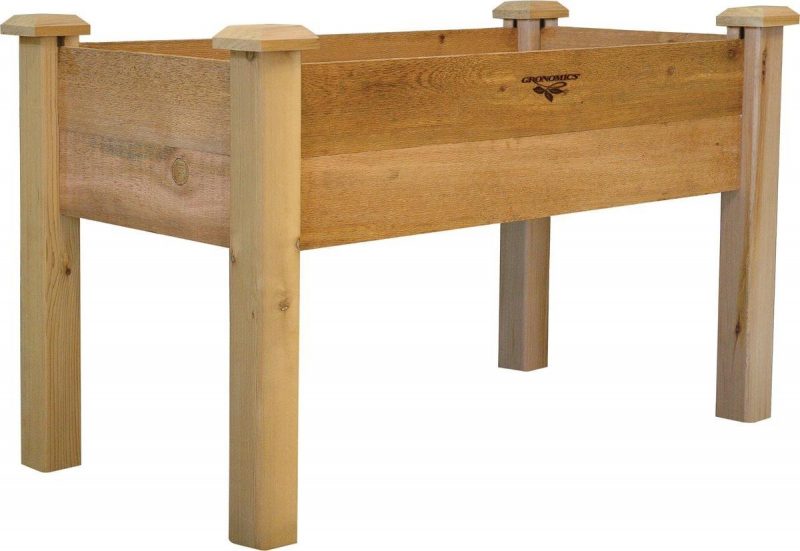 Get the Gronomics Rustic Elevated Garden Bed at Amazon
Gardener's Supply Elevated Planter Box
The Elevated Cedar Planter Box from Gardener's Supply offers 16 square feet of growing space with its 2 foot by 8 foot planter.  It is 29 inches tall so you can easily stand to plant your vegetables.  The bed is 10 inches deep, plenty of room for most plants.  The boards making the planter are cedar and the legs are made from rust-free aluminum.  The metal legs make this a good planter to use in the yard.  The slats of the bottom of the planter are spaced slightly so excess water can drain between them.  This also allows air to circulate.
Material: Cedar, aluminum
Size: 2×8 feet, 10 inches deep
Pros: Large surface area
Cons: Longer assembly time
Kenda is co-founder of Backyardville and a homeschool mom who has a passion for learning along with her kids. This passion extends to the outdoors where she enjoys growing food to feed her family, creating habitats to attract wildlife, and finding ways to nurture and sustain the Earth. With a Bachelor's degree in Materials Science and Engineering from Iowa State University, Kenda uses her education and personal experiences to write and share knowledge with others. Her continuous desire for learning is evident in her blogs and the information she shares. Kenda resides in Des Moines with her husband and two sons.