It is the time of year that calls out to everyone to bring their best decorating game to the front yard, and the increasingly popular Christmas inflatables are showing up on lawns everywhere as a part of fun and whimsical holiday displays.
If you have never included an inflatable in your Christmas landscape, now is the time to get on board with the trend. With so many options readily available online and at your local home improvement store, you will be able to easily find an inflatable to suit your taste and budget.
Small Yards
Small scale inflatables are perfect for homes with minimal yard space. When adding an inflatable to a smaller display, consider one that will not overwhelm or drown out the other decorations.
Consider something like this cute snowman or this reindeer with a striped scarf, both under 4ft tall. These inflatables are both on the smaller side as inflatables go with adorable, understated Christmas theming. Positioned in front of holiday lights on a porch or shrubbery, these inflatables will enhance the cheer of the season.
Large Yards
Something larger might better suit your space and budget and there are plenty of choices available if going big is on the agenda this year. Keeping in line with a common theme (Santa and his reindeer, cartoon characters or snowmen) or immersing larger inflatables into a storied landscape, will prevent them from appearing separate from your overall decorating scheme. Avoid if you can, using only inflatables to decorate-try to make them a part of something cohesive to maintain balance.
This towering nutcracker could easily fit right into a traditional Christmas motif along with this giant Santa. If you use large inflatables, try to limit to no more than 2 to avoid having them take over the yard. You do not want your lights or other accessories disappearing in the shadow of an oversized inflatable.
Adding this jolly 8 ft Gingerbread beside these cozy-looking 6 ft hot cocoa mugs will inspire sweet thoughts of a candy village. A simple way to decorate for Christmas and bring joy if you desire a break from the classic décor.
Adding Motion
Inflatables are not all static and including those with motion is a great way to add some action into your Christmas decorations. This Projection Snowglobe is eye catching with a Santa surrounded by blowing snow, which is actually projected all around him.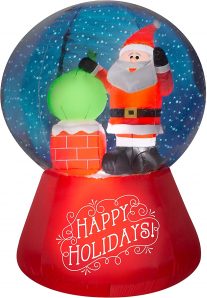 Or show Santa making toys with his elves in the workshop in this Animated Workshop Scene. Adding inflatables with activity keeps your arrangement interesting!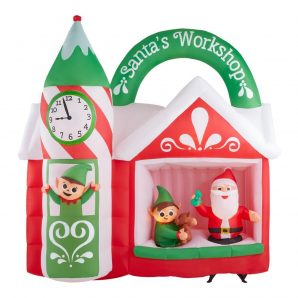 Non- Traditional
Of course, if you are thinking you would prefer something silly or outrageous for your landscape there is no shortage of these inflatables to add to the scene. How about Santa in an outhouse?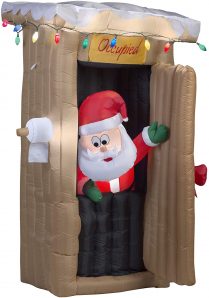 Or a foreboding T-Rex?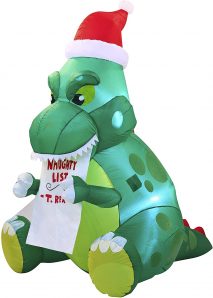 And no Christmas is complete without a giant Grinch!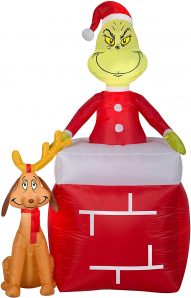 Cartoon characters are also decked out for the holidays and the children will love seeing Sponge Bob in his red and green stocking cap or Snoopy dressed up like an elf.
Amusing and a bit goofy, inflatables like those mentioned can provide some lightheartedness and a laugh to spectators. And we all can use some of that, especially this year! Don't be afraid to go a little outside the box if you temper it with other more traditional decorations.
Traditional
If you are hesitant to incorporate inflatables into your Christmas display, you can do so minimally with a more vintage look like this one using cheerful animated gifts flanking a wreath adorned front door.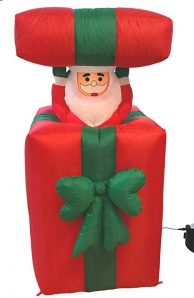 A simple lighted Christmas tree is also an understated but lovely way to add an inflatable without breaking from the familiar. This use of inflatables combines tradition with today giving the best of both worlds.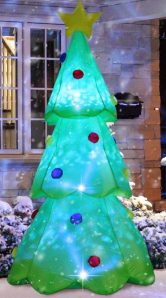 Most inflatables use very little electricity, and it is estimated that using them will only add an additional $10-$15 to your electric bill with an average of 10 hours of use per day from dusk to dawn when they will be most visible to onlookers. Inflating them only at night means the rest of the time the inflatables will lay in a crumpled pile on the lawn. So really enhancing the non-inflatable portion of your décor is important to avoid a lackluster appearance during daylight hours.
Christmas inflatables are now more prevalent than ever, and many enjoy adding them as a part of their seasonal decorating scenes.
Thoughtful planning is key, so take some time and explore the vast selection available, but more than anything just delight in creating something amazing that reflects your personal style and the joy of the season.
Nikki is a full-time homemaker with a love for plants, nature, and the outdoors. She holds a Bachelor of Arts degree in education, combining her talents and favorite hobby to write educational material for other plant and backyard enthusiasts. Co-founder of Backyardville, Nikki seeks insight for her blogs through reading along with hands-on research in her own yard and garden. Her experiences as a child growing up in a farming community and spending time with her gardening grandmother sparked an interest in growing plants and seeking ways to beautify the spaces around her. Nikki lives in a quiet suburb in Iowa with her husband and their two outdoor-loving children.