The 4th of July holiday is the most popular holiday for outdoor picnics and backyard barbecues. Whether you are the host of the party or attending as a guest, you can always make the party more festive by including some patriotic dishes that boast the colors of our country.
From spicy, firecracker appetizers to grilled main dishes or a colorful red-white-and-blue drink or dessert, this list of recipes brings ideas that are easy to prepare but will impress everyone on the guest list. Start planning your backyard holiday barbecue by choosing one of these fun and easy 4th of July recipes.
Appetizers
Stuffed Jalapeño Firecrackers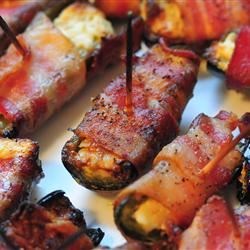 Ingredients
12 jalapeno peppers, cut in half lengthwise
1 (8 oz) package cream cheese, softened
Cajun seasoning
12 slices bacon, cut in half
Toothpicks
Directions
Preheat the oven's broiler and set the oven rack about 6 inches from the heat source.
Fill the jalapeno peppers with cream cheese.
Sprinkle the Cajun seasoning on top, then wrap each stuffed jalapeno with a slice of bacon. Secure with a toothpick.
Arrange the wrapped jalapeno peppers in a single layer, face down on a broiler rack.
Broil in the preheated oven until the bacon becomes crisp, 8 to 15 minutes on each side.
Recipe courtesy of allrecipes.com
Blueberry Caprese Salad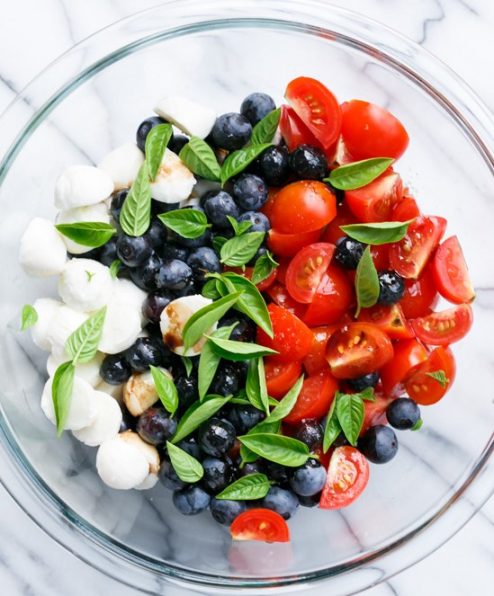 Ingredients
12 ounces cherry tomatoes, halved or quartered
6 oz (1 cup) fresh blueberries
8 oz mozzarella balls (ciliegine or bocconcini), halved or cut into bite-sized pieces
1/4 cup fresh basil leaves, torn if large
2 Tbsp olive oil
1 Tbsp balsamic vinegar
sea salt and freshly ground black pepper, to taste
Directions
Combine tomatoes, blueberries, and mozzarella balls in a bowl.
Toss with basil leaves, olive oil, and balsamic vinegar.
Season to taste with salt and pepper. Can be made a few hours ahead of time, just cover and refrigerate until ready to serve.
Recipe courtesy of loveandoliveoil.com
Patriotic 7-Layer Dip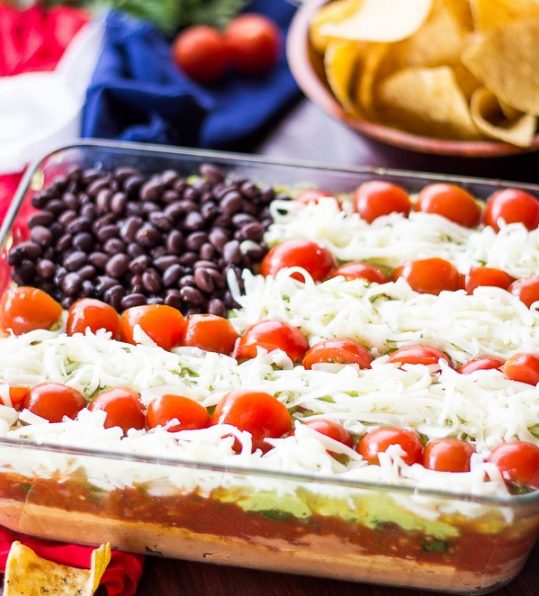 Ingredients
1 (14 oz.) can refried beans
1 cup hummus
½ packet (1.25 oz) taco seasoning
1 (16 oz.) jar chunky red salsa
1½ cups Pico de Gallo
1½ cups guacamole
1 cup Monterey Jack cheese, shredded
Flag Topping
Black Beans, drained and rinsed
Cherry Tomatoes, cut in half
Instructions
In an 8 x 8 pan, spread the refried beans in an even layer.
In a bowl, combine the hummus and half the package of taco seasoning. Mix well.
Spread the hummus evenly on top of the beans.
Top evenly with remaining layers starting with the chunky salsa and ending with the guacamole.
Flag Topping: Place a handful of black beans in the corner of the dip on top of the guacamole. Shape them into a square. Place the cherry tomato halves in a few straight lines alternating with lines of cheese in between.
Refrigerate for 2 hours before serving. Serve with your favorite chips!
Recipe courtesy of mariahspleasingplates.com
Main Dishes
Bacon Ranch Chicken Skewers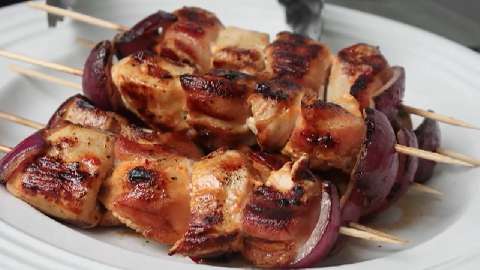 Ingredients
1/3 cup ranch dressing
1 tsp hot chili paste
4 skinless, boneless chicken breast halves – cut into 1 inch chunks
24 (1-inch) pieces red onion
12 slices thick cut bacon
salt and black pepper to taste
12 (6 inch) skewers, soaked in water for 2 hours
Directions
Whisk together ranch dressing and hot chili paste in a large bowl.
Mix in chicken pieces and toss to evenly coat. Cover the bowl with plastic wrap and marinate in the refrigerator for 1 to 3 hours.
Preheat an outdoor grill for medium-high heat and lightly oil the grate.
Remove chicken from the bag and transfer to a plate or baking sheet lined with paper towels. Pat chicken pieces dry with more paper towels.
Thread a piece of onion about 1 1/2 inches down the skewer.
Thread the end portion of one strip of bacon onto skewer so the rest of the strip is hanging down. Skewer on a piece of chicken; thread on the next portion of the bacon. Turn the skewer so that the long end of the bacon is again hanging down. Repeat this process of skewering and turning until the entire strip of bacon is threaded, using 4 to 5 chicken pieces.
Thread a second piece of onion onto the end of the skewer.
Repeat steps 5 through 7 for all twelve skewers.
Season chicken skewers with salt and pepper as desired.
Cook the skewers on the preheated grill, turning every 3 to 4 minutes, until nicely browned on all sides and the meat is no longer pink in the center, 12 to 16 minutes total per skewer. Serve with ranch dressing as a dipping sauce.
Recipe courtesy of allrecipes.com
Star-Spangled Burgers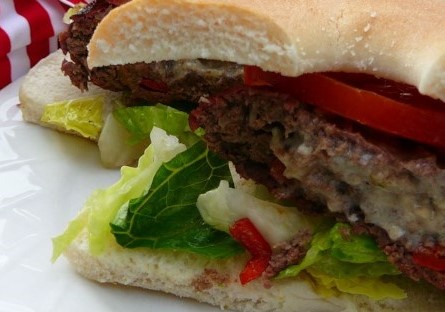 Ingredients
2 lbs ground beef
1 large red bell pepper, diced
2 cloves fresh garlic, minced
1 tsp salt
1 tsp ground black pepper
2 (4 oz) packages crumbled blue cheese
Directions
Preheat an outdoor grill to medium-high heat and lightly oil the grate.
Mix ground beef, red pepper, garlic, salt, and pepper in a large mixing bowl; divide and form into 16 patties.
Place 1 ounce blue cheese in the center on top of 8 of the patties. Top each cheese-topped patty with a patty that does not contain cheese, pressing the sides together so the cheese doesn't fall out.
Cook on the preheated grill until the burgers are cooked to your preferred degree of doneness, 7 to 10 minutes per side for well done. A thermometer inserted into the meat should read 160 degrees F.
Recipe courtesy of allrecipes.com
Flag Pizza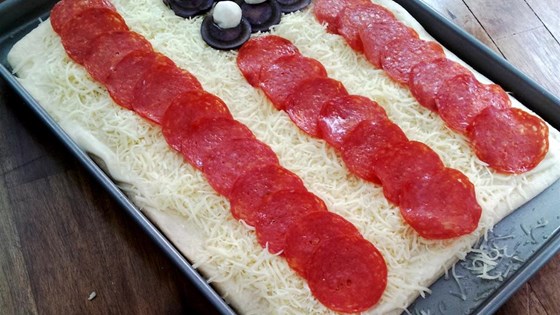 Ingredients
3 small purple potatoes
cooking spray
1 (13.8 ounce) can refrigerated pizza crust
1 1/2 tablespoons olive oil, divided, or as needed
25 slices pepperoni, or more as needed
1 cup Alfredo sauce
2 cups shredded Italian cheese blend
5 mini mozzarella balls, halved
Directions
Place potatoes into a pot and cover with salted water; bring to a boil. Reduce heat to medium-low and simmer until tender, about 20 minutes. Drain and slice potatoes into 1/4-inch rounds.
Preheat oven to 400 degrees F (200 degrees C). Spray a large baking sheet with cooking spray.
Unroll the refrigerated pizza crust and spread it out in the baking sheet to fit to the edges. Brush the crust with about 1 tablespoon olive oil.
Bake in the preheated oven until lightly golden and slightly set, about 7 minutes.
Arrange pepperoni slices on a paper towel-lined, microwave-safe plate. Microwave pepperoni on high until heated through, about 30 seconds.
Spread Alfredo sauce over the baked crust; top with Italian cheese blend.
Arrange potato rounds in the top left corner of the pizza, forming the blue portion of the flag. Brush potatoes with remaining olive oil. Place mozzarella ball halves on top of the potatoes to resemble the stars of the flag.
Arrange pepperoni slices, slightly overlapping, in rows across the pizza to resemble the stripes on the flag.
Bake pizza in the oven until the crust is golden brown and cheese is melted, about 10 minutes.
Recipe courtesy of allrecipes.com
Desserts
4th of July Jello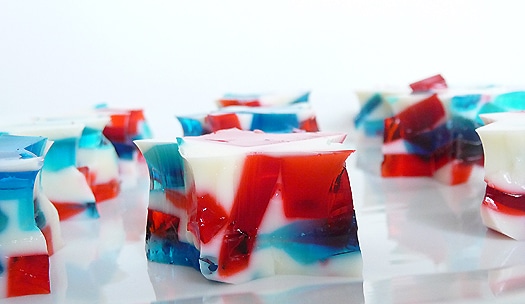 Ingredients
1 box red Jello (6 oz)
1 box blue Jello (6 oz)
1 can sweetened condensed milk (14 oz)
2 envelopes Knox unflavored gelatin
Water
Instructions
For each of the flavors, dissolve the Jello in 2 cups of boiling water. Pour it into two separate 9×13" pans and chill in the refrigerator for 3 hours or more.
After chilling the pans cut them into small squares. Mix both colors together in one 9×13 pan.
In a separate bowl, sprinkle the 2 envelopes of unflavored gelatin into ½ cup of cold water. Allow the gelatin to expand in the water for a few minutes, then add 1 ½ cups of boiling water and whisk together until the gelatin dissolves.
Mix the can of sweetened condensed milk into the unflavored gelatin, stir and let cool at room temperature. Once the milk mixture has cooled, pour over the Jello squares in the 9×13 pan.
Chill for several hours until set up. Cut into blocks or fun shapes and serve.
Recipes courtesy of sixsistersstuff.com
Patchwork Quilt Cake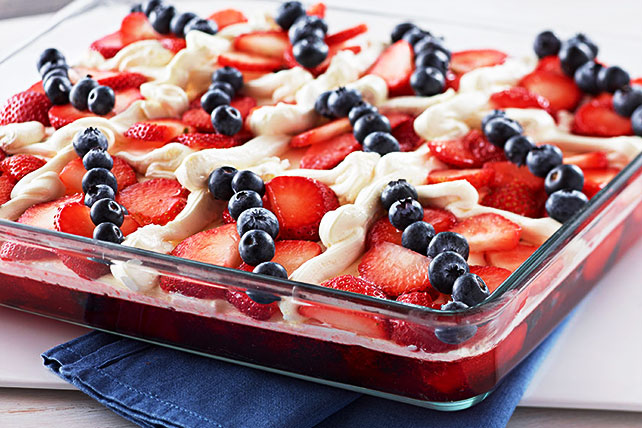 Ingredients
2/3 cup butter, softened
1 ¾ cups sugar
1 Tbsp vanilla extract
2 large eggs
2  ½ cups flour
2 ½ tsp baking powder
½ tsp salt
1 ¼ cups milk
Frosting
1 cup butter, softened
3 cups powdered sugar
4 tsp vanilla extract
3-4 Tbsp. heavy whipping cream
Variety of fresh berries
Instructions
Preheat oven to 350. Grease a 9×13" baking dish.
Cream butter and sugar until light and fluffy, then add vanilla and eggs (one at a time), beating well.
In a separate bowl, whisk together flour, baking powder and salt; beat into creamed mixture alternately with milk. Transfer to prepared dish.
Bake 40-45 minutes until a toothpick inserted into the center comes out clean. Place on a wire rack; cool completely.
For frosting, beat the butter until creamy; gradually beat in the powdered sugar until smooth, for about 3 minutes. Beat in the vanilla and 3 Tbsp cream until fluffy, about 2 minutes; thin with additional cream if desired. Spread frosting over cake.
Before serving, top with berries in a patchwork quilt pattern as desired.
Recipe courtesy of Country Woman Magazine
Drinks
Patriotic Non­Alcoholic Cocktail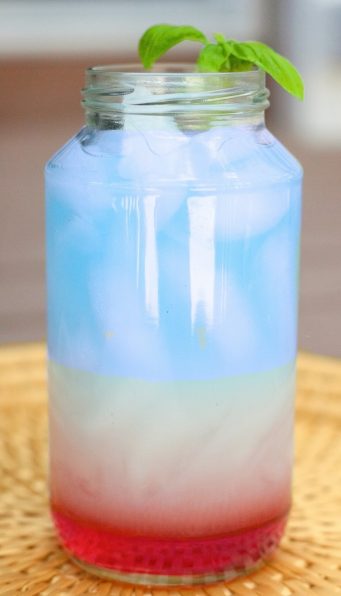 Ingredients
1 cup CranApple juice
1 cup Sobe Pina Colada flavored beverage
1 cup G2 Blueberry Pomegranate Gatorade
Ice
Instructions
Fill a glass with 1 cup of the CranApple Juice.
Fill the rest of the glass with ice.
SLOWLY pour Sobe Pina Colada and then G2 Gatorade over the ice.
Colors will naturally layer if poured slowly due to the sugar content separating. Highest sugar beverage on the bottom, lowest sugar content at the top.
Recipe courtesy of bakingbeauty.net
The Firework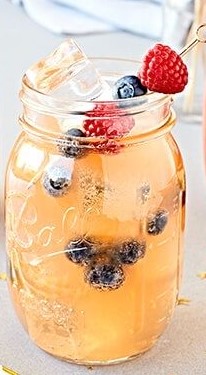 Ingredients
3 oz Tropicana Strawberry Peach
1 ½ oz bourbon
½ oz lime juice
2-3 ice cubes
Ginger beer
Directions
Put ice cubes in a mason jar
Add Tropicana Strawberry Peach, bourbon and lime juice
Stir
Top with Ginger beer
Recipe courtesy of Tropicana
Red, White and Blue Sangria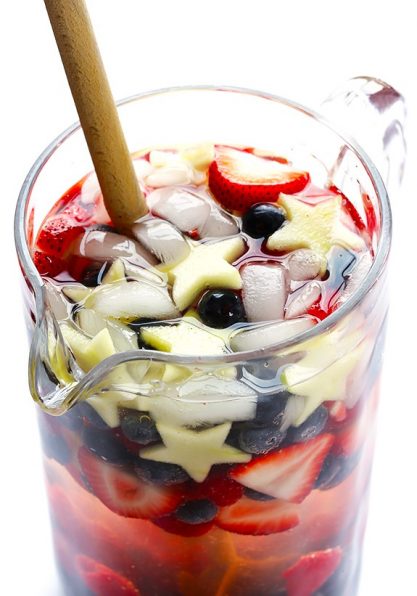 Ingredients
2 cups blueberries
1 cups raspberries
1 lb. strawberries, hulled and halved
750 mL bottle white wine
1 cup grape juice
Extra strawberries, blueberries and raspberries
Star-shaped apple slices
Directions
In a giant pitcher, combine 2 c. blueberries, 1 c. raspberries, and 1 lb. strawberries.
Add bottle of white wine and grape juice.
Refrigerate for 2 hours.
Layer extra strawberries, blueberries, raspberries, and star-shaped apple slices in glasses.
Fill the glasses with the sangria.
Recipe courtesy of cosmopolitan.com
Make your 4th of July backyard party festive, colorful and delicious with one of these simple recipes that do not require a lot of time or preparation.
Nikki is a full-time homemaker with a love for plants, nature, and the outdoors. She holds a Bachelor of Arts degree in education, combining her talents and favorite hobby to write educational material for other plant and backyard enthusiasts. Co-founder of Backyardville, Nikki seeks insight for her blogs through reading along with hands-on research in her own yard and garden. Her experiences as a child growing up in a farming community and spending time with her gardening grandmother sparked an interest in growing plants and seeking ways to beautify the spaces around her. Nikki lives in a quiet suburb in Iowa with her husband and their two outdoor-loving children.