A couple weeks ago my family and I took a class on wild edibles and discovered that most of the weeds in our backyard were edible.  We harvested and tasted several things in class such as garlic mustard pesto and sautéed stinging nettle tops.  We came home feeling adventurous and wanted to find ways to eat the most abundant weeds in our yard other than just snacking on them raw.
Dandelion and Clover Pancakes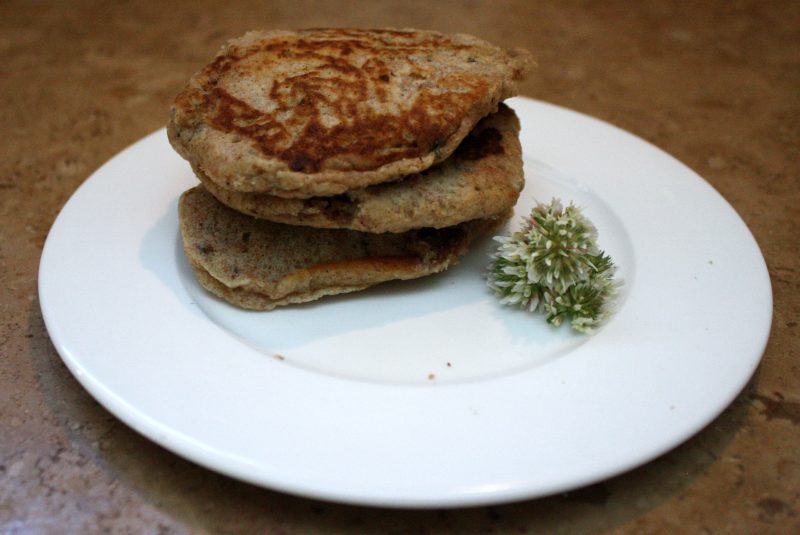 We tried clover fritters in class and the kids loved them.  I thought pancakes would be similar and easier to make.  The fritter recipe called for red clover and we found some at a local park.  We didn't have enough so we substituted white clover and dandelion flowers for the rest, which our yard has loads of.
Rinse the dandelion and clover flowers before using.  To prepare the flowers remove the bottom green part of the flower head so that only the flower petals remain.
Recipe
2 cups of dandelion flowers or white or red clover flowers
1 ¾ cup flour
2 tablespoon sugar
2 teaspoon baking soda
½ teaspoon baking powder
¼ teaspoon salt
1 egg, slightly beaten
1 ½ cup buttermilk
3 tablespoon cooking oil
In a large bowl mix the flour, salt, sugar, baking soda and baking powder together.  In a second bowl use a fork to combine the egg, buttermilk, and oil.  Add the buttermilk mixture to the flour mixture all at once and stir until just combined.  Add the flowers and mix.
Pour ¼ cup of batter into a hot, lightly greased griddle or skillet.  Cook for about 1-2 minutes until bubbles form and the underside of the pancake is golden.  Flip and cook until the second side is done.  For silver-dollar-sized pancakes use 1 tablespoon of batter per pancake.
Serve warm with syrup.
Recipe adapted from the Better Homes and Gardens New Cook Book.
Consensus
Everyone in the family loved the pancakes.  It was probably more due to the pancake recipe than the flowers.  I couldn't taste the flowers much and they didn't change the texture of the pancake.  The kids could not get enough pancakes and will go out to the yard to eat clover flowers raw.
Creeping Charlie Tea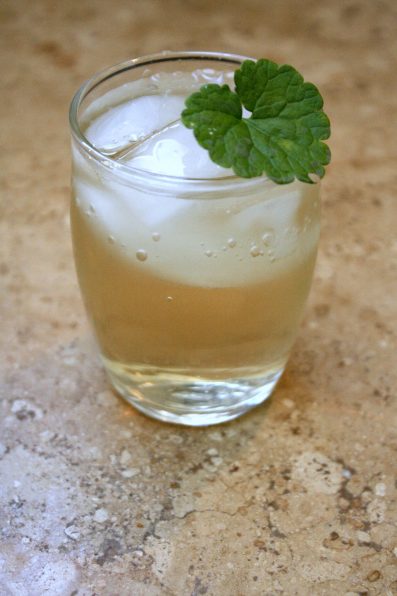 Creeping Charlie is everywhere in our yard.  As a member of the mint family it has a nice aroma to it.  Because of its smell, the low, creeping quality and the pretty flowers Creeping Charlie is one of my favorite weeds.  Or maybe I should say, the one I tolerate the most.  The leaves of Creeping Charlie are edible and as we tried them we thought they might make a tasty tea.
Ingredients and supplies
Handful of Creeping Charlie leaves
Honey or sugar to taste
Other herbs such as sweet mint, peppermint, spearmint, or pineapple sage (optional)
Rinse the leaves before using.  Stuff as many as you can in the tea infuser and add to a large heat-proof pitcher.  We used a quart-sized mason jar.  Add boiling water and let steep for 5 minutes.  Remove the infuser and sweeten to taste.  Serve warm or cold over ice.
Consensus
It tasted like our yard smelled.  Creeping Charlie has a slight bitterness to it that I didn't care for.  The tea, I think, would taste better with mint instead of Creeping Charlie.  The kids, however, loved it.
Plantain Chips
Plantain is a leafy weed that is abundant in our yard.  The leaves and seeds of the plant are edible.  We thought the leaves tasted like kale so we thought plantain would be a good substitute in kale chips.
Ingredients
Plantain leaves, harvest by snipping the base of the leaf where it meets the stem
Oil
Salt
Rinse the leaves and blot dry.  Lightly coat the leaves with oil and place in a single layer on a cookie sheet.  Sprinkle with salt.  Bake at 350 degrees Fahrenheit for about 10 to 15 minutes until crispy.  Add more salt to taste
Consensus
The plantain leaves tasted a little more bitter baked than raw.  As the leaves get larger the bitterness increases so I would recommend trying to use the smallest or newest leaves you can find.  This recipe would be best earlier in the season.  The crispy texture of the chips was enjoyable.
Kenda is co-founder of Backyardville and a homeschool mom who has a passion for learning along with her kids. This passion extends to the outdoors where she enjoys growing food to feed her family, creating habitats to attract wildlife, and finding ways to nurture and sustain the Earth. With a Bachelor's degree in Materials Science and Engineering from Iowa State University, Kenda uses her education and personal experiences to write and share knowledge with others. Her continuous desire for learning is evident in her blogs and the information she shares. Kenda resides in Des Moines with her husband and two sons.