If you think your backyard is too small for a playset, think again because these small backyard playgrounds might just change your mind. We have put together a list of the best outdoor playsets so you can swing by and get a look at some of the details and climb around and check out all of the activities available. So let's slide down and take a look at our best small outdoor playset list.
Reasons to Consider a Small Outdoor Playset
You've decided it's time to add an outdoor playground to your backyard, but there are a few things that you will need to take into consideration. Some of the playsets out there take up an enormous amount of room, cost a pretty penny and your kids are still too little for some of the bigger features the larger playsets offer.
So, let's consider a few of the reasons why you would look into purchasing one of the smaller playsets that are available.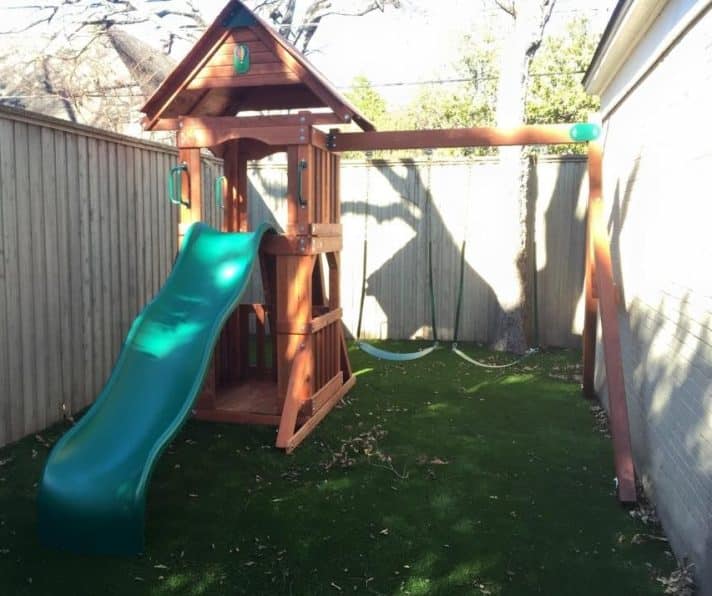 Small Yard – Not everybody has the room for a bigger playset, so one consideration would be the size of your yard. You need to find a playset that has all the features you are looking for, but you don't want one so big that it eats the entire available area, leaving you with zero room for other activities.
Small Budget – Let's be honest, money is tight these days, but you still want to give your kids a safe place to play without breaking the piggy bank. Smaller budgets require smaller investments, so the cost of the playset is a very valid reason for looking at a playset made for a small yard.
Small Kids – Another reason to consider a small playset might be that your kids are still small. You want them to be able to enjoy going outside to play and be able to use the features of a playset but they aren't quite big enough to go it alone on a bigger playground. Definitely a good reason to consider a smaller version.
Our Favorite Small Outdoor Playsets
1. Gorilla Playsets Outing
Quick Facts
Dimensions: 150" D x 180" W x 126" H
Activities: Alpine Wave Slide, Rock Wall w/ Climbing Rope, Safe Entry Ladder, 2 Belt Swings, 2 Trapeze Bars, Built-In sandbox Area, Steering Wheel, Telescope
Material: Vinyl, Wood, Plastic, Metal
Color: Amber
Recommended Age: 36 months – 11 years
Warranty: Contact manufacturer directly for warranty info
Price: $1,400
Everything you Need to Know
Packed with features, this small outdoor playground is pre-cut, pre-sanded, and ready to assemble with all the hardware. Beautiful cedar wood provides the framework of all the activities so the children can safely enjoy hours of fun.
From the ground up this small playset has thought of everything. From a built-in sandbox below the deck area to the top where a vinyl canvas roof keeps the sun off the deck of the fort, children can swing, climb and crawl their way around this outdoor Gorilla playground.
Pros:
Cedar wood
Ready-to-assemble
Cons:
Canvas top durability
Extra application of wood sealant
Soft wood
2. Backyard Discovery Mount McKinley
Quick Facts
Dimensions: 150"D x 186"W x 119"H
Activities: 16 ft Fort, Double Rock Climbing Wall, Climbing Rope, Wave Slide, Steering Wheel, Telescope, 6 ft Rope Ladder, 2 Belt Swings, Trapeze Swing
Material: Cedar
Color: Cedar Stained
Recommended Age: 36 months – 10 years
Warranty: Full 1 year, 5 Year Prorated
Price: $999

Everything you Need to Know
At first glance this playset and the Gorilla playset are practically identical, and you can play
"what's different" between the two photos, but what is different is that Mount McKinley is a few inches higher, there is some extra bracing on the 3-swing section, it weighs a few extra pounds and the base of the slide is different.
What truly sets this one apart is the 3D interactive set up instructions you get with it. Not only is the cedar wood material pre-cut, pre-drilled and pre-stained but it's simple to assemble and it has a virtual app. So along with the 3- swings, double rock climbing wall, wavy slide and climbing rope, you can download the interactive instructions for setting up.
Pros:
3D Instructions App
Spacious swing set area
3. Lifetime Monkey Bar Adventure Swing Set
Quick Facts
Dimensions: 169"D x 205"W x 93"H
Activities: 3 Belt Swings,1 Trapeze Bar w/ Gym Rings, 9' Wavy Slide, Fireman's Pole, Monkey Bars
Material: No-Lead Base Material
Color: Earthtone
Recommended Age: 36 months – 10 Years
Warranty: 5-Year Limited Manufacturer's Warranty
Price: $1,599
Everything you Need to Know
This is one of those "meet you at the monkeys bars" playsets that will gather the kids in a hurry.
This small outdoor playset is designed for play. Its sturdy steel frame is powder-coated to stay cool to the touch in the heat of the summer, and still, be tough enough to withstand the elements without any maintenance. There are plenty of activities to test their strength and more than one way to build it.
The weight capacity is 150 lbs, so this might mean you need to do some monitoring when it comes to how many kids are playing on it at once but overall several small kids can enjoy this playset safely.
Pros:
Sturdy construction
Room for kids to grow
Freestanding
No anchors needed(but available)
Powder-coated steel
Cons:
Fewer activities
Weight capacity
Swings are close to each other
4. Swing-N-Slide Ranger Wooden Playset
Quick Facts
Dimensions: 92"D x 104"W x 82"H
Activities: 2 Swing Seats, Trapeze combination Swing
Material: Wood
Color: Brown
Recommended Age: 36 months – 10 years
Warranty: Contact manufacturer directly for warranty info
Price: $236
Everything you Need to Know
There is something to say about the classics. This is a bare-bones swing set but that may be just what you're looking for.
Simple A-frame design with available options.
The classic design and feel of this playset is the perfect first option if your budget is a factor. The cedar wood frame is pre-cut and ready for assembly. There are 2 swings and a trapeze each with coated chains for safety, each able to support 115 lbs.
5. Backyard Discovery Little Brutus Metal Swing Set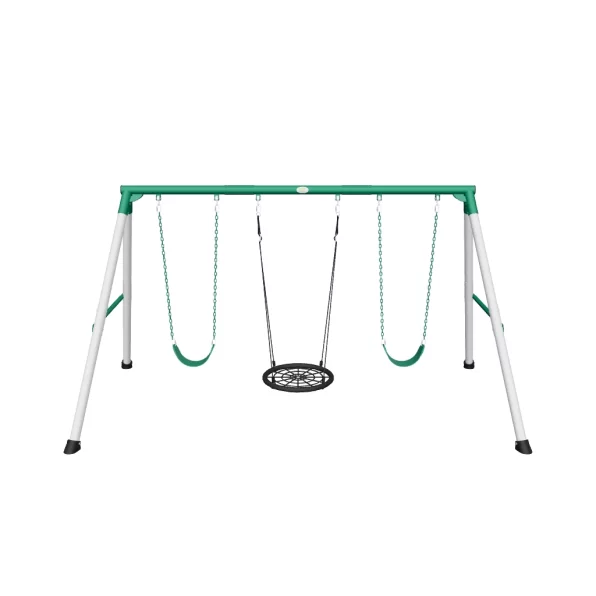 Quick Facts
Dimensions: 80"D x 146"W x 78.5"H
Activities: 2 Heavy Duty Belt Swings, Web Disc Swing
Material: Steel
Color: Little Brutus B
Recommended Age: 36 months – 10 years
Warranty: 5 Year Limited Warranty
Price: $529
Everything you Need to Know
There was a time when a swing set was a rope with a stick tied to it hanging from a tree branch. The history of the swingset goes back, way back in time actually to ancient Greece. Artifacts had been found dating the rope swing back to around 1450 BC.
Times change and things evolve, and the swing set has evolved as well. This classic swing set A-frame design is powder-coated steel for weather durability as well as structural stability.
The chains are coated to protect your kid's hands from pinches on all of the swings. There is a web disc swing for the little ones and two heavy-duty belt swings for the bigger kids. This truly is an evolved classic swing set.
Pros:
Powder coated steel
Low maintenance
6. Creative Playthings Eastport
Quick Facts
Dimensions: 15 x 12 x 10 ft
Activities: Climbing wall, climbing rope, 2 sling swings, ring trapeze, 8 ft wave slide
Material: Wood / Southern Yellow Pine, plastic, metal
Color: Yellow
Recommended Age: 2 – 8 years
Warranty: 10 yr, Limited Warranty
Price: $1699
Everything you Need to Know
Compared to the Gorilla, and the Backyard Discovery playsets, this outdoor playground is a bit more compact and the highest priced of our best playset list. Materials used are of a "higher quality" so this could account for the higher price.
While most of the playsets reviewed are metal or cedar, this outdoor playground is made with southern yellow pine that is stained at the factory with Sherwin Williams stain. Along this heavy-duty frame are activities galore. Climbing walls and climbing ropes give the little ones an opportunity to conquer the wall while swings, slides and a ring trapeze provide hours of fun.
There is a 10-year limited warranty available for this playset and that says a lot about how the manufacturer feels about their product.
Pros:
10-year limited warranty
Made for smaller kids
Made in the USA
Wooden roof
Cons:
Difficult instruction
Price
7. Step2 Naturally Playful Adventure Lodge Swing Set
Quick Facts
Dimensions: 118" D x 166" W x 87" H
Activities: 2 Story climbing and hiding space, two strap swings, basketball hoop, climbing ladder, slide
Material: Plastic
Color: Brown
Recommended Age: 36 months – 8 years
Warranty: 3 years
Price: $2,099
Everything you Need to Know
If building a fort is high on your kids list of fun things to do, then this outdoor playset has double the fort opportunity. Two stories offers plenty of room for the imagination to soar.
The adventures start in the imagination of the kids, and with this 2-story fort set up, the sky's the limit. Surrounding the play space are a climbing rope ladder, 2 strap swings, and an old-fashioned-looking basket hoop and backboard to toss a ball through. There's also a 6ft slide for even more fun.
This outdoor playset is made of a double wall poly plastic for sturdiness and there is no maintenance required.
Pros:
Two-Story hideout
No maintenance
How to Choose the Best Small Outdoor Playsets
Assess your Area – Know the size of the playset in relation to the size of the play area and fill it with fun accordingly. You don't want to overwhelm your backyard space with something that is too big or underwhelm it and go too small. Figure out what will be the best fit in the area available.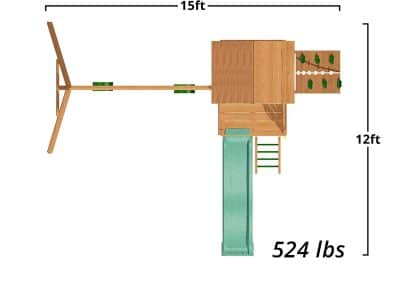 Prioritize Activities – Decide what types of features you want the playset to have in relation to the activity. Swings, slides, rock walls, climbing ropes, trapeze bars all the different ways to keep your kid active will be part of your decision.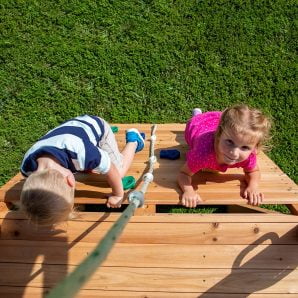 Keep it Safe – Safety first goes without saying. The size of the playset needs to be relative to the size of the children playing on them with a bit of room to grow. You don't want the smallest of kids attempting something that could possibly injure them, and you want the equipment to be of good quality to be able to handle the pressure of kids. Safe in activities as well as safe in how the playset is constructed.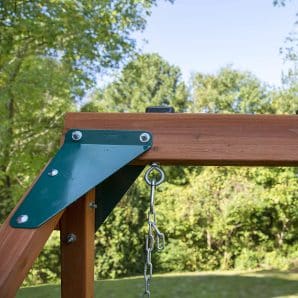 Consider Assembly and Maintenance – The best intentions can turn into a bad day when putting together something if all the parts or lack of tools throw a wrench into assembling your playset. Easy assembly with minimal tools would be among the best features list.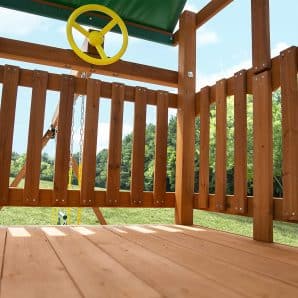 You want your playset to last as long as possible and maintenance will help you achieve that goal. Know what it will take to maintain and take care of different types of outdoor playgrounds and decide if it's something you want to have to do.
In conclusion
A small backyard playset can offer more than just a playground for the kids. It offers functional fitness and exercise, coordination development, and spacious room for imaginative fun along with other aspects of childhood development.
It brings you peace of mind, knowing where your kids are at, that they are safe, and having fun. You have considered the size of your yard, your budget, and the size of the actual playset to make an informed decision before your purchase.
The difficult part of deciding which one will come down to all these factors. Whichever way you go, a small outdoor playground is a great way to keep your kids safe, healthy, and entertained.
Small Outdoor Playsets FAQ's
1. Which small outdoor playset is the best?
The best small playset is the one that meets your needs. It's the right size for your yard, it is within your budget and it meets the safety requirements that you look for to keep your kids safe while they play.
2. Is wood or metal a better material for small outdoor playsets?
Wood is a better material for small outdoor playsets. Metal is prone to rust and even though wood needs to be properly maintained the differences would be obvious over time. If lifespans are compared, the wood playset could potentially last 20 years or more if properly maintained, while a metal playset would more than likely succumb to rust after 15, possibly even less in some regions.
3. What is the average age range on a play structure for a small backyard?
The average age is generally thought to be between 36 months and 12 years old. However, it may be more of a child's individual preference. Some may no longer be interested at 12 years old while others might lose interest earlier or later for that matter.
4. Are there any playsets for small yards that can be used indoors?
Yes, there are playsets that can be used indoors. As long as you have the room it is possible. There are custom-designed playsets or you can just set the outdoor playsets up indoors. This would be particularly handy for the winter months.