A leaf blower is handy for many reasons.  It can, of course, clear the lawn of leaves.  It can also be used to clear sidewalks after mowing, clean the gutters, keep decks and driveways clean, and even clear light snow in the winter.  There are many styles and features available which means you can easily find the right one to fit your landscaping needs.
Overview
The table below features the best leaf blowers of 2017.
Selection guide: What to look for in a leaf blower
There are several types of leaf blowers available including gas-powered, corded electric, and battery powered.  They can be handheld, backpack, or wheeled models.  Below are several things to consider when looking for a leaf blower.
Cordless leaf blower
Cordless leaf blowers are powered by a battery and are the quietest blowers you'll find.  They are generally lightweight and without a cord the range is limitless.  They are, however, less powerful than gas or electric.  The voltage (V) indicates the power output of the battery.  The higher the volts the higher the power.  Rechargeable batteries often run for about an hour.  Keep that in mind if you plan to use it for longer periods.
Gas leaf blower
Gas-powered leaf blowers are the most powerful you'll find with more sweeping and loosening power than electric.  Gas-powered leaf blowers may come as handheld, or wheeled or backpack models.
They are the loudest models you'll find so hearing protection is a must.
There is no power cord to hamper range or maneuverability.  Starting a gas blower is not as easy as electric; they are stared with a pull-cord.  Look for models with a simplified choke operation to make startup easier.
Gas models can be heavier weighing as much as 10 pounds or more depending on the type of engine.  Four-cycle engines require only gasoline, but can be heavier.  They also will need regular oil changes.
A 2-cycle engine need a mixture of gas and oil, but is lighter-weight.  Look for a model that has a wide fuel fill and translucent tank to make refueling easier.  The power output of a gasoline engine is measured in cubic centimeters (cc).  Engines with higher ccs will have more power.
Electric leaf blower
An electric leaf blower will have a cord attached and typically weighs around 8 pounds or less.  They are made to be used one-handed and as a result can be easily started with a push button.
There will be zero emissions from a corded leaf blower and the power is similar to a gas-powered one.
The power output of a corded blower is measured in amperage (A).  The more amps means more power.  Your range, however, will be limited by the cord and may become a hassle with objects such as trees.  If you have an outlet within 100 feet of the area you plan to use the blower, then consider a corded blower.
Corded models tend to be the most affordable types of leaf blowers.
Noise and safety
The biggest complaint about leaf blowers is often the noise.  They can be loud.  The label will list the decibels (dBa) of the device to indicate the noise level.  The lower the number, the quieter the machine will be.
Some neighborhoods and communities have restrictions on blowers due to the noise.  Others only allow it during certain times or certain types of blowers.  Check your local regulations on noise pollution before purchasing to be sure you'll be able to use it.
To protect yourself and others wear earplugs while operating and stay at least 50 feet away from people and pets while using it.  Be considerate of neighbors and don't operate very early or very late in the day.  You should also consider safety glasses to protect your eyes from debris and other materials.
Features
The wind speed indicates how fast the air exits the blower and is an indication of the unit's power.  It is measure in miles-per-hour (MPH).
The volume of air that is moved by the blower indicates how much debris can be moved.  The higher the volume the quicker your job will be finish.  This feature is measured in cubic feet per minute (CFM).
Some models are capable of converting to vacuums.  This allows you to collect light debris and leaves in a bag.  Look for models with a large diameter chute or tube to easily collect more leaves.  You'll also want a model that coverts without tools.  This will make switching from blowing to vacuuming easy and uncomplicated.
Other models allow the user to vacuum then mulch or grind the leaves or debris.  This makes disposal of leaves easier by reducing the space they take up.  The mulch can also be used for landscaping or added to a compost pile.
The reduction ratio will tell you the mulching capabilities of a unit.  The ratio indicates the number of bags or leaves that can be ground down to one bag.  A ration of 10:1 would be the blower would be able to grind 10 bags of leaves so fine it would fit into one bag.
If you are interested in a blower with mulching capabilities look for a model with a metal impeller.  Metal is more sturdy, durable and more efficient.
The speed setting of a unit will allow you to control the airflow and movement of the leaves.  Some blowers will have a fixed speed while others will be variable.  Look for models that offer variable speed to allow you to choose the power level and adjust it for the particular task you'll need it.  This will give you more versatility and precision.
For added comfort look for models that have features that reduce vibration.  For a backpack blower that would be an anti-vibration harness which will reduce the vibration on your back and shoulders.
Another comfort feature to look for is comfort grip or auxiliary handle.  The comfort grip will reduce fatigue in your hands, especially if you will be using it for long periods of time.  The auxiliary handle is great for using the blower at different angles.
Keep in mind the nozzle shape of the blower.  Round nozzles are best for cleaning; oblong and rectangular nozzles are best for blowing leaves.
What are the best leaf blowers of 2017?
Stihl leaf blower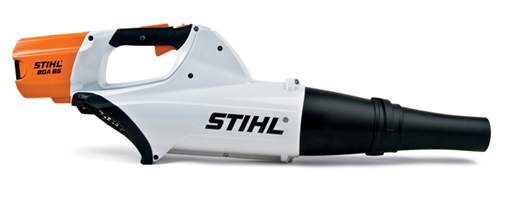 The battery-powered leaf blower by Stihl is high-powered while also being very light weight.
It is one of the quietest models you'll find and is able to deliver 100 mph of air to move the most stubborn debris.
Pros
Battery lasts for 90 minutes
Built-in hanging slot for easy storage
Environmentally friendly – zero emissions
Battery runs at full power until it needs to be charged
One-handed operation
Retaining latch to prevent unintentional starts
Cons
Battery and charger not included
Toro leaf blower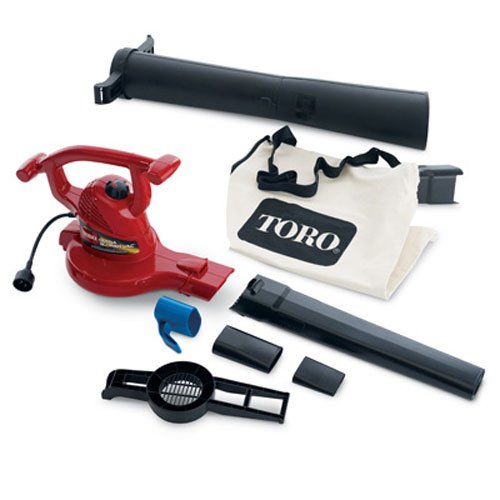 The electric Toro Ultra is a blower, vacuum, and mulcher all in one.  The powerful model produces wind speeds up to 250 mph allowing you to easily clear leaves, sticks, and other debris.
The model converts to a vacuum without tools and metal impeller easily mulches leaves reducing them by 88% to allow for more leaves per bag.
Pros
Variable speed
2-year warranty
Blower
vacuum
and leaf shredder
Converts to vacuum with a quick-release latch
no tools required
Metal impeller for mulching
Built-in cord lock to prevent accidental disconnection
Vacuum bag can be used to store all the parts
Easy storage
Cons
May have trouble shredding wet leaves
Craftsman leaf blower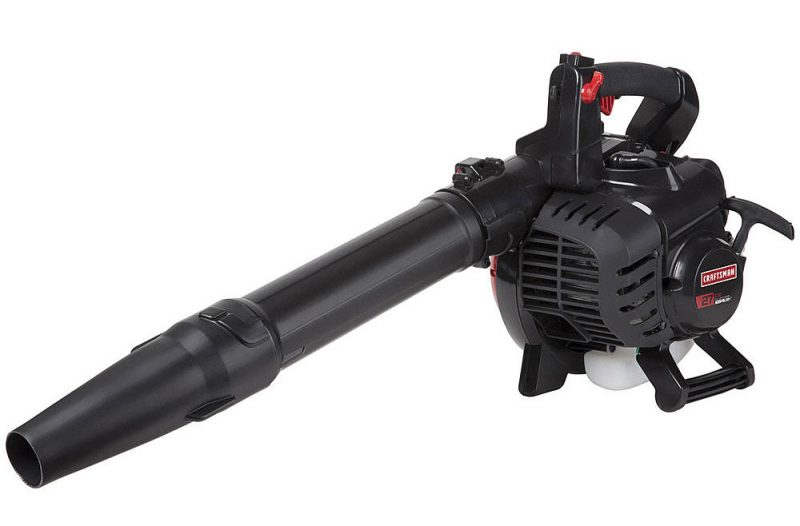 The Craftsman gas-powered leaf blower is powerful and durable.  The model has built-in technology to make the pull start smooth and easy every time.
This leaf blower can reach speeds up to 200 mph with a volume of 440 CFM.
It is also has vacuum capabilities, although the leaf bag and accessories are sold separately.
Pros
Variable speed
Easy pull start
Anti-vibration technology
Able to be used with wet or dry material
Echo leaf blower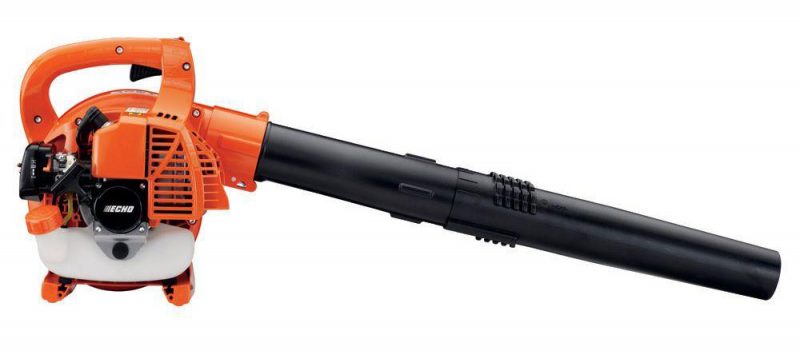 The Echo leaf blower is powered by a gas engine.  The high-powered engine is easy to start and includes variable speed to help you choose the perfect setting for each project.
Pros
Electronic ignition to quickly start blower
Variable speed
Curved nozzle design to reduce arm fatigue
5-year warranty
Latching system keepings tubes in place
Anti-vibration technology
Cons
Requires gasoline and oil mix
Husqvarna leaf blower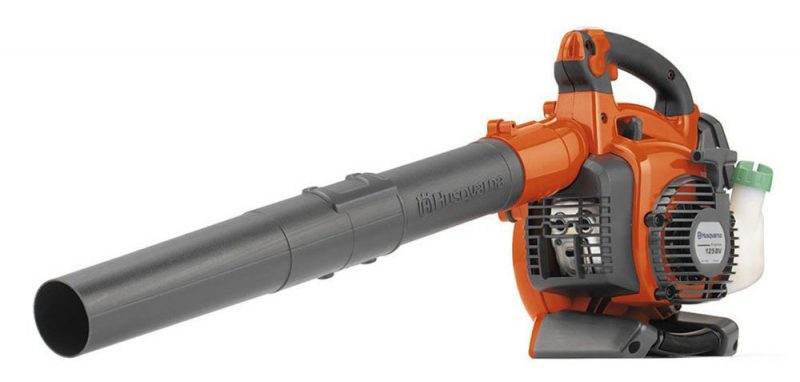 The gas-powered Husqvarna model is a blower and mulcher.  It can reach speeds up to 170 mph and has a reduction ratio of 16:1.
It is ergonomically designed. The tube is in line with the handle to reduce rotational force on the wrist which reduces fatigue on joints.
Pros
Shredding achieved by mulching knives
Ergonomically designed
Nozzles included for vacuum and mulching
Quick start with minimal effort
Adjustable\
soft grip handle for comfort
Length of tube is adjustable
2-year warranty
Ryobi leaf blower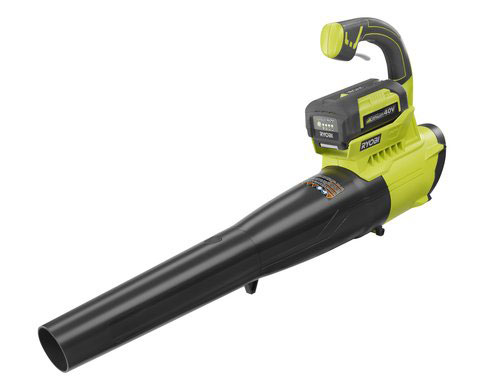 The cordless leaf blower by Ryobi is powered by a 40-volt lithium ion battery and provides powerful air speeds of 155 mph and volume of 300 CFM.  The battery will run at full power until it needs to be recharged.
Pros
Battery charged in 90 minutes
Battery runs full power until it needs to be recharged
Battery is removable for easy charging
Variable speed
Soft grip handle
5-year warranty
Cons
Battery only lasts for 30 minutes at high speed
Our Choice
The best pick is the Stihl leaf blower.  It is powerful, lightweight, and easy to maneuver.

Frequently Asked Questions
What is the gas/oil mix ratio for a 2-stroke gas-powered leaf blower?
For a 2-cycle engine you will need to add mixture of gasoline and oil for it to run.  Use a ratio of 50:1.  That is 1 gallon of 89 octane gasoline to 2.6 fluid ounces of oil.
What kind of extension cord do I need?
You will need to use a 12- gauge (heavy duty) extension cord.
Do I need earplugs?
You should always use hearing protection, such as ear plugs, or ear muffs, while operating a leaf blower.  You should also wear goggles or safety glasses, work gloves, and sturdy shoes.
Wear a respirator if conditions are dusty.  Do not wear any loose clothing and tie back hair.
Why won't my leaf blower turn on?
If it is gas-powered check the fuel tank.  If the tank is full, check the spark plug or air filter.  If the leaf blower is electric make sure it is plugged in and check the fuse box or circuit breaker to verify the outlet is receiving electricity.
Why won't my leaf blower accelerate?
Check the air filter and clean or replace.
Why is my leaf blower vibrating?
Check the blower fan blade.  A damaged blade will cause the blower to vibrate excessively.
Kenda is co-founder of Backyardville and a homeschool mom who has a passion for learning along with her kids. This passion extends to the outdoors where she enjoys growing food to feed her family, creating habitats to attract wildlife, and finding ways to nurture and sustain the Earth. With a Bachelor's degree in Materials Science and Engineering from Iowa State University, Kenda uses her education and personal experiences to write and share knowledge with others. Her continuous desire for learning is evident in her blogs and the information she shares. Kenda resides in Des Moines with her husband and two sons.