The Weston Cedar Swing Set by Backyard Discovery is a smaller swing set that is efficiently packed with activities.  The swing set has many of the same features as larger sets but in a more compact size.  Your kids will find hours of entertainment on this swing set.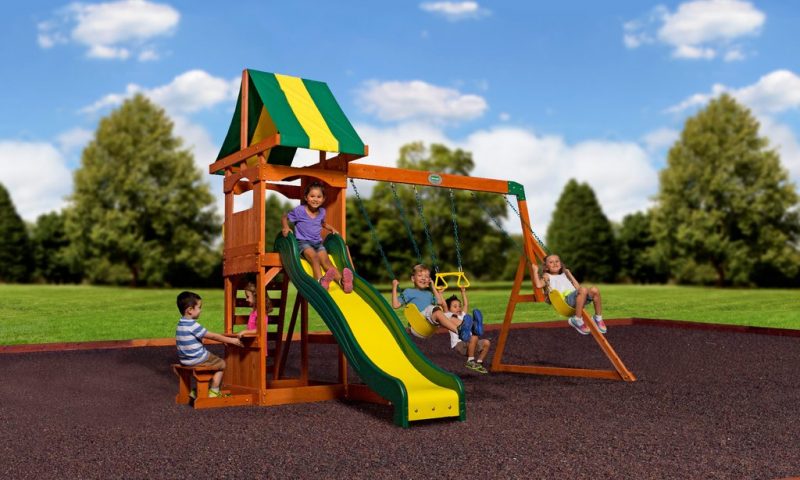 What do I get?
The Weston Cedar Swing Set has many great features that kids will love.  The best part of the swing set is the double-decker fort.  The four-foot tall platform features an open design with a railing on two side for safety.  It is big enough for a couple kids at 30 inches square.  The upper deck is topped with a bright, vinyl canopy that is a great source of shade on sunny days.  Access to the upper deck can be reached from the ladder which doubles as a rock wall.  This is a great double feature for big and little kids.  When kids need a break from playing in their secret fort on the upper deck they can exit by zooming down the super-speedy 8 foot slide.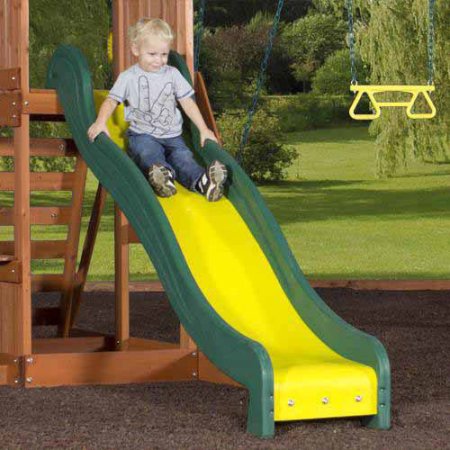 The lower part of the fort can be used as a sandbox holding up to 3 cubic feet of sand.  The lower fort also features a window with an attached bench.  Kids can stop there to rest or have a snack.  It's also a great restaurant window for dramatic play.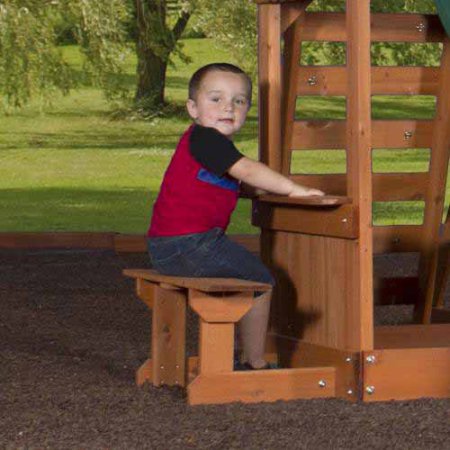 From the upper fort is a swing beam that holds two belt swings and a trapeze in the middle.  The kid-friendly swing chains are covered with a protective coating to prevent little fingers from being pinched.  The strong, laminated swing beam features steel clam-shell brackets for the swings to ensure they are always safe.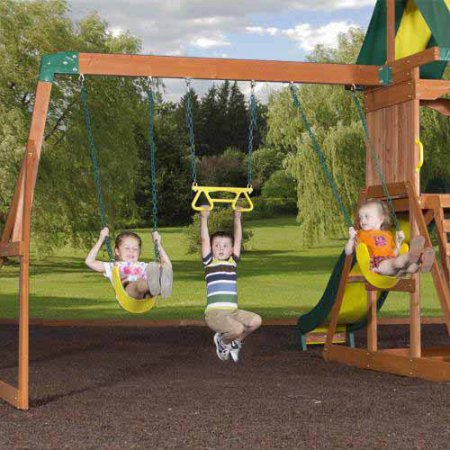 The Weston swing set is made from cedar wood.  Cedar is an excellent wood for swing sets as it is naturally resistant to rot and decay.  The durable wood has minimal knots where cracks may start.  The wood is pre-stained for appearance as well as pre-cut and pre-drilled for your convenience.
The swing set is recommend for up to seven kids at one time with a maximum combined weight of 600 pounds.  It is recommended for kids ages 3-10.
Will it fit in my yard?
The Weston swing set is a great compact play set and is great for smaller yards.  Fully assembled the swing set measures 13 feet 2 inches long, 10 feet 10 inches deep, and 9 feet, 2 inches tall at the height of the canopy.  The swing beam is six feet 3 inches off the ground.  The total weight of the set pre-assembled is 165 pounds.  It will be shipped in multiple boxes so you won't have to worry about transporting one giant and heavy box.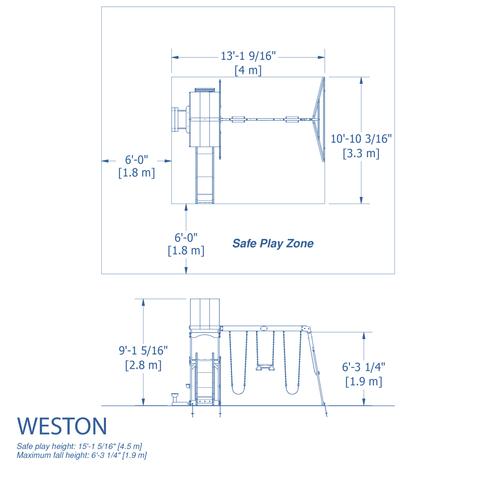 A six foot safety zone is recommended around the swing set.  This means the swing set should be no less than six feet on all sides away from all structures or obstructions such as a fence, house, garage, shed, trees with overhanging branches, overhead power lines, or laundry lines.  Do not build the structure on concrete, packed earth, asphalt, or any other hard surface.  After building the swing set on level ground it is recommended you add a protective surfacing under the swing set to prevent injuries from falls.  Extend the surfacing all the way out to the end of the 6 foot safety zone.  Surfacing materials can be wood chips, sand, or mulch.  Read more about your surfacing options here.
Can I put it together myself?
You can absolutely put together the Weston Cedar Swing Set by yourself.  Two adults with moderate building ability should be able to assemble the playset in 10-12 hours.  You will need a few tools such as hammer, drill, tape measure, and level.  The owner's manual comes with illustrated instructions that are easy to follow.  All the parts are illustrated and labeled.  This makes it easy to find the piece you need for each step of the process.  Before you start take inventory of all your parts and organize them according when you'll need them in the assembly process.  This will make the building phase go quickly and smoothly.  During each step take time to make sure the fort is level.  If it is not level it may make assembly of the rest of the set difficult later on.
Does it come with an instruction manual?
All Backyard Discovery play sets come with owner's manuals with include instructions, frequently asked questions, maintenance instructions, and warranty information.  The instructions are easy to follow and each part and step in the process is illustrated with drawings. This is very helpful when taking inventory of parts and also during assembly.  If you lose your manual you can find a copy on the Backyard Discovery website.
Is there a warranty?
Backyard Discovery offers a limited warranty on the Weston Cedar Swing Set.  All parts are covered for one year.  The wood is covered for up to five years against rot or decay; it is prorated.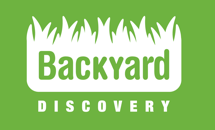 What do I have to do to maintain my swing set?
To increase the life and longevity of your swing set a few maintenance activities are recommended.  When you first receive your play set and assemble it you'll notice the wood has been stained.  The wood is treated with a clear, water-based stain for appearances.  It is recommended you re-stain the wood annually with either a water-based or oil-based protective stain to keep the wood in good condition.  This is a requirement of the warranty.  The wood is not otherwise treated and is chemical-free.  It is cedar wood which is naturally resistant to rot, bugs, and decay
The following play season after assembly (and at the start of each play season after that) be sure to check and tighten all hardware; check the coverings and if any are missing replace them.  Check the moving metallic parts and lubricate if necessary.  If rust is found on any of the metal parts, sand if off and repaint.  The swings and trapeze should be taken down during cold months.  Replace these and check the chains, seats, and other moving parts for wear or deterioration.  Inspect the swing beam and wood for splinters or cracks.  Sand any you may find.
Twice a month during the place season check the hardware and tighten if necessary.  Inspect all protective coverings, moving parts, and wood for any wear or deterioration.  Replace or repair any problems you find.
At the end of the play season it is recommended you remove the swings, trapeze, and canopy and store inside for the winter.
Finally
The Weston Cedar Swing Set is a great playset for the price.  It is affordable and the size is great for small yards.  A small swing set does not mean less fun.  Kids will find plenty to do and will love playing on it.
Kenda is co-founder of Backyardville and a homeschool mom who has a passion for learning along with her kids. This passion extends to the outdoors where she enjoys growing food to feed her family, creating habitats to attract wildlife, and finding ways to nurture and sustain the Earth. With a Bachelor's degree in Materials Science and Engineering from Iowa State University, Kenda uses her education and personal experiences to write and share knowledge with others. Her continuous desire for learning is evident in her blogs and the information she shares. Kenda resides in Des Moines with her husband and two sons.