The Oakmont Wooden Swing Set by Backyard Discovery is the perfect swing set for small backyards.  The swing set may be on the small side, but there is still plenty to do.  You will be amazed at what your kids will think of doing using their imaginations.  The fort will become a pirate ship, restaurant, house, or secret club.  The swings will be rocket ships to the moon.  With enough space to keep nine kids occupied at one time the fun never ends.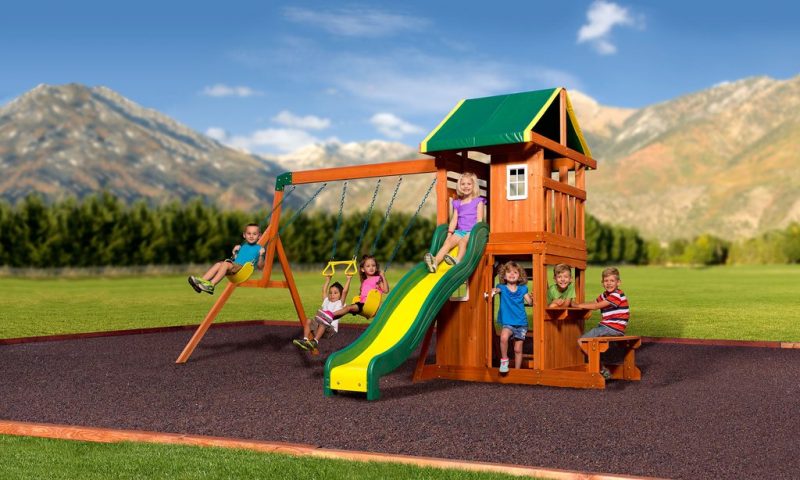 What do I get?
The best feature of the Oakmont Swing Set is the enclosed double-decker fort.  The upper deck is enclosed on all sides by walls with a sweet, white-trimmed window on the front, and rails on the side.  It measure is a square 40 inches, the perfect size for a small gathering of a secret club.  When the club meeting is over kids can exit the upper fort down the speedy 8 foot slide or down the step ladder in the back.  The upper fort is topped with a colorful, vinyl canopy.
The lower part of the fort is enclosed on two sides.  One side of the lower fort has a door and another window.  The adjacent wall features a service window, built-in table and bench.  It's a great place to sit and chat, have a snack, or serve up pretend dinners.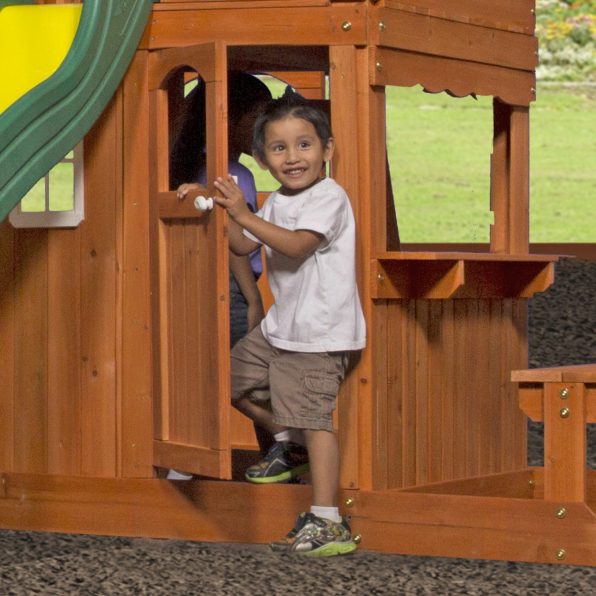 The fun continues as kids move on to the two belt swings and trapeze bar hanging from the swing beam.  The chains of the bars are covered to protect little fingers from being pinched.  The Oakmont is recommended for kids aged 3-10 with no more than 9 kids on the swing set at one time.  Invite the neighbors over or your kids can enjoy the swing set by themselves.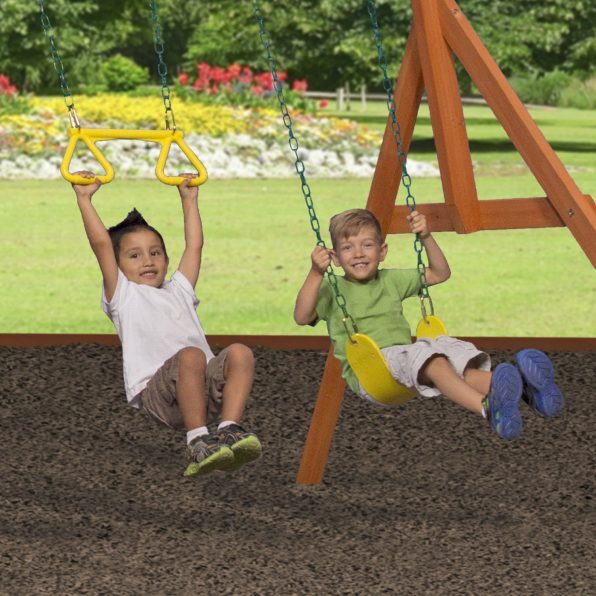 The wood of the swing set is entirely cedar wood.  Cedar is a great wood to use for structures that will remain outside because it is naturally resistant to rot, decay, and bugs.  It has a smaller knot structure than other woods so cracks are less likely to form from those knots.  The cedar wood is free of chemicals and dyes and is top-coated with a water-based stain for a smooth appearance.  All lumber comes pre-cut and pre-drilled for speedy assembly and convenience.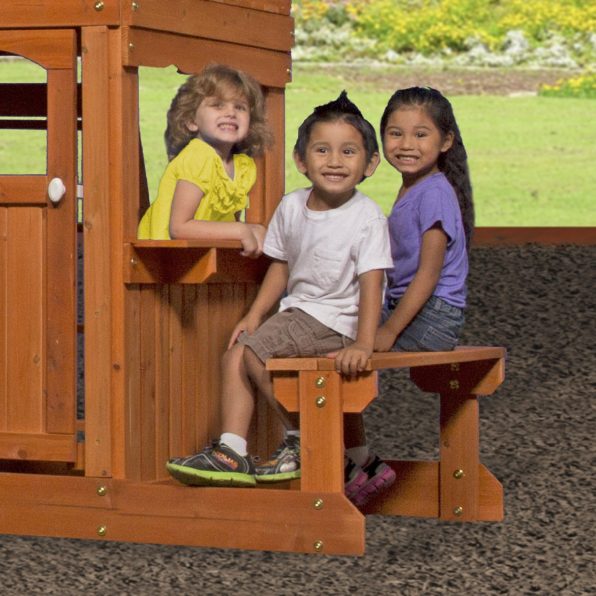 How big is it?
The small, but mighty Oakmont Swing Set will fit in most backyards.  It measures 14 feet and one half inch long and 11 feet and 3 inches wide.  The swing beam is 6 feet 3 inches off the ground and the canopy over the fort is 8 feet 7 inches at its highest point.  The manufacturer recommends a 6 foot safety zone around the swing set.  This means the swing set should be place no closer than 6 feet from structures and obstacles such as trees, sheds, garages, decks, as well as overhead obstacles such as clothes lines, tree branches, and power lines.  It is recommended that you surface your play area with surfacing materials such as wood chips, shredded tires, fine gravel, sand, or mulch.  This surfacing should extend to the end of the 6 foot safety zone around the playground.
Can I build it myself?
The Oakmont swing set can easily be assembled by two adults with minimal tools and moderate building abilities.  You'll need a few tools that you most likely have such as a hammer, level, and drill.  Be sure to assemble the play set on a level surface and make sure to check that the play set is level at each step of the building process.  This will save you a headache and will ensure a properly and easily assembled swing set.  Take inventory of all the parts before assembly to make sure you have everything you need.  It would be extremely frustrating to find a piece is missing half-way through the build.  If you find you are missing a part or something needs to be replaced you can contact Backyard Discoveries Customer Support (800-856-4445, https://www.backyarddiscovery.com/pages/contact-us) for assistance.
Does it come with an instruction manual?
All Backyard Discovery playsets come with easy-to-follow and well illustrated instruction manuals.  The manual includes illustrations of all the parts as well as each drawings of each step of the build.  You can also find maintenance information, warranty information, and frequently asked questions in the manual.  Manuals can also be found on the Backyard Discoveries website if you misplace yours.
Is there a warranty?
Backyard Discoveries offers a limited warranty on the Oakmont Swing Set as well as all their play sets.  There is a one-year warranty on all the parts and a 5-year warranty on the lumber.  The warranty covers rot and decay on the wood.  You must re-stain your swing set annually as part of your warranty agreement.
What do I have to do for maintenance?
To keep your swing set working well and looking great there are a few things you can do.  Twice a month tighten all the hardware and check the protective coverings for wear.  If they are loose, missing, or cracked you'll want to replace them.  Check the depth of your protective surfacing and rake to keep the depth consistent.  Lubricate moving parts and check for rust, deterioration, or wear.
At the end of the play season before the weather gets cold, remove the swings, trapeze and canopy.  You'll want to store these parts inside or in a location that will remain above freezing temperatures.  This will increase the life of these parts.
At the beginning of the following play season (and the beginning of every following season) be sure to again check and tighten all hardware, lubricate moving parts, and check protective coverings.  If anything is loose, cracked, missing, or worn replace or otherwise repair it.  If any rust is found on metallic parts sand if off and repaint.  Check all the wood for cracks or splinters and sand any you may find.  Now would be a good time to re-stain the lumber.  Reinstall the swings, trapeze bar, and canopy and check the depth of the surfacing.
Finally
The Oakmont is a smaller swing set that is still abundantly entertaining.  With quick and easy assembly your kids will be playing in no time and the fun won't stop.  It will be a great addition to your yard and a fun destination for your kids and their friends.
Kenda is co-founder of Backyardville and a homeschool mom who has a passion for learning along with her kids. This passion extends to the outdoors where she enjoys growing food to feed her family, creating habitats to attract wildlife, and finding ways to nurture and sustain the Earth. With a Bachelor's degree in Materials Science and Engineering from Iowa State University, Kenda uses her education and personal experiences to write and share knowledge with others. Her continuous desire for learning is evident in her blogs and the information she shares. Kenda resides in Des Moines with her husband and two sons.